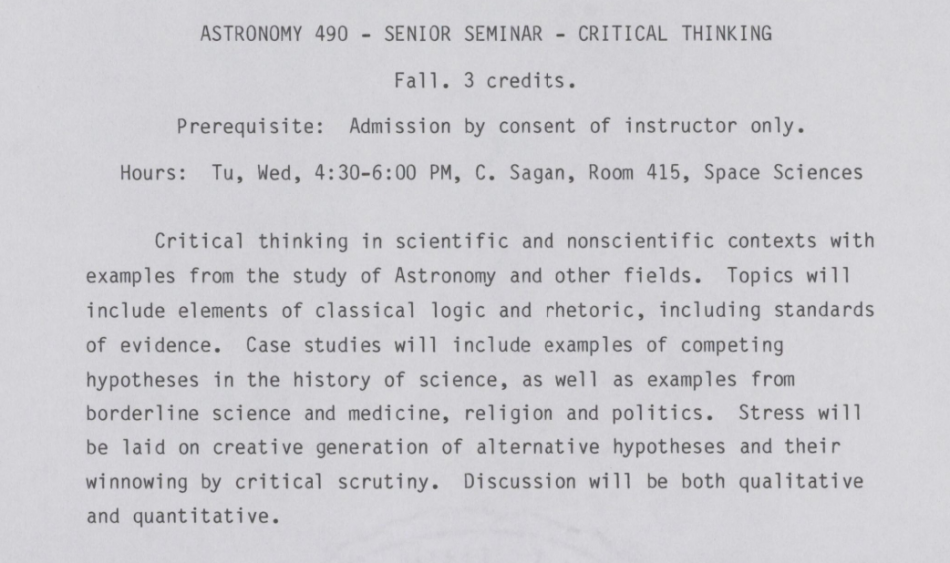 Though now more than twen­ty years gone, Carl Sagan, through his many books and his clas­sic tele­vi­sion series Cos­mos, con­tin­ues to teach us all he knew about life, the uni­verse, and every­thing. Three decades' worth of stu­dents will also remem­ber learn­ing from him in per­son, in the lec­ture halls of Har­vard and Cor­nell where he kept up his pro­fes­so­r­i­al duties along­side the con­sid­er­able demands of his career as a pub­lic intel­lec­tu­al. If you've ever learned any­thing from Sagan, whether from the man him­self or from his work, you know he did­n't just want to teach human­i­ty about out­er space: he want­ed to teach human­i­ty how to think.
That goal became explic­it in Astron­o­my 490, also known as "Crit­i­cal Think­ing in Sci­ence and Non-Sci­ence Con­text," which Sagan taught at Cor­nell in 1986. You can read its course mate­ri­als at the Library of Con­gress, whose Jen­nifer Harb­ster writes that they "include men­tion of the impor­tant bal­ance between open­ness to new ideas and skep­ti­cal engage­ment with those ideas in sci­ence," a point that "ani­mates much of Carl Sagan's work as an edu­ca­tor and sci­ence com­mu­ni­ca­tor."
The LoC offers the course's intro­duc­tion and syl­labus, its final exam, and Sagan's lec­ture notes, as well as the infor­ma­tion he assem­bled to design the course in the first place, which show just how wide a range of con­texts for crit­i­cal think­ing he had in mind.
Sagan col­lect­ed exam­ples of report­ing on and pub­lic per­cep­tion of phe­nom­e­na relat­ed to sports play­off series, car-loan inter­est rates, tobac­co indus­try-spon­sored tobac­co health-risk research, and the num­ber of heli­copters that crash in Los Ange­les. Harb­ster explains that "these notes illus­trate how he want­ed to use stu­dents' every day expe­ri­ence with things like tele­vi­sion to prompt them to think more skep­ti­cal­ly about how claims are made and war­rant­ed in every­day life." Though some of his exam­ples (the lan­guage of cig­a­rette adver­tise­ments, for instance) may look dat­ed now, the course's core prin­ci­ples have only grown more use­ful, and indeed nec­es­sary, with time — as Sagan, who wrote dark­ly of "the slow decay of sub­stan­tive con­tent in the enor­mous­ly influ­en­tial media," sure­ly knew they would.
Relat­ed Con­tent:
Daniel Den­nett Presents Sev­en Tools For Crit­i­cal Think­ing
Oxford's Free Course Crit­i­cal Rea­son­ing For Begin­ners Will Teach You to Think Like a Philoso­pher
Carl Sagan's Under­grad Read­ing List: 40 Essen­tial Texts for a Well-Round­ed Thinker
Carl Sagan Pre­dicts the Decline of Amer­i­ca: Unable to Know "What's True," We Will Slide, "With­out Notic­ing, Back into Super­sti­tion & Dark­ness" (1995)
Carl Sagan Presents His "Baloney Detec­tion Kit": 8 Tools for Skep­ti­cal Think­ing
32 Ani­mat­ed Videos by Wire­less Phi­los­o­phy Teach You the Essen­tials of Crit­i­cal Think­ing
Based in Seoul, Col­in Mar­shall writes and broad­casts on cities and cul­ture. His projects include the book The State­less City: a Walk through 21st-Cen­tu­ry Los Ange­les and the video series The City in Cin­e­ma. Fol­low him on Twit­ter at @colinmarshall or on Face­book.