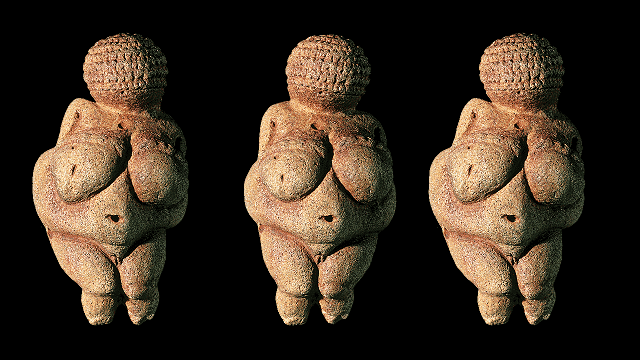 As millions of women, men, and friends beyond the binary gear up for Women's March events around the world this weekend, we can't help but draw strength from the Venus of Willendorf in Graphics Interchange Format, above.
Like the pussy hats that became the most visible symbol of last year's march, there's a strong element of humor at play here.
Also respect for the female form.
As Dr. Bryan Zygmont notes in his Khan Academy essay on the Venus of Willendorf, her existence is evidence that "nomadic people living almost 25,000 years ago cared about making objects beautiful. And … that these Paleolithic people had an awareness of the importance of the women."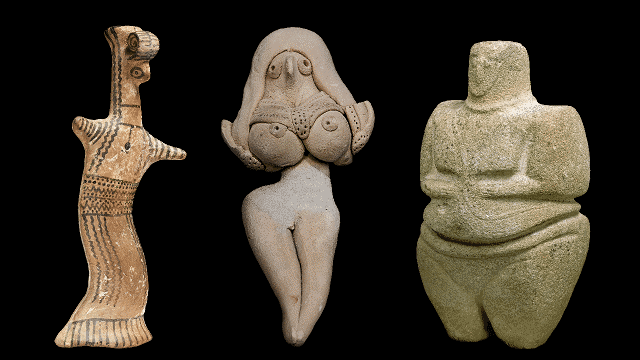 Animator Nina Paley has taken up our Paleolithic ancestors' baton by creating two dozen early goddess GIFs, including the Venus.
As further proof that sisterhood is powerful, Paley is sharing her unashamedly bouncy pantheon with the public. Visit her blog to download all 24 individual goddess GIFs. Disseminate them widely. Use them for good! No permission needed.
Paley is no stranger to goddesses, having previously placed the divine heroine of the Ramayana front and center in her semi-autobiographical feature length animation, Sita Sings the Blues.
She's also incredibly familiar with rights issues, following massive complications with some vintage recordings her Betty Boop-ish Sita lip-synchs in the film. (She had previously believed them to be in the public domain.) Unable to pay the huge sum the copyright holders demanded to license the tunes, Paley ultimately decided to relinquish all legal claims to her own film, placing Sita Sings the Blues in the public domain, to be freely shared, exhibited, or even remixed.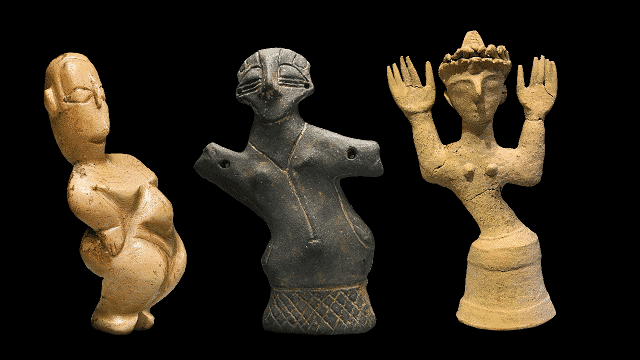 If Paley's the poster child for copyright issues she's also a shining example of deriving power from unlikely sources.
As she wrote on her website nearly ten years ago:
My personal experience confirms audiences are generous and want to support artists. Surely there's a way for this to happen without centrally controlling every transaction. The old business model of coercion and extortion is failing. New models are emerging, and I'm happy to be part of that. But we're still making this up as we go along. You are free to make money with the free content of Sita Sings the Blues, and you are free to share money with me. People have been making money in Free Software for years; it's time for Free Culture to follow. I look forward to your innovations.
As for Paley's own plans for her goddesses, they'll be a part of her upcoming animated musical, Seder-Masochism, noting that "all early peoples conceived the divine as female."
Download Nina Paley's Goddess GIFs here. Watch Sita Sings the Blues here. March ever onward!
Related Content:
3D Scans of 7,500 Famous Sculptures, Statues & Artworks: Download & 3D Print Rodin's Thinker, Michelangelo's David & More
How Ancient Greek Statues Really Looked: Research Reveals their Bold, Bright Colors and Patterns
The Goddess: A Classic from the Golden Age of Chinese Cinema, Starring the Silent Film Icon Ruan Lingyu (1934)
Ayun Halliday is an author, illustrator, theater maker and Chief Primatologist of the East Village Inky zine. Join her on February 8 for Necromancers of the Public Domain, when a host of New York City-based performers and musicians will resurrect  a long forgotten work from 1911 as a low budget, variety show. Follow her @AyunHalliday.