Dada poet Tristan Tzara …
What do these 20th-century icons have in common?
Correct! They're also all elements on artist Paul Robertson's Periodic Table of Bowie.
The late musician David Bowie was a skin-shedding chameleon, and a remarkably stable isotope. His creative influences were varied.
Robertson's table debuted in 2013 as part of the Victoria & Albert David Bowie is exhibition, three years before rock's seminal Starman exited the planet. Following a 12-city tour, it's taking its final bow at the Brooklyn Museum.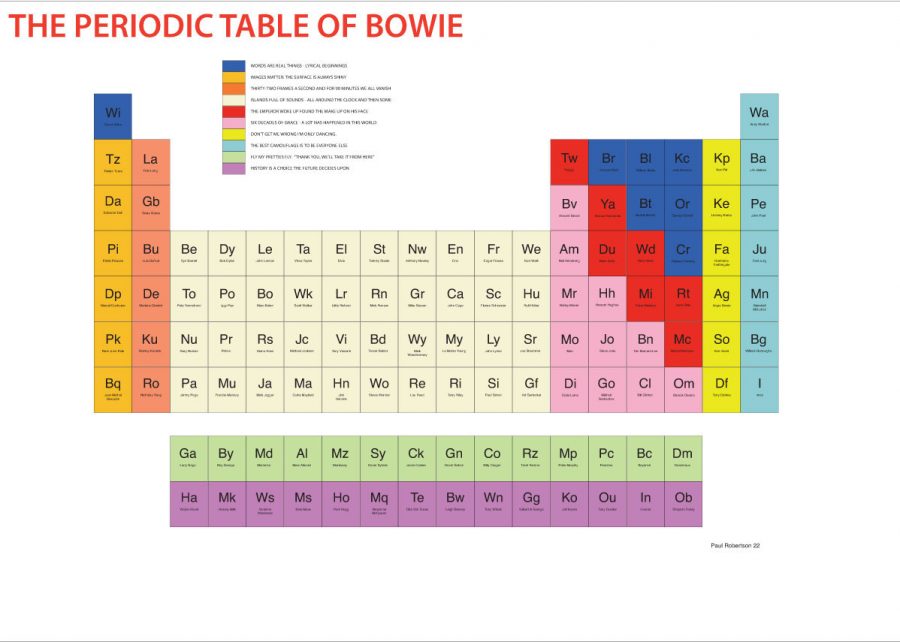 "I'm not an idiot," the artist confided in an interview. "I know that people are mostly interested in it because it's David Bowie. But I think it's still a valid artwork."
In addition to positioning such influences as collaborator John Lennon, filmmaker Stanley Kubrick, and former roommate Iggy Pop as atomic numbers, Robertson's table allows for artists who came after.
"Fly My Pretties Fly (Thank You. We'll Take It From Here)" includes Lady Gaga, Pulp frontman Jarvis Cocker, and fellow dandy, Morrissey, while Bowie's 90s-era costumer, designer Alexander McQueen and artist Jeff Koons hold down "History Is a Choice the Future Decides Upon."
Fittingly, author Oscar Wilde appears in the Hydrogen slot.
Buy a print of the Periodic Table of Bowie here.
Explore David Bowie is in person at the Brooklyn Museum through July 15.
Related Content:
The David Bowie Book Club Gets Launched by His Son: Read One of Bowie's 100 Favorite Books Every Month
Dave: The Best Tribute to David Bowie That You're Going to See
In 1999, David Bowie Predicts the Good and Bad of the Internet
Ayun Halliday is an author, illustrator, theater maker and Chief Primatologist of the East Village Inky zine.  Join her in NYC on March 20 for the second installment of Necromancers of the Public Domain at The Tank. Follow her @AyunHalliday.