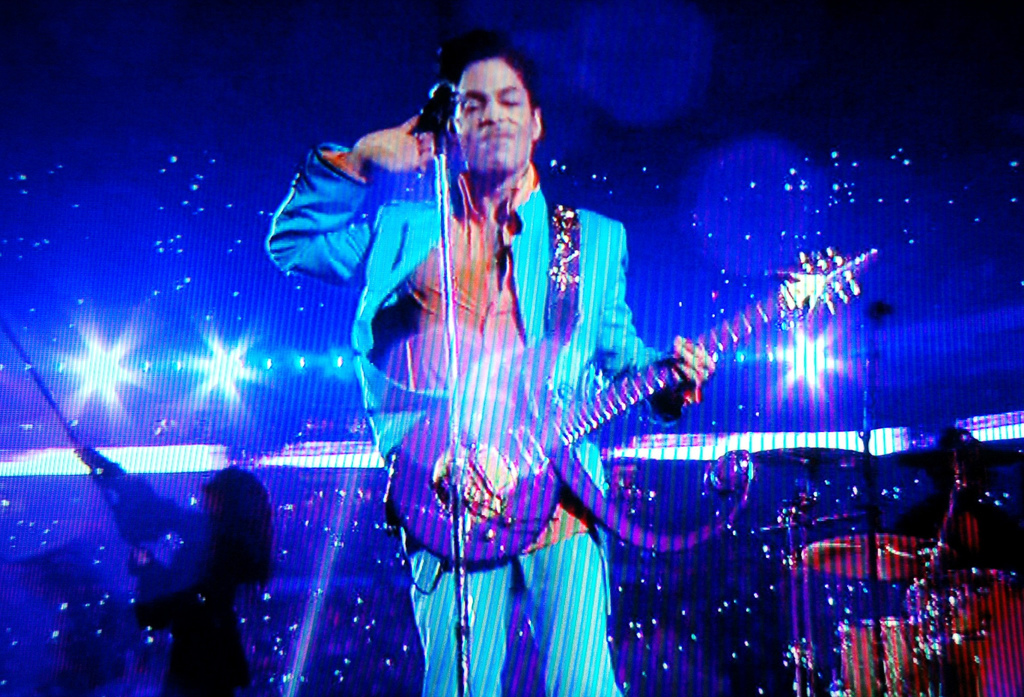 Image by Ann Althouse, via Flickr Commons
If all of Prince's official releases somehow disappeared from history—no Controversy, 1999, Purple Rain, Sign o' the Times, Lovesexy—you could still make a case for him as a singular, if unheard, musical genius based on his massive trove of unreleased material alone. At least that's my theory, but the evidence is somewhat lacking since we've yet to hear much from the notorious Paisley Park vault. We do know, as Rolling Stone reported in 2016, that it's full of "thousands of hours of unheard live and studio material—jams, random songs and entire albums"…enough material, it seems, to recreate Prince should his career somehow get erased from the timeline.
One former Paisley Park employee, Scott LeGere, witnessed the Purple One's manic energy during many a long recording session, as he churned out music at a superhuman rate, then relegated much of it, for reasons known only to Prince, to the Vault—an actual basement bank vault "complete with a time lock and large spinning handle." Only Prince knew the combination. "At one point," LeGere remembered, "I was holding tapes and he would beckon me to come in. I said, 'Actually, sir, I'd rather not. That is your space and your work.'" I don't know about you, but I probably would have gone in. Then again, I've never actually been to Paisley Park and experienced what seems to have been a very humbling atmosphere.
As you must have heard by now, the Vault is open, and unreleased material has begun to trickle out, like the original studio recording of "Nothing Compares 2 U," above with previously unreleased rehearsal footage of Prince and his band. He "recorded every part himself," writes Jon Pareles, as was his custom, "except some backing vocals (by Paul Peterson and Susannah Melvoin) and a saxophone solo (by Eric Leeds)." It is, without a doubt, "a crescendo of heartache underscored by everyday details, a finished song."
If you're a Prince fan (and how could you not be?), you'll have to wait until September for the first full album of songs from the Vault. But one lucky person with the relevant skills and experience in archival work and conservation will get the chance to work directly with the materials at Paisley Park, now a permanent museum, as the Archives Supervisor reporting to the Director of Archives. "Some knowledge of Prince is helpful," the job announcement—posted on April 12th—specifies.
You'll have to be prepared to work weekends, holidays, evenings, and overtime. Benefits are not guaranteed but "may be be offered after successful completion of a sixty (60) day introductory period." You must have a car and "adhere to a pescatarian environment." I can't speak to how these conditions compare to similar kinds of employment, but hey, for the chance to "work in a confidential work area," including, we might assume, the mysterious Vault itself, some sacrifices may be worth it. You'll likely get to see and hear, before anyone else, the profusion of unreleased film and audio Prince left behind—a lifetime's worth of work that puts most other musicians to shame, stashed away in the basement for future generations to find. You can apply here.
Related Content:
Prince Gets an Official Purple Pantone Color
Hear Prince's Personal Playlist of Party Music: 22 Tracks That Will Bring Any Party to Life
Watch Prince Play Jazz Piano & Coach His Band Through George Gershwin's "Summertime" in a Candid, Behind-the-Scenes Moment (1990)
Josh Jones is a writer and musician based in Durham, NC. Follow him at @jdmagness