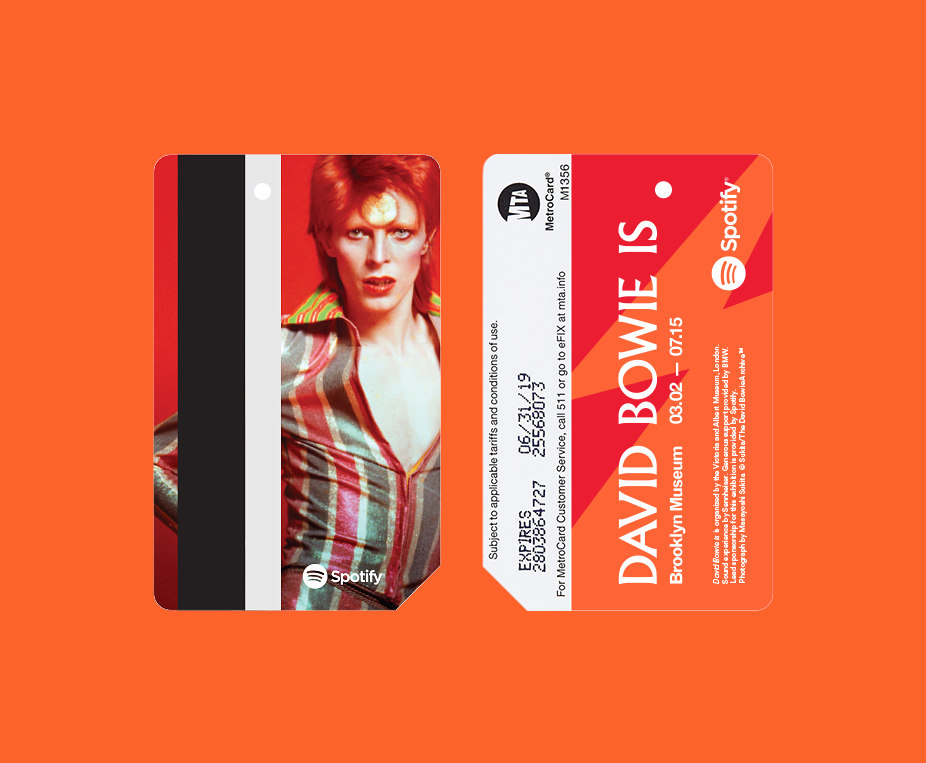 Some pretty famous faces ride the New York City subway. Was David Bowie's ever among them?
If so, he succeeded in dodging the cameras of the curious.
His home stop would have been SoHo's Broadway/Lafayette—close to the Angelika Film Center, Housing Works Bookstore Cafe, and an upscale men's clothing store that opened on the sacred ground of CBGB, where Bowie and Bianca Jagger once arrived by limousine to see Richard Hell and the Voidoids.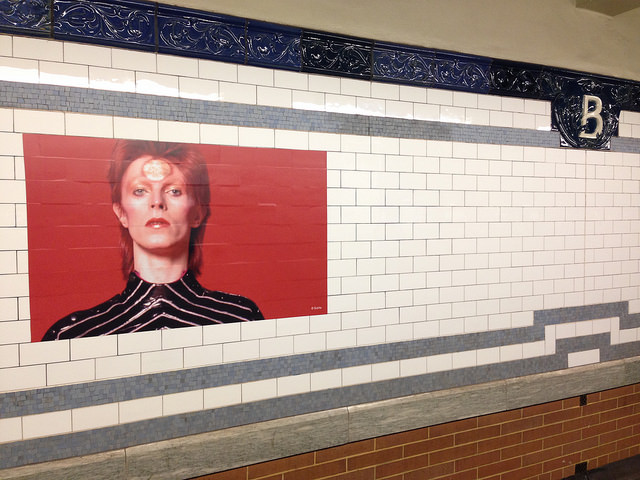 From there, it's not exactly a straight shot to the David Bowie Is exhibit at the Brooklyn Museum, but the Metropolitan Transit Authority will get you there for the price of a single $2.75 subway fare.
Given that the MTA stopped accepting tokens 15 years ago, you'll also need to cough up $1 for a MetroCard. You may want to even if you already own one.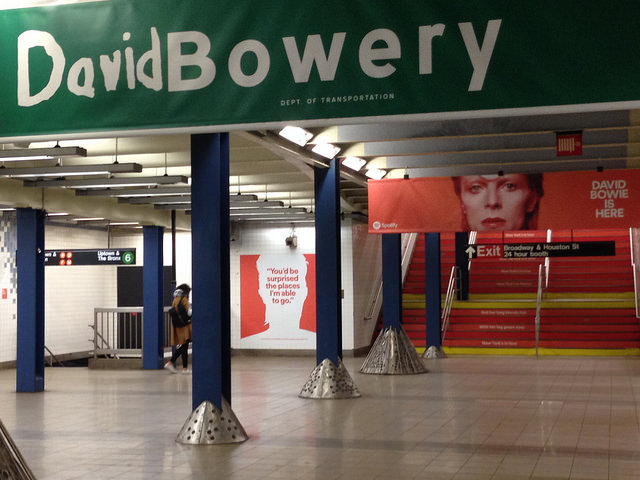 In celebration of all things Bowie, the MTA has teamed with Spotify to create 5 limited edition MetroCards, available in vending machines throughout the station for a New York minute—about as long as it takes Bowie fans to descend en masse to snag the instant collectibles of their hero in some of his many guises:
and, most touchingly, the teenage David Jones, aka Bowie, saxophonist for the Kon-Rads.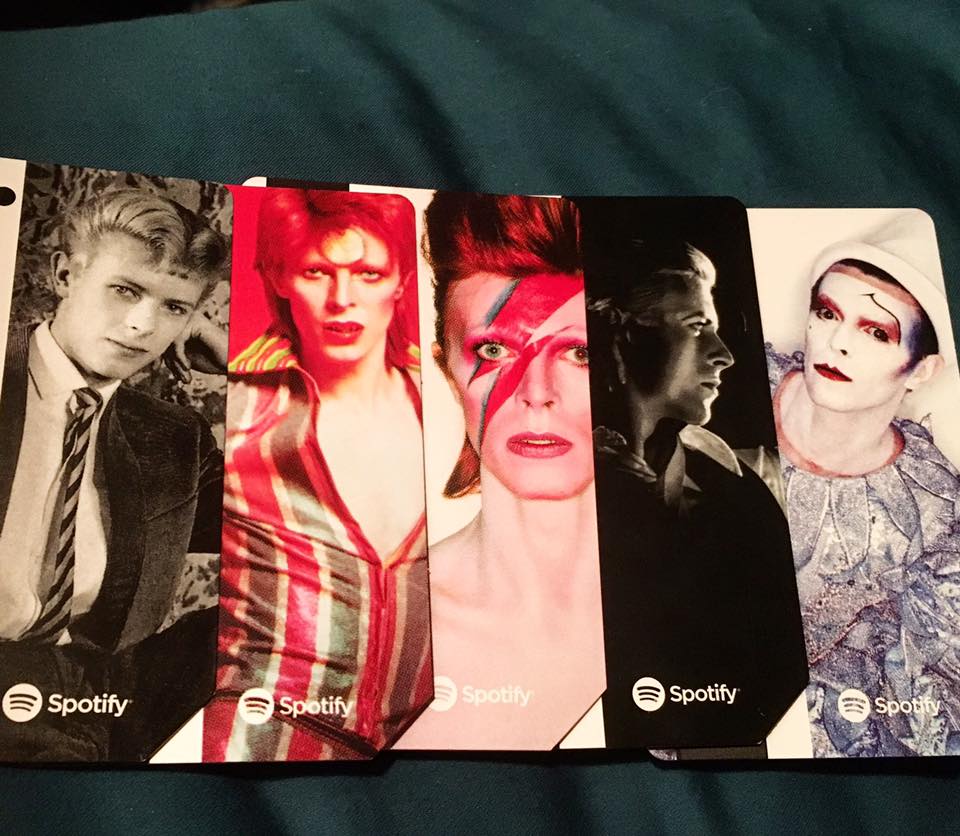 Underground Bowie mania extends way beyond MetroCards. Until Mother's Day, the unusually lofty station is festooned with Bowie—everything from fan art to giant reproductions of photos from the current exhibition.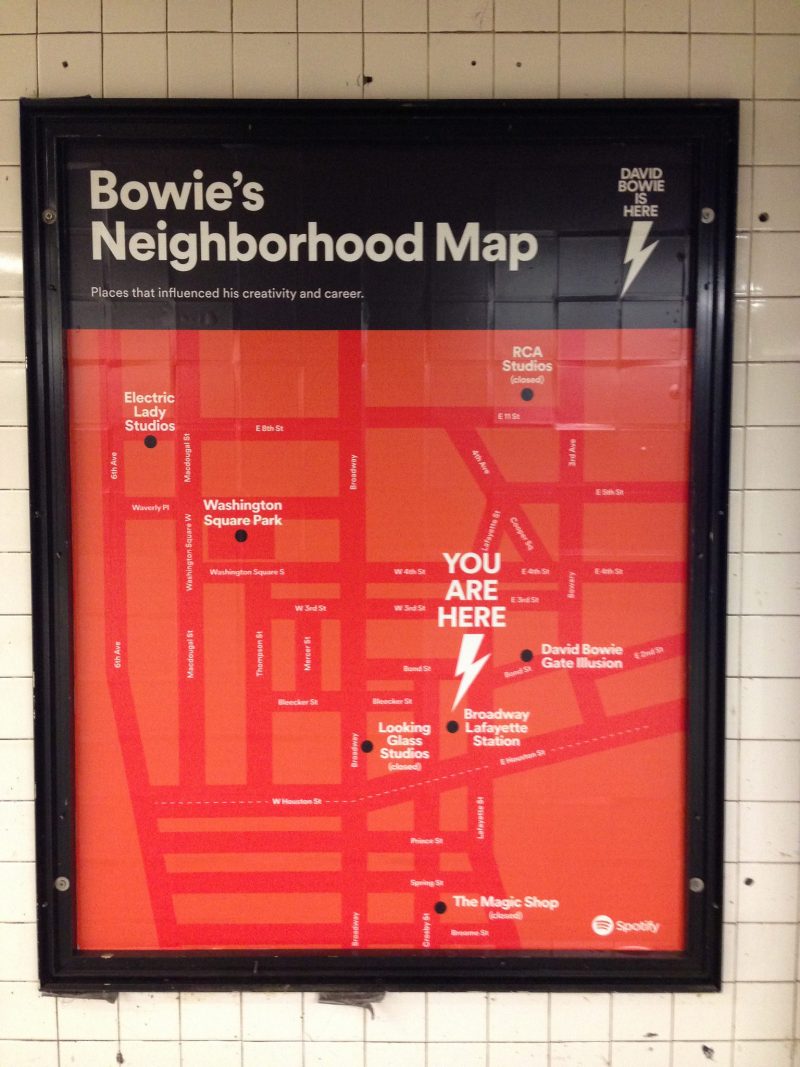 Many of the images are accompanied by a scannable Spotify code to transport riders to a relevant sound file, a nifty echo of the progressive audio museum-goers experience through their headphones.
The global exhibit has London roots, but the MTA is focused on Bowie's ties to New York with photos and video stills from such locations as Carnegie Hall, Radio City Music Hall, Madison Square Garden, and the late, lamented Magic Shop studio.
Civic pride is also on display in the form of city-specific Bowie quotes posted throughout the station:
I have a great time here: we can go where we want, eat where we want, walk out with our child, go to the park, ride the subway, do the things that any family does.
Ah ha! So he did ride the subway here, as well as in Japan (below).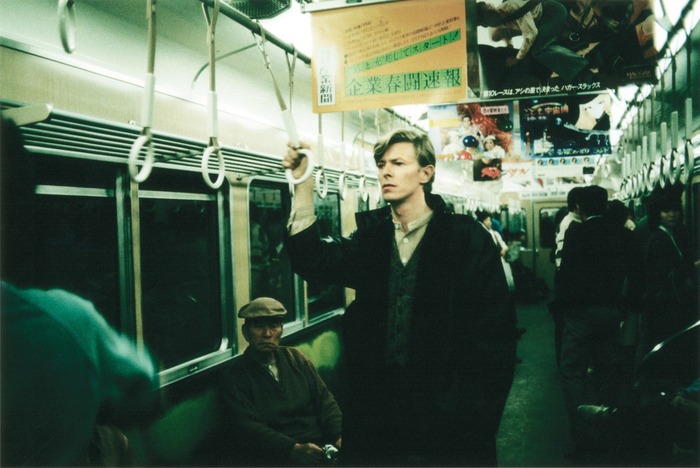 According to a fan on Bowery Boogie, he also popped up at the New York Public Library's Mulberry Street branch, just around the corner from the subway's entrance. To find your way there, consult the bright orange "Bowie's Neighborhood Map" before leaving the station, where your location is denoted with a lightning bolt.
See riders' photos of the subway takeover here.
Related Content:
The David Bowie Book Club Gets Launched by His Son: Read One of Bowie's 100 Favorite Books Every Month
The Periodic Table of David Bowie: A Visualization of the Seminal Artist's Influence and Influences
Stream David Bowie's Complete Discography in a 19-Hour Playlist: From His Very First Recordings to His Last
Ayun Halliday is an author, illustrator, theater maker and Chief Primatologist of the East Village Inky zine.  Join her in NYC on Monday, April 23 for the third installment of her literary-themed variety show, Necromancers of the Public Domain. Follow her @AyunHalliday.