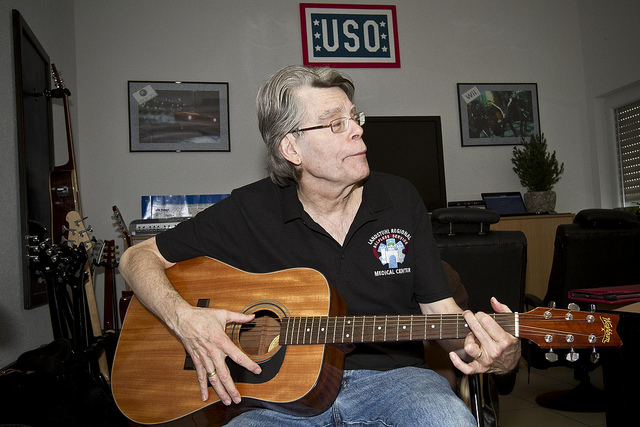 Image by The USO, via Flickr Commons
If you've ever had to name your ten favorite of anything, you know how much trickier such a list is to compose than it sounds. Not because you don't know of ten books, movies, albums, or what have you, of course, but because you don't know if the favorites that come to mind today would also come to mind tomorrow. Stephen King, a man apparently often asked for top-however-many lists (see the related posts below for more examples), acknowledges this truth in his approach to the task, as when he drew up this top-ten-favorite-books list for Goodreads:
"Any list like this is slightly ridiculous," King admits. "On another day, ten different titles might come to mind, like The Exorcist, or All the Pretty Horses in place of Blood Meridian. On another day I'd be sure to include Light in August or Scott Smith's superb A Simple Plan. The Sea, the Sea, by Iris Murdoch. But what the hell, I stand by these. Although Anthony Powell's novels should probably be here, especially the sublimely titled Casanova's Chinese Restaurant and Books Do Furnish a Room. And Paul Scott's Raj Quartet. And at least six novels by Patricia Highsmith. What about Patrick O'Brian? See how hard this is to let go?"
Thus King, as prolific in his appreciation of novels as he is in his writing of novels, expands his number of selections from ten to at least 28. You can actually compare this list to one he made on another day by having a look at another "all-time favorite book list" of his we featured a few years ago. The common titles between them include Lord of the Flies, Blood Meridian, and 1984. (Light in August and the Raj Quartet also made it onto the list proper.) We might draw from King's lists the lesson that we shouldn't sweat tasks like this too much: the important thing isn't to nail down an unchanging personal canon, but to spread the love across the aesthetic and intellectual spectrum (how many of us would think to name the likes of Roth, Tolkien, Orwell, and Porter all in one place?) and, even more important than that, to simply keep reading.
Related content:
Stephen King's Top 10 All-Time Favorite Books
Stephen King's Top 20 Rules for Writers
Stephen King Creates a List of 96 Books for Aspiring Writers to Read
Stephen King Creates a List of 82 Books for Aspiring Writers (to Supplement an Earlier List of 96 Recommend Books)
Stephen King's 22 Favorite Movies: Full of Horror & Suspense
Based in Seoul, Colin Marshall writes and broadcasts on cities and culture. His projects include the book The Stateless City: a Walk through 21st-Century Los Angeles and the video series The City in Cinema. Follow him on Twitter at @colinmarshall or on Facebook.