In brief surveys of film history, the eye-popping process known as Technicolor seems to emerge fully-formed in the 1930s and 40s with classics like Gone with the Wind and The Wizard of Oz, movies so vivid they almost exemplify the phrase "eye candy" with a "richer, color-flooded version of the real world," writes Adrienne LaFrance at The Atlantic. This golden age of Technicolor, with its "supersaturated aesthetic… created films punctuated by colors so electric they were surreal."
But like any new technology, color film, and the Technicolor process in particular, followed a long trajectory of trial and error involving many an ambitious failure and many early attempts now lost to history. One such film, 1917's The Gulf Between, considered the first Technicolor film, employed one of the earliest, two-color versions of the process. Surviving now only in very short fragments, the 58-minute production was "expensive and hard on the eyes," notes Richard Trenholm at Cnet, "a critical and artistic flop" and "a commercial one, too."
Technicolor scientists and filmmakers refused to give up on the process, laboring mightily throughout the 1920s to figure out the exact elements needed to connect with moviegoers. Most problematically, the two-color process could not reproduce believable blues, purples, or yellows. As James Layton, co-author of The Dawn of Technicolor, tells The Atlantic, "skies would never reproduce accurately, and water wouldn't…. There are some great examples. A beach scene… where the sky is this very vivid green, it's very unnatural."
One herculean effort to make Technicolor a hit came from Douglas Fairbanks, whose painstaking 1926 film The Black Pirate made artistic use of the process's limitations, taking inspiration from the Dutch masters to achieve a sense of depth. In 1970, the British National Film Archive began a restoration (see some clips above, with a 70s-sounding soundtrack overlaid).
Fairbanks' film remains one of only a handful of Technicolor films from the period that has survived in full into the present, likely because it represents one of the few commercial successes. But just last month, Jane Fernandes, a British Film Institute (BFI) conservationist, discovered several snippets of many more 1920s Technicolor films taped to the beginnings and ends of reels from a copy of The Black Pirate donated to BFI in 1959.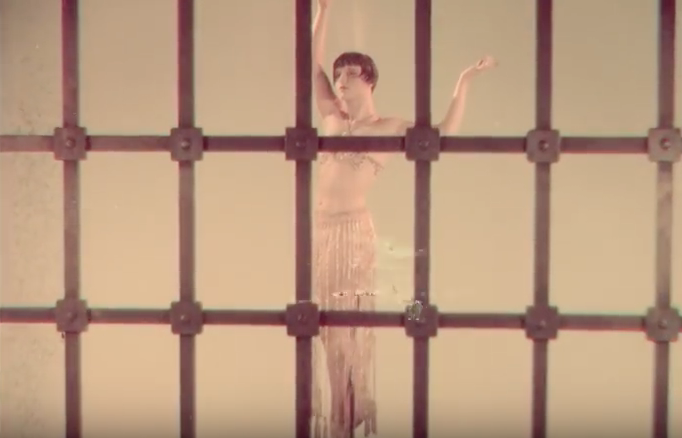 These fragments include a very brief shot of silent icon Louise Brooks in color (at the 1:11 mark), from the lost 1926 film The American Venus, her first feature. Also included in the find are short clips from other Technicolor films made that same year, The Far Cry, The Fire Brigade, and Dance Madness, as well as a test shot from the historical drama Mona Lisa, starring L.A. Times gossip columnist Hedda Hopper as Leonardo da Vinci's enigmatic model.
You can see these prized snippets in the video at the top of the post, with narration from BFI curator Bryony Dixon. "Another batch of extracts," reports Smithsonian.com, "was found taped to ads for a North London television shop that ran before and between movies in the 1950s. They include scenes from early Technicolor musicals that came out in 1929 including Sally, Gold Diggers of Broadway, Show of Shows and On with the Show!"
In BFI's April 30 press release announcing these rare finds, Dixon compares them to "an Egyptian vase shattered into pieces and the shards scattered across museums all over the world…. For now we have the shards but we can dream of seeing Louise Brooks's first film or a lost Hedda Hopper in colour." Future discoveries, as well as the latest restoration techniques, may soon return an expanded history of 1920s two-color Technicolor to scholars and film fans of the 21st century.
Related Content:
Early Experiments in Color Film (1895-1935)
How Technicolor Revolutionized Cinema with Surreal, Electric Colors & Changed How We See Our World
The Color Palettes of Your Favorite Films: The Royal Tenenbaums, Reservoir Dogs, A Clockwork Orange, Blade Runner & More
Josh Jones is a writer and musician based in Durham, NC. Follow him at @jdmagness