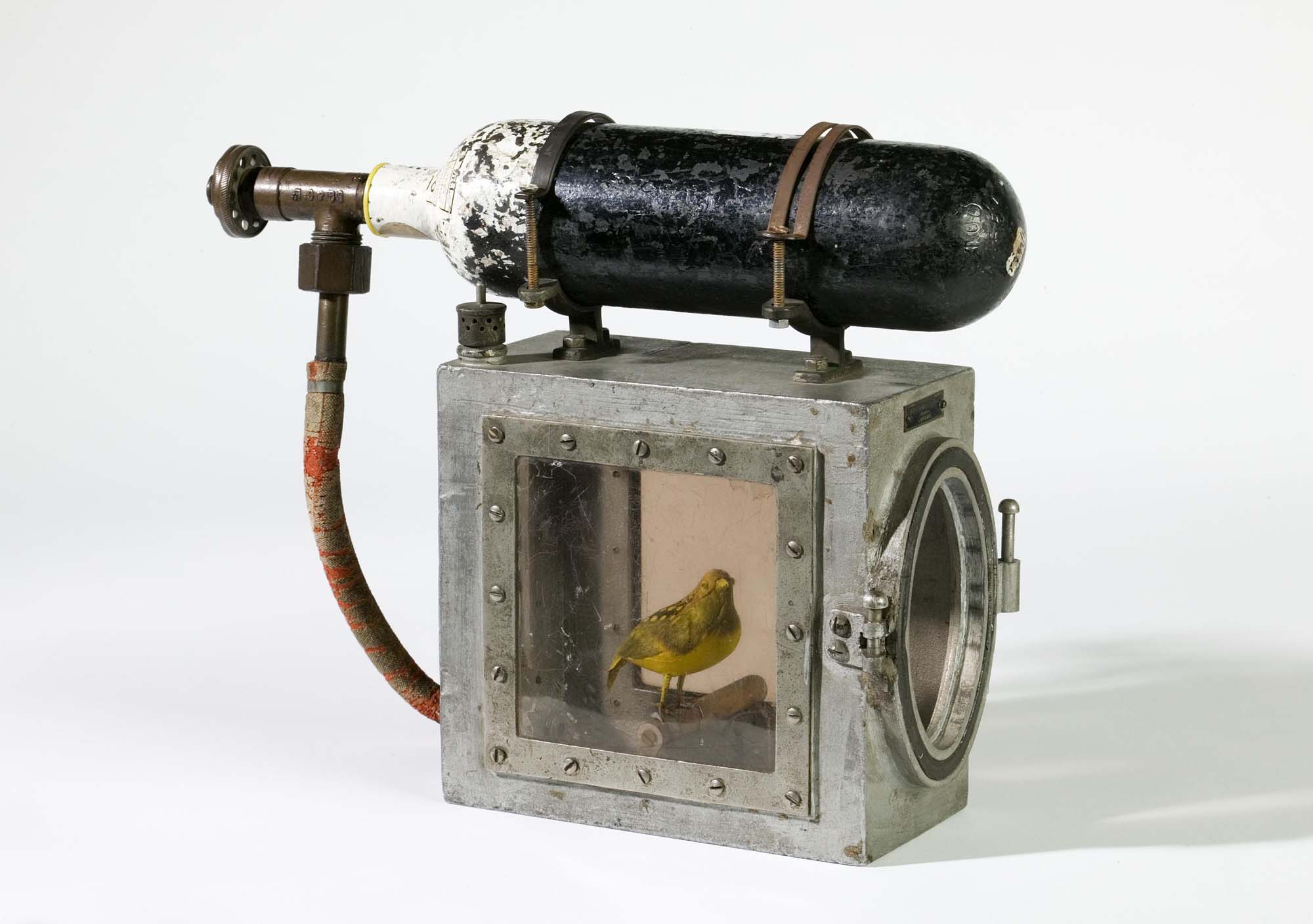 Lewis Pol­lard, the cura­tor of the Muse­um of Sci­ence and Indus­try in Man­ches­ter, Eng­land, recent­ly high­light­ed his favorite object in his muse­um's collections–this gad­get, cre­at­ed cir­ca 1896, used to resus­ci­tate canaries in coal mines.
For about a century–from the 1890s through the 1980s–British coal min­ers had a tra­di­tion of low­er­ing canaries into a coal mine to detect the pres­ence of nox­ious gas­es. As the BBC explains, the "canary is par­tic­u­lar­ly sen­si­tive to tox­ic gas­es such as car­bon monox­ide which is colour­less, odour­less and taste­less. This gas could eas­i­ly form under­ground dur­ing a mine fire or after an explo­sion. Fol­low­ing a mine fire or explo­sion, mine res­cuers would descend into the mine, car­ry­ing a canary in a small wood­en or met­al cage. Any sign of dis­tress from the canary was a clear sig­nal the con­di­tions under­ground were unsafe and min­ers should be evac­u­at­ed from the pit and the mine­shafts made safer."
In decid­ing to send canaries into the mines, inven­tors came up with the some­what humane device shown above. Accord­ing to Pol­lard, the cir­cu­lar door of the cage "would be kept open and had a grill to pre­vent the canary [from] escap­ing. Once the canary showed signs of car­bon monox­ide poi­son­ing the door would be closed and a valve opened, allow­ing oxy­gen from the tank on top to be released and revive the canary. The min­ers would then be expect­ed to evac­u­ate the dan­ger area." This prac­tice con­tin­ued for almost 100 years, until canaries offi­cial­ly start­ed to get replaced by tech­nol­o­gy in 1986.
Read more about Pol­lard's favorite object here.
Relat­ed Con­tent:
Google Uses Arti­fi­cial Intel­li­gence to Map Thou­sands of Bird Sounds Into an Inter­ac­tive Visu­al­iza­tion
Cor­nell Launch­es Archive of 150,000 Bird Calls and Ani­mal Sounds, with Record­ings Going Back to 1929
Two Mil­lion Won­drous Nature Illus­tra­tions Put Online by The Bio­di­ver­si­ty Her­itage Library