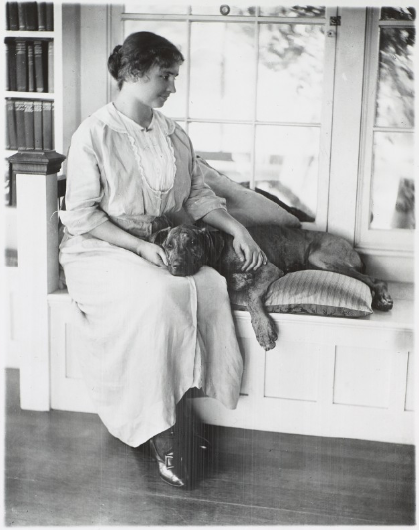 Take an innocuous statement like, "we should teach children about the life of Helen Keller." What reasonable, compassionate person would disagree? Hers is a story of triumph over incredible adversity, of perseverance and friendship and love. Now, take a statement like, "we should teach children the political writing of Helen Keller," and you might see brawls in town halls and school board meetings. This is because Helen Keller was a committed socialist and serious political thinker, who wrote extensively to advocate for economic cooperation over competition and to support the causes of working people. She was an activist for peace and justice who opposed war, imperialism, racism, and poverty, conditions that huge numbers of people seem devoted to maintaining—both in her lifetime and today.
Keller's moving, persuasive writing is eloquent and uncompromising and should be taught alongside that of other great American rhetoricians. Consider, for example, the passage below from a letter she wrote in 1916 to Oswald Villard, then Vice-President of the NAACP:
Ashamed in my very soul I behold in my own beloved south-land the tears of those who are oppressed, those who must bring up their sons and daughters in bondage to be servants, because others have their fields and vineyards, and on the side of the oppressor is power. I feel with those suffering, toiling millions, I am thwarted with them. Every attempt to keep them down and crush their spirit is a betrayal of my faith that good is stronger than evil, and light stronger than darkness…. My spirit groans with all the deaf and blind of the world, I feel their chains chafing my limbs. I am disenfranchised with every wage-slave. I am overthrown, hurt, oppressed, beaten to the earth by the strong, ruthless ones who have taken away their inheritance. The wrongs of the poor endure ring fiercely in my soul, and I shall never rest until they are lifted into the light, and given their fair share in the blessings of life that God meant for us all alike.
It is difficult to choose any one passage from the letter because the whole is written with such expressive feeling. This is but one document among many hundreds in the new Helen Keller archive at the American Foundation for the Blind (AFB), which has digitized letters, essays, speeches, photographs, and much more from Keller's long, tireless career as a writer and public speaker. Funded by the National Endowment for the Humanities, the archive includes over 250,000 digital images of her work from the late 19th century to well into the 20th. There are many films of Keller, photos like that of her and her dog Sieglinde at the top, a collection of her correspondence with Mark Twain, and much more.
In addition to Keller's own published and unpublished work, the archive contains many letters to and about her, press clippings, informative AFB blog posts, and resources for students and teachers. The site aims to be "fully accessible to audiences who are blind, deaf, hard-of-hearing, low vision, or deafblind." On the whole, this project "presents an opportunity to encounter this renowned historical figure in a new, dynamic, and exciting way," as AFB writes in a press release. "For example, despite her fame, relatively few people know that Helen Keller wrote 14 books as well as hundreds of essays and articles on a broad array of subjects ranging from animals and atomic energy to Mahatma Gandhi."
And, of course, she was a lifelong advocate for the blind and deaf, writing and speaking out on disability rights issues for decades. Indeed, it's difficult to find a subject in which she did not take an interest. The archive's subject index shows her writing about games, sports, reading, shopping, swimming, travel, architecture and the arts, education, law, government, world religions, royalty, women's suffrage, and more. There were many in her time who dismissed Keller's unpopular views, calling her naïve and claiming that she had been duped by nefarious actors. The charge is insulting and false. Her body of work shows her to have been an extraordinarily well-read, wise, cosmopolitan, sensitive, self-aware, and honest critical thinker.
Two years after the NAACP letter, Keller wrote an essay called "Competition," in which she made the case for "a better social order" against a central conceit of capitalism: that "life would not be worth while without the keen edge of competition," and that without it "men would lose ambition, and the race would sink into dull sameness." Keller advances her counterargument with vigorous and incisive reasoning.
This whole argument is a fallacy. Whatever is worth while in our civilization has survived in spite of competition. Under the competitive system the work of the world is badly done. The result is waste and ruin [….] Profit is the aim, and the public good is a secondary consideration. Competition sins against its own pet god efficiency. In spite of all the struggle, toil and fierce effort the result is a depressing state of destitution for the majority of mankind. Competition diverts man's energies into useless channels and degrades his character. It is immoral as well as inefficient, since its commandment is "Thou shalt compete against thy neighbor." Such a rule does not foster Truthfulness, honesty, consideration for others. [….] Competitors are indifferent to each other's welfare. Indeed, they are glad of each other's failure because they find their advantage in it. Compassion is deadened in them by the necessity they are under of nullifying the efforts of their fellow-competitors.
Keller refused to become cynical in the face of seemingly indefatigable greed, cruelty, and hypocrisy. Though not a member of a mainstream church (she belonged to the obscure Christian sect of Swedenborgianism), she exhorted American Christians to live up to their professions—to follow the example of their founder and the commandments of their sacred text. In an essay written after World War I, she argued movingly for disarmament and "the vital issue of world peace." While making a number of logical arguments, Keller principally appeals to the common ethos of the nation's dominant faith.
This is precisely where we have failed, calling ourselves Christians we have fundamentally broken, and taught others to break most patriotically, the commandment of the Lord, "Thou shalt not kill" [….] Let us then try out Christianity upon earth—not lip-service, but the teaching of Him who came upon earth that "all men might have life, and have it more abundantly." War strikes at the very heart of this teaching.
We can hear Helen Keller's voice speaking directly to us from the past, diagnosing the ills of her age that look so much like those of our own. "The mythological Helen Keller," writes Keith Rosenthal, "has aptly been described as a sort of 'plaster saint;' a hollow, empty vessel who is little more than an apolitical symbol for perseverance and personal triumph." Though she embodied those qualities, she also dedicated her entire life to careful observation of the world around her, to writing and speaking out on issues that mattered, and to caring deeply about the welfare of others. Get to know the real Helen Keller, in all her complexity, fierce intelligence, and ferocious compassion, at the American Foundation for the Blind's exhaustive digital archive of her life and work.
Related Content:
Mark Twain & Helen Keller's Special Friendship: He Treated Me Not as a Freak, But as a Person Dealing with Great Difficulties
Helen Keller Writes a Letter to Nazi Students Before They Burn Her Book: "History Has Taught You Nothing If You Think You Can Kill Ideas" (1933)
Watch Helen Keller & Teacher Annie Sullivan Demonstrate How Helen Learned to Speak (1930)
Josh Jones is a writer and musician based in Durham, NC. Follow him at @jdmagness