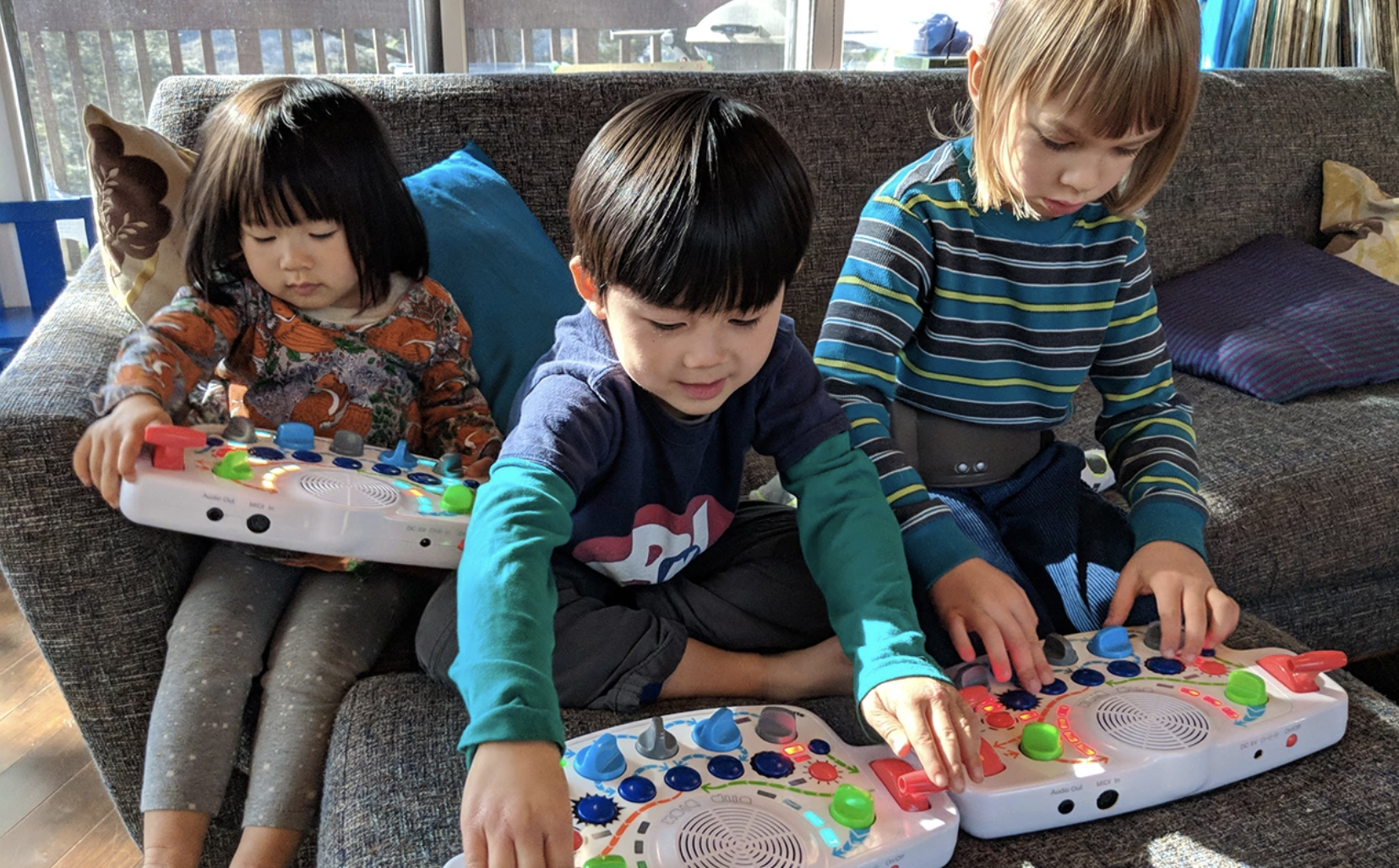 A series of videos has been going around showing Zakk Wylde, former guitarist for Ozzy Osbourne, playing classic rock and metal songs on diminutive Hello Kitty guitars. They're funny: seeing the burly, bearded legend rock out on a kid's guitar; but they're also pretty impressive, when he wrings real grit and feeling from these unlikely instruments.
I imagine it won't be long before we'll see a similar stunt with someone like Moby, for example, ripping out danceable grooves on the Blipblox, a kids' toy that is also a fully-functioning synthesizer ("actually, it's both"!).
While the Blipblox may look like one of thousands of noisy console-like toddler toys, it's one that won't tempt parents to do what many parents do (be honest)—pull out the batteries and hide them where they can't ever be found.
Apologies to Hello Kitty guitars, but by comparison with most instruments made for kids, the Blipblox is seriously sophisticated. "What sets this apart from other toys," writes Mixmag, "is that it uses 'a proprietary algorithm that synthesizes completely unique waveforms' allowing users to create their own soundwave. The features include one low pass filter, two envelope generators, eight oscillator modulation schemes, two LFOs and MIDI, plus more."
If those specs sound like an alien language to you, they won't make any more sense to your 3-year-old, and they don't need to. "The blipblox was made to have fun without fully understanding how it works," says the toy synthesizer's creator in an introductory video above. Turn it on and start hitting buttons, twisting dials, and pushing the two joystick-like controllers back and forth, and beats, bleeps, bloops, blurps, and other synth-y sounds spill out, at various tempos and pitches.
As kids (or parents who hijack the device) gain more control, they can start refining their technique and create original compositions, as you can see happening in the "studio sessions" video above. Then they can output their sounds to mom and dad's home studio, or wherever—Blipblox is ready, as its Indiegogo campaign promises, for "a pro studio setup." Or just lots of entertaining goofing around.
The Blipblox is a brilliant invention and has already won a 2018 award for "Best Teaching Tool for Pre-School Students" and made an appearance at the very grown-up 2018 NAMM (National Association of Music Merchants) convention—see below. Priced at $159, the Blipblox ships this summer. Sign up at Indiegogo for "early bird perks."
via Mixmag
Related Content:
Mister Rogers, Sesame Street & Jim Henson Introduce Kids to the Synthesizer with the Help of Herbie Hancock, Thomas Dolby & Bruce Haack
Everything Thing You Ever Wanted to Know About the Synthesizer: A Vintage Three-Hour Crash Course
Free, Open Source Modular Synth Software Lets You Create 70s & 80s Electronic Music—Without Having to Pay Thousands for a Real-World Synthesizer
Josh Jones is a writer and musician based in Durham, NC. Follow him at @jdmagness