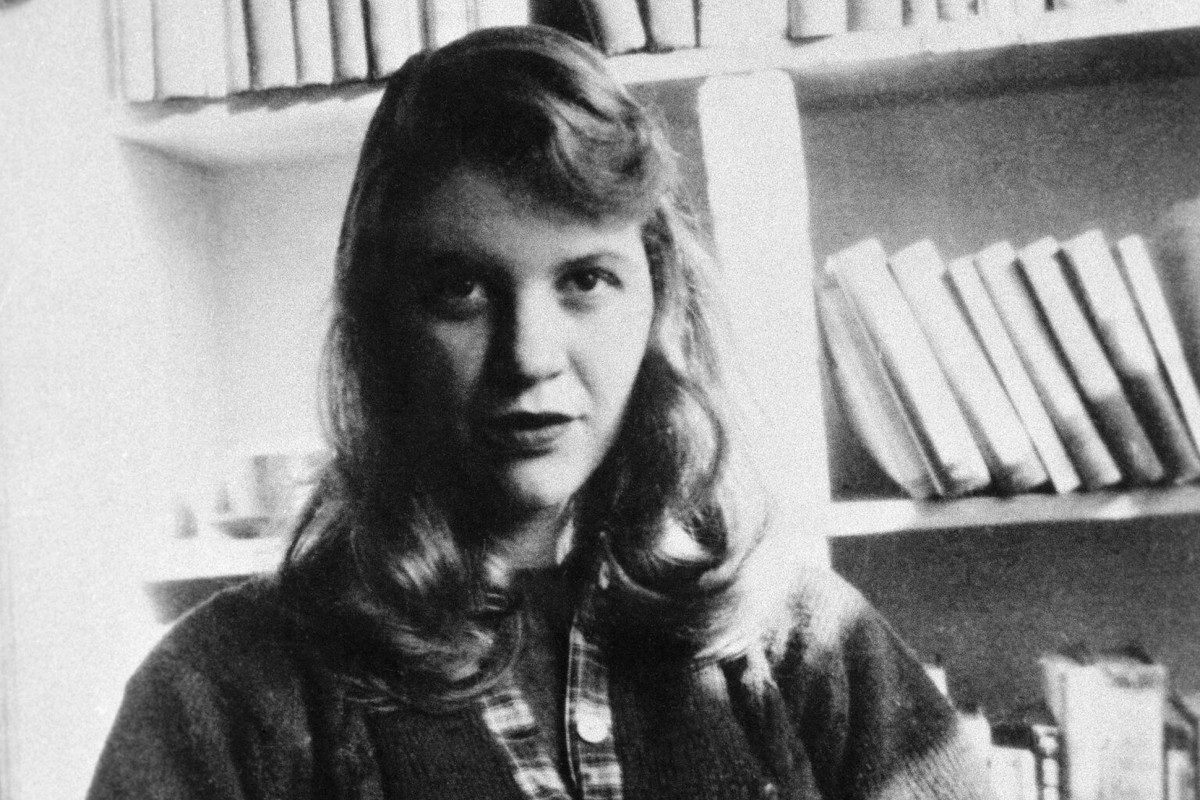 Image via Wiki­me­dia Com­mons
Preg­nan­cy and par­ent­ing are "extreme expe­ri­ences that stretch our under­stand­ing," writes Lily Gur­ton-Wachter at the Los Ange­les Review of Books. They "push us beyond com­fort or even com­pre­hen­sion." Women risk their own lives to give life to a stranger, a tiny human whose future is entire­ly uncer­tain. Par­ents live with con­stant dread of all that could befall their chil­dren, an anx­ious state, but also a vul­ner­a­bil­i­ty that can make us deeply sen­si­tive to the fragili­ty of human life. Gur­ton-Wachter com­pares moth­er­hood to going to war, "a pro­found, fright­en­ing, exhil­a­rat­ing, trans­for­ma­tive expe­ri­ence at the bound­ary of life, an expe­ri­ence from which one comes back a dif­fer­ent per­son."
It's a com­par­i­son Sylvia Plath would like­ly appre­ci­ate. With her abil­i­ty to com­press per­son­al expe­ri­ence in col­lec­tions of sur­pris­ing, often vio­lent, images, Plath expressed deep ambiva­lence about moth­er­hood, under­cut­ting a tra­di­tion of sen­ti­men­tal ide­al­iza­tion, giv­ing voice to fear, dis­com­fort, bewil­der­ment, and mys­tery.
In "Metaphors," from 1960's Colos­sus, she begins with a play­ful descrip­tion of preg­nan­cy as "a rid­dle in nine syl­la­bles." With­in a few lines she feels effaced and starts to "see her­self mere­ly as a 'means,'" notes Shenan­doah, "almost an incu­ba­tor… This cul­mi­nates with the last line, where she real­izes that she is for­ev­er changed, irrev­o­ca­bly": "Board­ed the train," she writes, "there's no get­ting off."
In 1961, after the birth of her daugh­ter, Frie­da, Plath wrote "Morn­ing Song, which might be read as almost an exten­sion of "Metaphors." It is "one of her most unusu­al poems," writes Maria Popo­va at Brain Pick­ings, "both paean and requiem for new motherhood—the love, the strange­ness, the sur­re­al and mag­net­ic dis­ori­en­ta­tion of it." Pub­lished posthu­mous­ly in Ariel, the poem address­es itself to the new arrival, in a series of stan­zas that cap­ture the awe and anx­i­ety of those first hours after her birth. In the audio above from the Acad­e­my of Amer­i­can Poets' annu­al Poet­ry & the Cre­ative Mind event, hear Meryl Streep read the poem "with uncom­mon sen­si­tiv­i­ty," Popo­va writes, "to the innu­mer­able nuances it holds." As you lis­ten, read along below.
MORNING SONG

Love set you going like a fat gold watch.
The mid­wife slapped your foot­soles, and your bald cry
Took its place among the ele­ments.

Our voic­es echo, mag­ni­fy­ing your arrival. New stat­ue.
In a drafty muse­um, your naked­ness
Shad­ows our safe­ty. We stand round blankly as walls.

I'm no more your moth­er
Than the cloud that dis­tills a mir­ror to reflect its own slow
Efface­ment at the wind's hand.

All night your moth-breath
Flick­ers among the flat pink ros­es. I wake to lis­ten:
A far sea moves in my ear.

One cry, and I stum­ble from bed, cow-heavy and flo­ral
In my Vic­to­ri­an night­gown.
Your mouth opens clean as a cat's. The win­dow square

Whitens and swal­lows its dull stars. And now you try
Your hand­ful of notes;
The clear vow­els rise like bal­loons.
Streep­'s read­ing of Plath will be added to the poet­ry sec­tion of our col­lec­tion, 1,000 Free Audio Books: Down­load Great Books for Free.
via Brain Pick­ings
Relat­ed Con­tent
Hear Sylvia Plath Read 50+ of Her Dark, Com­pelling Poems
Dis­cov­er the Paint­ings, Draw­ings & Col­lages of Sylvia Plath: Now on Dis­play at the Smith­son­ian Nation­al Por­trait Gallery
Hear Sylvia Plath's Bare­ly-Known Radio Play, Three Women
Josh Jones is a writer and musi­cian based in Durham, NC. Fol­low him at @jdmagness