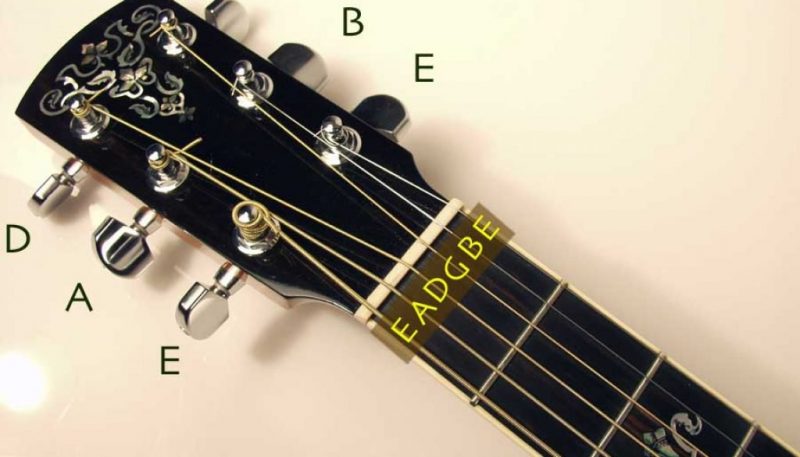 Joni Mitchell, Keith Richards, Robert Johnson, Ani DiFranco, and Bob Dylan. What do they have in common? For one, they've experimented with alternate guitar tunings, going beyond the standard EADGBE tuning most commonly used by musicians. Keith Richards used the Open G tuning (GDGBD) to write some of the Stones' classic tracks–"Honky Tonk Woman," "Brown Sugar," "Beast of Burden," "Gimme Shelter," "Happy," and "Start Me Up." Try playing them in a standard tuning and they'll never sound quite right.
If you're a guitarist looking for a different sound, spend some time with Warren Allen's Encyclopedia of Alternate Guitar Tunings. It's a handy resource. First created in 1997, this vintage web page presents a library of unconventional tunings, complete with a list of songs where they were artistically put to use. Enter the Encyclopedia here.
If you would like to sign up for Open Culture's free email newsletter, please find it here.
If you would like to support the mission of Open Culture, consider making a donation to our site. It's hard to rely 100% on ads, and your contributions will help us continue providing the best free cultural and educational materials to learners everywhere. You can contribute through PayPal, Patreon, and Venmo (@openculture). Thanks!
Related Content:
Stevie Ray Vaughan Plays the Acoustic Guitar in Rare Footage, Letting Us See His Guitar Virtuosity in Its Purest Form
Jimi Hendrix Plays the Delta Blues on a 12-String Acoustic Guitar in 1968, and Jams with His Blues Idols, Buddy Guy & B.B. King
B.B. King Changes Broken Guitar String Mid-Song at Farm Aid, 1985 and Doesn't Miss a Beat