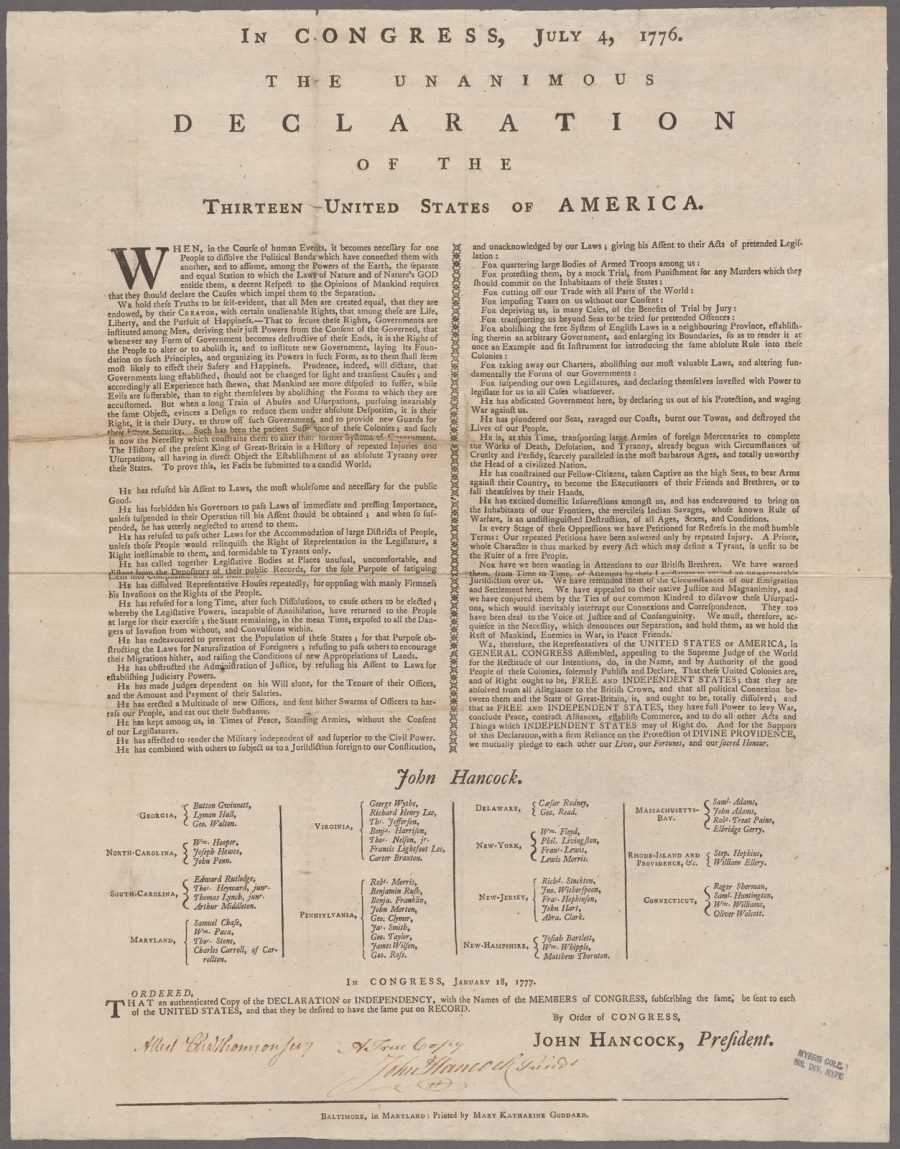 Once again, it's time for Americans to celebrate their country's "birthday," a rather miraculous event, we might say, since the only people present at the birth were founding fathers. See their names on the printed Declaration of Independence above, from the outsized John Hancock, to famous favorites Benjamin Franklin, Thomas Jefferson, and second cousins John and Sam Adams, to a bunch of other guys no one remembers. But wait, zoom in (to the scanned copy here), who's that at the bottom? No, the very, very bottom, in tiny type…. "Baltimore, in Maryland: Printed by Mary Katharine Goddard." Who?
"If you've never noticed it or heard of her, you aren't alone," writes Petula Dvorak at The Washington Post, but Mary Goddard could be called "a Founding Mother, of sorts," as a publisher of the Maryland Journal, proprietor of a printing press, bookstore owner, and postmaster general of Baltimore.
Goddard was fearless her entire career as one of America's first female publishers, printing scoops from Revolutionary War battles from Concord to Bunker Hill and continuing to publish after her offices were twice raided and her life was repeatedly threatened by haters.
In "her boldest move," she put her full name at the bottom of copies of the Declaration that her press printed and distributed to all of the colonies. This was the first copy Americans would see with all of the signers' name. Goddard had received the commission from Congress and more honors besides. In 1775, she was appointed Baltimore's first postmaster, serving "under the leadership of Postmaster General Benjamin Franklin," notes the National Postal Museum. She "may have been the first woman postmaster in colonial America."
The printing and postal trades were a family business: her father Giles served as postmaster of New London, Connecticut, and her younger brother William established the colonial postal system. Just as she has been sidelined by history, she was sidelined in her lifetime. She "lost her job as publisher," writes Dvorak, "after her brother married and returned to Baltimore in 1784, taking over the Maryland Journal and ousting his sister."
And after serving as Baltimore postmaster for 14 years, she was pushed out of the job by Postmaster General Samuel Osgood, who "didn't think a woman could handle all the travel associated with the job." (Over 200 merchants and residents of Baltimore petitioned Osgood, to no avail.) The story of Goddard's life and career is both inspiring and frustrating—but here's to hoping she makes it into the history books where she belongs. See her printed copy of the Declaration in high-resolution detail at the New York Public Library's Digital Collections.
Related Content:
Read George Washington's "110 Rules of Civility": The Code of Decency That Guided America's First President
An Archive of 8,000 Benjamin Franklin Papers Now Digitized & Put Online
Thomas Jefferson's Handwritten Vanilla Ice Cream Recipe
Josh Jones is a writer and musician based in Durham, NC. Follow him at @jdmagness