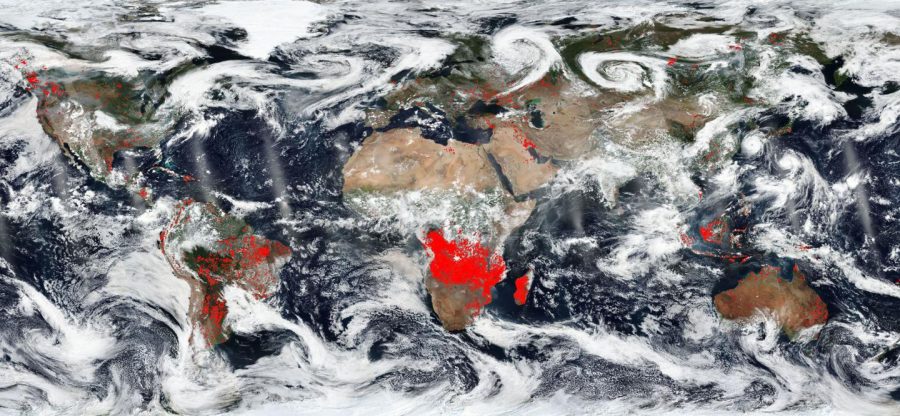 "The world is on fire. Or so it appears in this image from NASA's World­view. The red points over­laid on the image des­ig­nate those areas that by using ther­mal bands detect active­ly burn­ing fires."
The image and cap­tion above come from NASA's God­dard Space Flight Cen­ter. On a relat­ed page, they go into some more detail, explain­ing why good parts of Africa, Chile, Brazil and North Amer­i­ca are aflame this sum­mer. Droughts, extreme tem­per­a­tures, agri­cul­tur­al practices–they're all part of a wor­ry­ing pic­ture. View NASA's pic­ture in a larg­er for­mat here.
If you would like to sign up for Open Culture's free email newslet­ter, please find it here.
If you would like to sup­port the mis­sion of Open Cul­ture, con­sid­er mak­ing a dona­tion to our site. It's hard to rely 100% on ads, and your con­tri­bu­tions will help us con­tin­ue pro­vid­ing the best free cul­tur­al and edu­ca­tion­al mate­ri­als to learn­ers every­where. You can con­tribute through Pay­Pal, Patre­on, and Ven­mo (@openculture). Thanks!
Relat­ed Con­tent:
A Cen­tu­ry of Glob­al Warm­ing Visu­al­ized in a 35 Sec­ond Video
Glob­al Warm­ing: A Free Course from UChica­go Explains Cli­mate Change
Frank Capra's Sci­ence Film The Unchained God­dess Warns of Cli­mate Change in 1958