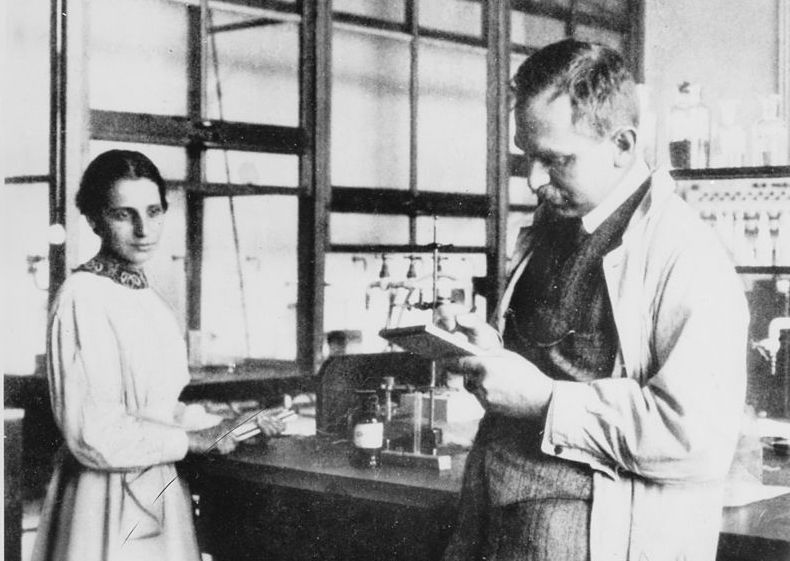 Pho­to via Wiki­me­dia Com­mons
The his­to­ry of sci­ence, like most every his­to­ry we learn, comes to us as a pro­ces­sion of great, almost exclu­sive­ly white, men, unbro­ken but for the occa­sion­al token woman—well-deserving of her hon­ors but seem­ing­ly anom­alous nonethe­less. "If you believe the his­to­ry books," notes the Time­line series The Matil­da Effect, "sci­ence is a guy thing. Dis­cov­er­ies are made by men, which spur fur­ther inno­va­tion by men, fol­lowed by acclaim and prizes for men. But too often, there is an unsung woman genius who deserves just as much cred­it" and who has been over­shad­owed by male col­leagues who grabbed the glo­ry.
In 1993, Cor­nell Uni­ver­si­ty his­to­ri­an of sci­ence Mar­garet Rossiter dubbed the denial of recog­ni­tion to women sci­en­tists "the Matil­da effect," for suf­frag­ist and abo­li­tion­ist Matil­da Joslyn Gage, whose 1893 essay "Woman as an Inven­tor" protest­ed the com­mon asser­tion that "woman… pos­sess­es no inven­tive or mechan­i­cal genius." Gage wrote that "even the Unit­ed States cen­sus" failed "to enu­mer­ate her among the inven­tors of the coun­try." Such asser­tions, Gage pro­ceed­ed to demon­strate, "are care­less­ly or igno­rant­ly made… although woman's sci­en­tif­ic edu­ca­tion has been gross­ly neglect­ed, yet some of the most impor­tant inven­tions of the world are due to her."
Over 100 years lat­er, Rossiter's tena­cious work in unearthing the con­tri­bu­tions of U.S. women sci­en­tists inspired the His­to­ry of Sci­ence Soci­ety to name a pres­ti­gious prize after her. The Time­line series pro­files of the few of the women whom it describes as prime exam­ples of the Matil­da effect, includ­ing Dr. Lise Meit­ner, the Aus­tri­an-born physi­cist and pio­neer of nuclear tech­nol­o­gy who escaped the Nazis and became known in her time as "the Jew­ish Moth­er of the Bomb," though she had noth­ing to do with the atom­ic bomb. Instead, "Meit­ner led the research that ulti­mate­ly dis­cov­ered nuclear fis­sion." But Meit­ner would become "lit­tle more than a foot­note in the his­to­ry of Nazi sci­en­tists and the birth of the Atom­ic age."
Instead, Meitner's col­league Otto Hahn received the acco­lades, a Nobel Prize in Chem­istry and "renown as the dis­cov­er­er of nuclear fis­sion. Meit­ner, who direct­ed Hahn's most sig­nif­i­cant exper­i­ments and cal­cu­lat­ed the ener­gy release result­ing from fis­sion, received a few essen­tial­ist head­lines fol­lowed by decades of obscu­ri­ty." (See Meit­ner and Hahn in the pho­to above.) Like­wise, the name of Alice Augus­ta Ball has been "all but scrubbed from the his­to­ry of med­i­cine," though it was Ball, an African Amer­i­can chemist from Seat­tle, Wash­ing­ton, who pio­neered what became known as the Dean Method, a rev­o­lu­tion­ary treat­ment for lep­rosy.
Ball con­duct­ed her research at the Uni­ver­si­ty of Hawaii, but she trag­i­cal­ly died at the age of 24, in what was like­ly a lab acci­dent, before the results could be pub­lished. Instead, Uni­ver­si­ty Pres­i­dent Dr. Arthur Dean, who had co-taught chem­istry class­es with Ball, con­tin­ued her work. But he failed "to men­tion Ball's key con­tri­bu­tion" despite protes­ta­tions from Dr. Har­ry Holl­mann, a sur­geon who worked with Ball on treat­ing lep­rosy patients. Dean claimed cred­it, and pub­lished their work under his name. Decades lat­er, "the scant archival trail of Alice Ball was redis­cov­ered…. In 2000, a plaque was installed at the Uni­ver­si­ty of Hawaii com­mem­o­rat­ing Ball's accom­plish­ments."
Oth­er women in the Matil­da effect series include bac­te­r­i­al geneti­cist Esther Leder­berg, who made amaz­ing dis­cov­er­ies in genet­ics that won her hus­band a Nobel Prize; Irish astro­physi­cist Joce­lyn Bell Bur­nell, who dis­cov­ered the first radio pul­sars in 1967, but was exclud­ed from the Nobel award­ed to her the­sis super­vi­sor Antony Hewish and astronomer Mar­tin Ryle. A sim­i­lar fate befell Dr. Ros­alind Franklin, the chemist exclud­ed from the Nobel award­ed to her col­leagues James Wat­son, Fran­cis Crick, and Mau­rice Wilkins for the dis­cov­ery of DNA.
These promi­nent exam­ples are but the tip of the ice­berg when it comes to women who made sig­nif­i­cant con­tri­bu­tions to sci­en­tif­ic his­to­ry and were reward­ed by being writ­ten out of it and denied awards and recog­ni­tion in their life­time. For more on the his­to­ry of U.S. women in sci­ence and the social forces that worked to exclude them, see Mar­garet Rossiter's three-vol­ume Women Sci­en­tists in Amer­i­ca series: Strug­gles and Strate­gies to 1940, Before Affir­ma­tive Action, 1940–1972, and Forg­ing a New World since 1972. And read Timeline's Matil­da Effect series of arti­cles here.
Relat­ed Con­tent:
Read the "Don't Let the Bas­tards Get You Down" Let­ter That Albert Ein­stein Sent to Marie Curie Dur­ing a Time of Per­son­al Cri­sis (1911)
Marie Curie Attend­ed a Secret, Under­ground "Fly­ing Uni­ver­si­ty" When Women Were Banned from Pol­ish Uni­ver­si­ties
Pop Art Posters Cel­e­brate Pio­neer­ing Women Sci­en­tists: Down­load Free Posters of Marie Curie, Ada Lovelace & More
The Ency­clo­pe­dia of Women Philoso­phers: A New Web Site Presents the Con­tri­bu­tions of Women Philoso­phers, from Ancient to Mod­ern
Josh Jones is a writer and musi­cian based in Durham, NC. Fol­low him at @jdmagness