I'd be happy if I could think that the role of the library was sustained and even enhanced in the age of the computer. —Bill Gates
The New York Public Library excels at keeping a foot in both worlds, particularly when it comes to engaging younger readers.
Visitors from all over the world make the pilgrimage to see the real live Winnie-the-Pooh and friends in the main branch's hopping children's center.
And now anyone with a smartphone and an Instagram account can "check out" their digital age take on Lewis Carroll's Alice's Adventures in Wonderland—no library card required. See Part 1 here and Part 2 here.
Working with the design firm Mother, the library has found a way to make great page-turning use of the Instagram Stories platform—more commonly used to share blow-by-blow photographic evidence of road trips, restaurant outings, and hash-tagged weddings.
The Wonderland experience remains primarily text-based.
In other words, sorry, harried caregivers! There's no handing your phone off to the pre-reading set this time around!
No trippy Disney teacups…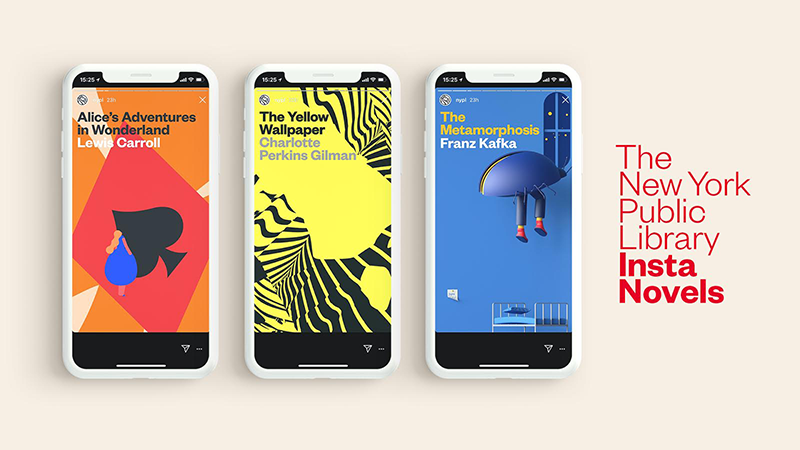 Sir John Tenniel's classic illustrations won't be springing to animated life. Instead, you'll find conceptual artist Magoz's bright minimalist dingbats of keyholes, teacups, and pocket watches in the lower right hand corner. Tap your screen in rapid succession and they function as a crowd-pleasing, all ages flip book.
Elsewhere, animation allows the text to take on clever shapes or reveal itself line by line—a pleasantly theatrical, Cheshire Cat like approach to Carroll's impudent poetry.
Remember the famous scene where the Duchess and the Cook force Alice to mind a baby who turns into a pig? Grab some friends and hunch over the phone for a communal read aloud! (It's on page 75 of part 1)
Speak roughly to your little boy,
 And beat him when he sneezes:
 He only does it to annoy,
 Because he knows it teases
CHORUS
 (In which the cook and the baby joined)
 'Wow! wow! wow!' 
Navigating this new media can be a bit confusing for those whose social media fluency is not quite up to speed, but it's not hard once you get the hang of the controls.
Tapping the right side of the screen turns the page.
Tapping left goes back a page.
And keeping a thumb (or any finger, actually) on the screen will keep the page as is until you're ready to move on. You'll definitely want to do this on animated pages like the one cited above. Pretend you're playing the flute and you'll save a lot of frustration.
The library plans to introduce your phone to Charlotte Perkins Gilman's short story "The Yellow Wallpaper" and Franz Kafka's The Metamorphosis via Instagram Stories over the next couple of months. Like Alice, both works are in the public domain and share an appropriate common theme: transformation.
Use these links to go directly to part 1 and part 2 of Alice's Adventures in Wonderland on Instagram Stories. Both parts are currently pinned to the top of the library's Instagram account.
Related Content:
Behold Lewis Carroll's Original Handwritten & Illustrated Manuscript for Alice's Adventures in Wonderland (1864)
Alice in Wonderland: The Original 1903 Film Adaptation
The Psychological & Neurological Disorders Experienced by Characters in Alice in Wonderland: A Neuroscience Reading of Lewis Carroll's Classic Tale
Ayun Halliday is an author, illustrator, theater maker and Chief Primatologist of the East Village Inky zine. Join her in NYC on Monday, September 24 for another monthly installment of her book-based variety show, Necromancers of the Public Domain. Follow her @AyunHalliday.