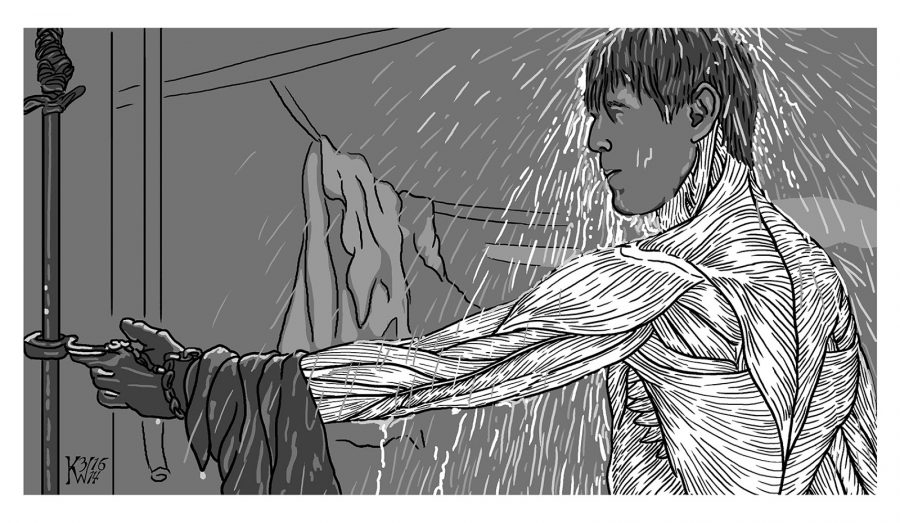 Remem­ber the scene in Tomor­row Nev­er Dies when sexy dou­ble agent Wai Lin hand­cuffs James Bond to the show­er and leaves him there?
Alter­nate­ly, remem­ber "Table 9" from anatomist Bernard Siegfried Albi­nus' 1749 Tab­u­lae sceleti et mus­cu­lo­rum cor­poris humani?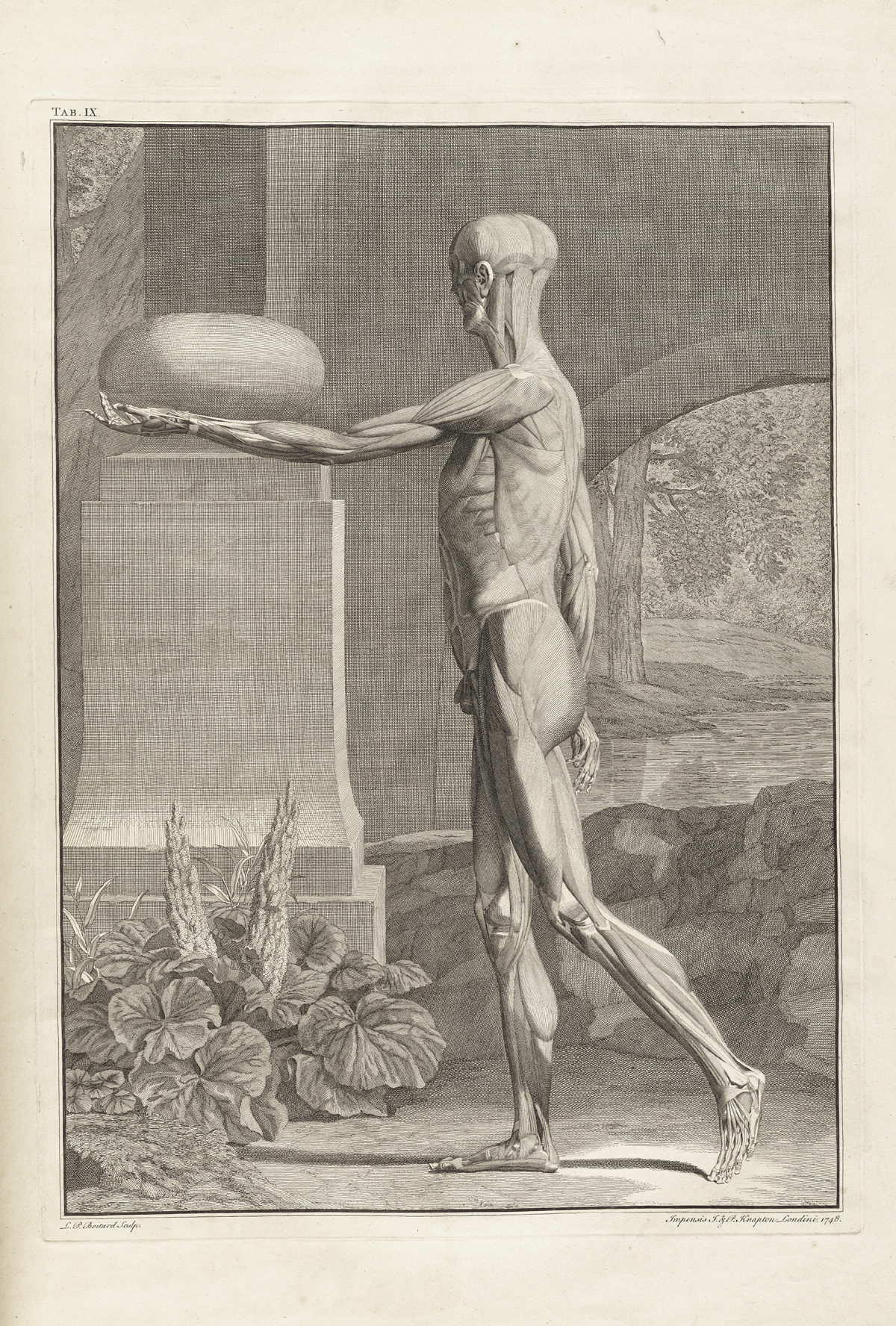 Kri­o­ta Will­berg, an edu­ca­tor, mas­sage ther­a­pist at Memo­r­i­al Sloan Ket­ter­ing Can­cer Cen­ter, and author of Draw Stronger: Self-Care For Car­toon­ists and Oth­er Visu­al Artists, is suf­fi­cient­ly steeped in both Bond and Albi­nus to iden­ti­fy strik­ing visu­al sim­i­lar­i­ties.
That show­er scene is just one icon­ic moment that Will­berg includ­ed in her mini-com­ic, Pic­to­r­i­al Anato­my of 007.
Agent Bond's sar­to­r­i­al sense is a cru­cial aspect of his appeal, but Will­berg, a Bond fan who's seen every film in the canon at least five times, digs below that cel­e­brat­ed sur­face, peel­ing back skin to expose the struc­tures that lie beneath.
Sean Connery's Bond exhibits a vet­er­an artist's mod­el's still­ness wait­ing for the right time to make his move against Dr. No's "eight-legged assas­sin." Even before Will­berg got involved, it was an excel­lent show­case for his pecs, delta, and ster­n­ocleit­o­mas­toid mus­cles.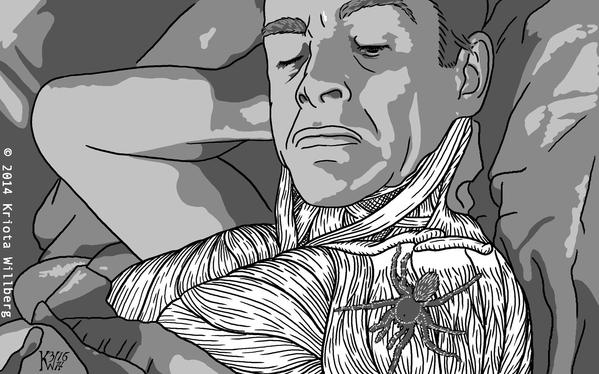 Leav­ing her flayed Bonds in their cin­e­mat­ic set­tings are a way of pay­ing trib­ute to the antique anatom­i­cal illus­tra­tions Will­berg admires for their dynamism:
…sit­ting in a chair, tak­ing a stroll, hold­ing its skin or organs out of the way so that the read­er can get a bet­ter look at deep­er struc­tures. Some of the cadav­ers are very flir­ty. The pic­tures remind us that we are the organs we see on the page. They do stuff!
The New York Acad­e­my of Med­i­cine select­ed Will­berg as its first Artist in Res­i­dence, because of the way she explores the inter­sec­tions between body sci­ences and artis­tic prac­tices. (Oth­er projects include an intri­cate needle­point X‑Ray of her own root canal and Stitchin' Time!, a fic­tion­al encounter in which Aulus Cor­nelius Cel­sus (c. 25 BCE – c. 50 CE), author of De Med­i­c­i­na, and sur­geon Aelius Galenus (129 – c. 200 CE) team up to repair a dis­em­bow­eled glad­i­a­tor.
Is there a squea­mish bone in this artist's body?
All signs point to no.
Asked to pick a favorite Bond movie, she names Goldfin­ger for the mythol­o­gy con­cern­ing the infa­mous scene where­in a beau­ti­ful woman is paint­ed gold, but also 2006's Casi­no Royale for keep­ing the tor­ture scene from the book:
I didn't think they'd have the balls! Sor­ry! Poor taste but I couldn't resist. Although Tim­o­thy Dal­ton phys­i­cal­ly resem­bled Bond as described in the books, most of the movies make Bond out to be smarter than Flem­ing wrote him. I think Judy Dench called Daniel Craig, Casi­no Royale's Bond, a "blunt instru­ment" which is pret­ty much how he's writ­ten. He's tough and lucky and that's why he's sur­vived. Plus the machete fight is great.
Some­times peo­ple get too pris­sy about the body. I am meat and liv­er and sausage and so are you. Your body is inescapable while you live. You should get to know it. Think about it in dif­fer­ent con­texts. It's fun!
When From Rus­sia With Love's Rosa Klebb punch­es mas­ter assas­sin, Red Grant, in the stom­ach, she is squish­ing a liv­ing liv­er through liv­ing abdom­i­nal mus­cles.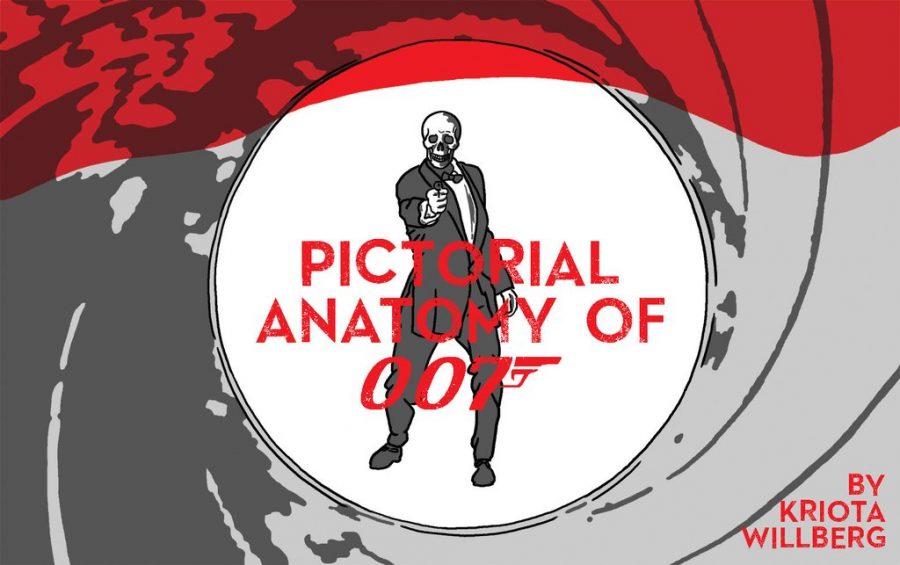 Hard copies of Kri­o­ta Willberg's anato­my-based comics, includ­ing Pic­to­r­i­al Anato­my of 007, are avail­able from Bird­cage Bot­tom Books.
Lis­ten to an hour-long inter­view with Comics Alter­na­tive in which Will­berg dis­cuss­es her New York Acad­e­my of Med­i­cine res­i­den­cy, anatom­i­cal research, and the ways in which humor informs her approach here.
Relat­ed Con­tent:
The Spell­bind­ing Art of Human Anato­my: From the Renais­sance to Our Mod­ern Times
Down­load the Sub­lime Anato­my Draw­ings of Leonar­do da Vin­ci: Avail­able Online, or in a Great iPad App
Free Online Biol­o­gy Cours­es
Ayun Hal­l­i­day is an author, illus­tra­tor, the­ater mak­er and Chief Pri­ma­tol­o­gist of the East Vil­lage Inky zine. Her lat­est script, Fawn­book, is avail­able in a dig­i­tal edi­tion from Indie The­ater Now. Fol­low her @AyunHalliday.