I see hints of blueprints, tile work, leaded-glass windows, William Blake, Paul Klee, Saul Steinberg, Al Hirschfeld, Edward Gorey, my mother's wasp waist, cats and dogs. I see my father, at age four, forty, and eighty-four, doodling his heart out.

—Nanette Vonnegut
Cartoonist, educator, and neurology buff Lynda Barry believes that doodling is good for the creative brain.
In support of that theory, we submit author Kurt Vonnegut, a very convincing case.
His daughter, Nanette, notes that he was drawn by the human face—his own and those of others.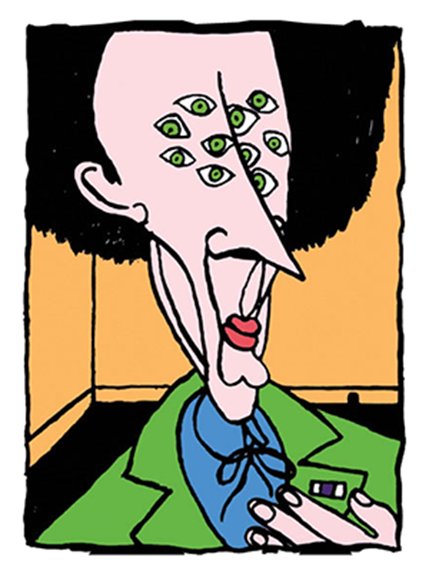 Portraits include one of his best-known fictional characters, the unsuccessful science fiction author Kilgore Trout. It's a revelation, especially to those of us who imagined Trout as something  closer to veteran character actor Seymour Cassel.
In addition to his humorous doodles, Vonnegut was known to chisel out a sculpture or two on the kitchen counter.
As a Cape Cod year-rounder, he painted seascapes.
He had a one-man show of his felt tip drawings in Greenwich Village in 1980 ("not because my pictures were any good but because people had heard of me").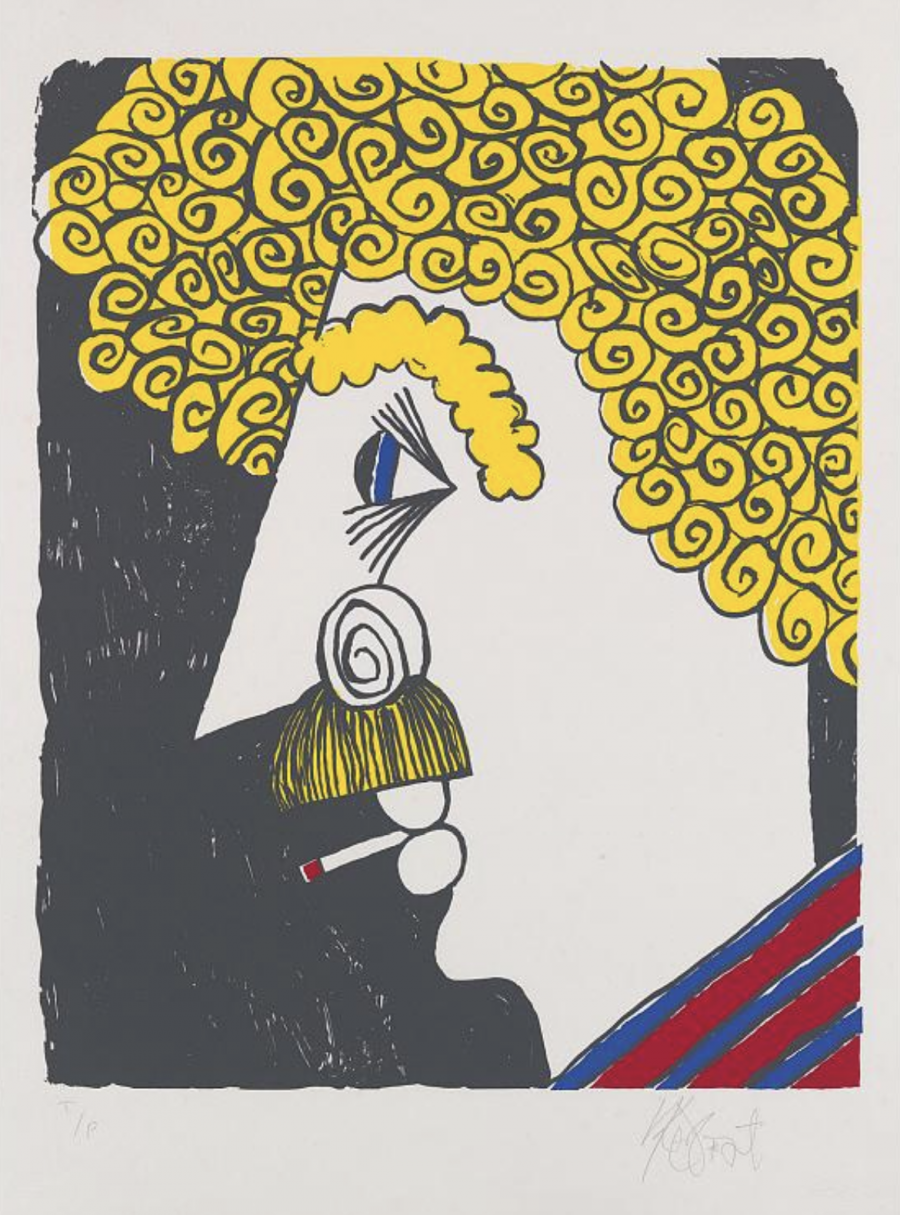 But the doodles are what captured the public's imagination, from the illustrations of Breakfast of Champions to his numerous self portraits.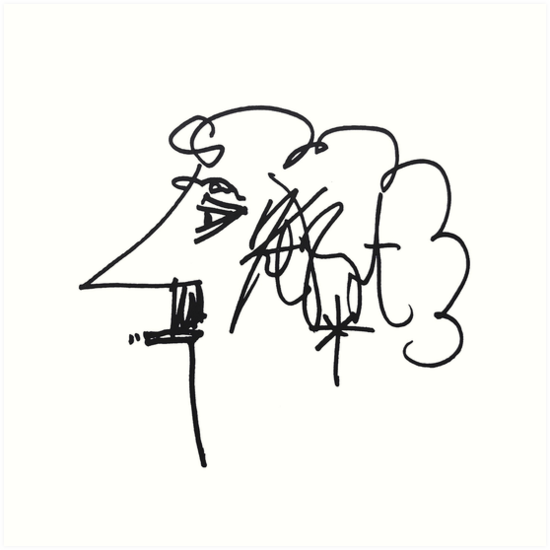 The son and grandson of architects, Vonnegut preferred to think of himself less as an artist than as a "picture designer." Working on a novel was a "nightmare," but drawing was pure pleasure.
Perfection was not the goal. Vonnegut realized a sympathetic community would spring up around an artist struggling within his limitations, and acted accordingly.
To that end, he recommended that people practice art "no matter how badly because it's known to make a soul grow."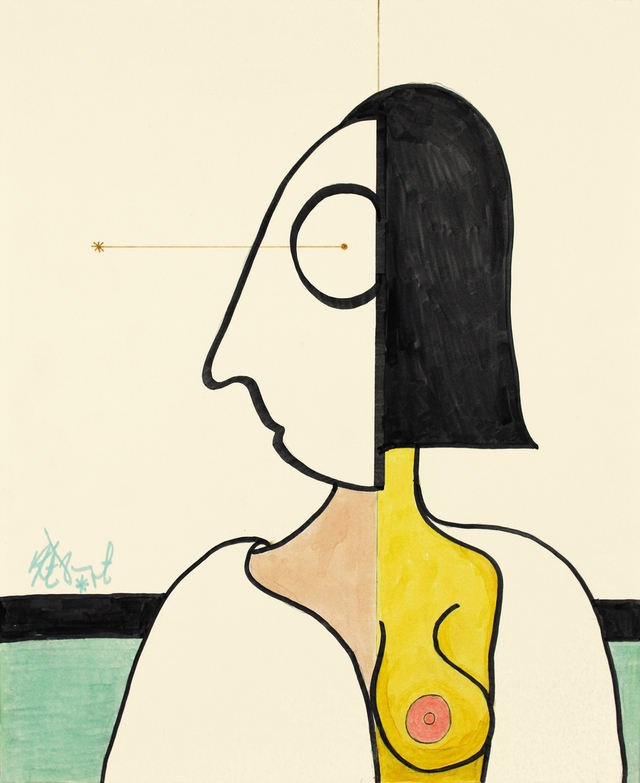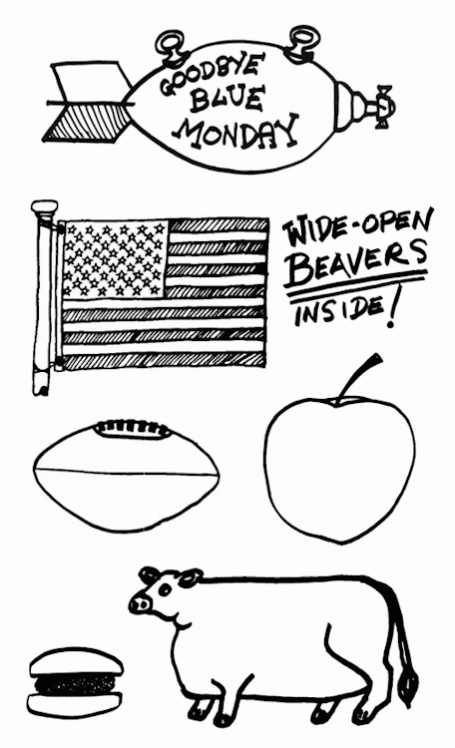 See a book of 145 Vonnegut drawings curated by his daughter, Nanette Vonnegut here.
Related Content:
Kurt Vonnegut Maps Out the Universal Shapes of Our Favorite Stories
22-Year-Old P.O.W. Kurt Vonnegut Writes Home from World War II: "I'll Be Damned If It Was Worth It"
Kurt Vonnegut Offers 8 Tips on How to Write Good Short Stories (and Amusingly Graphs the Shapes Those Stories Can Take)
Ayun Halliday is an author, illustrator, theater maker and Chief Primatologist of the East Village Inky zine.  Join her in NYC on Monday, October 15 for another monthly installment of her book-based variety show, Necromancers of the Public Domain. Follow her @AyunHalliday.