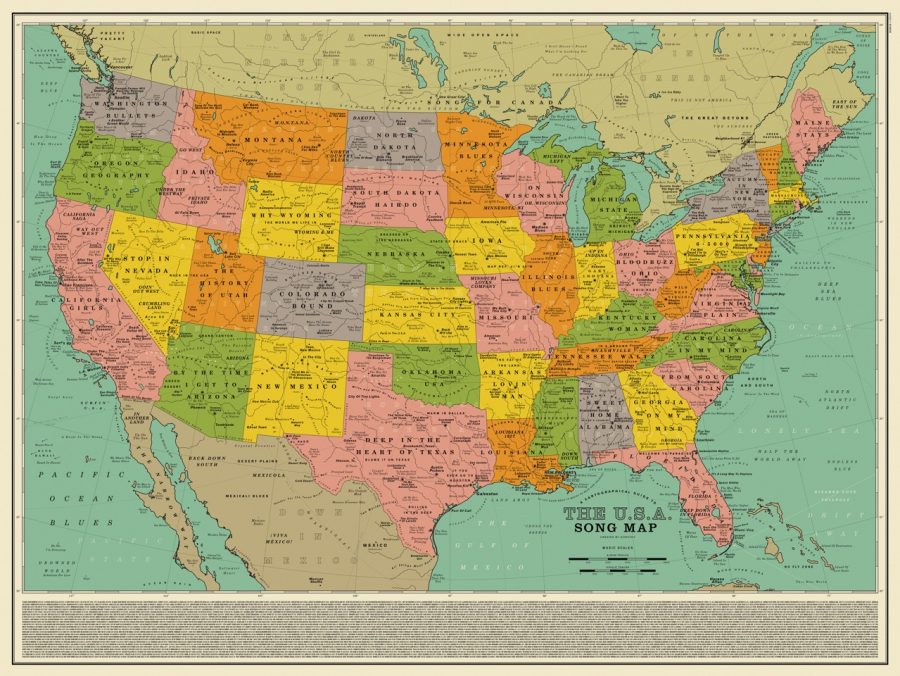 According to Leonard Cohen, songwriting is a lonely business, but there's nothing for it, he sings in "Tower of Song," when you're "born with the gift of a golden voice" and when "twenty-seven angels from the Great Beyond" tie you to a table and make you write. Just where is Cohen's tower? Maybe Montreal, his hometown, or his adopted city of L.A.? He doesn't tell us, though we do know Hank Williams lives 100 floors above, so there's a good chance that it's not a place on earth.
Cohen the poet had a gift for making metaphysical trips seem perfectly natural, but most songwriters, lonely or otherwise, rely on more realist conventions of narrative storytelling, including specific settings, whether mentioned in passing or forming a central theme.
Songs like "Little Old Lady from Pasadena," "Rockaway Beach," "Don't Go Back to Rockville," or "Straight Outta Compton" helped put their respective locales on the map.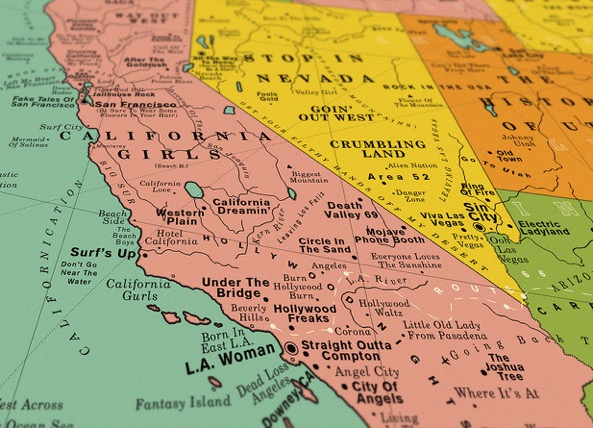 Design house Dorothy has taken that phrase literally, creating a map of the U.S. "made up entirely from the titles of over 1,000 songs" that "reference states, cities, rivers, mountains and landmarks." In the playlist below, you can listen to the country's geography, as sung by Lynyrd Skynyrd, David Bowie, R.E.M., Pink Floyd, George Strait, Kings of Leon, Jay Z,  Johnny Cash, Miles Davis, Joan Baez, and hundreds more artists who have little in common other than their use of a U.S. city, state, landmark, natural formation, etc. as an anchor for their lyrics.
Like Homer's Iliad, which maps the ancient Greek world with its copious references to ports, cities, mountains, and so on, the pop canon could be used by some future civilization to reconstruct the geography of the U.S. And if so, it might look quite a lot like this. But not only does the map situate well-known songs about well-known places in their proper coordinates, it also locates somewhat obscure locations name-checked  in songs like The Band's "The Weight," whose mention of Nazareth refers not to the Biblical town, but rather to Nazareth, Pennsylvania, home of Martin Guitars. (The city gets another boost, though not on this map, in Mark Knopfler's "Speedway at Nazareth," which refers to another local landmark.)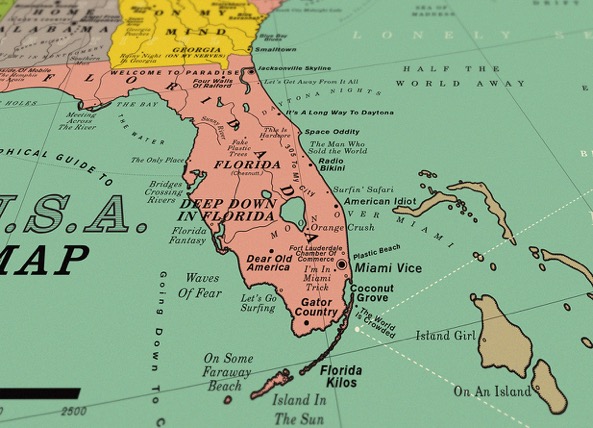 "Some of our favorite song choices are the ones which require you to think a little harder about connections," Dorothy admits, "such as 'Space Oddity' (David Bowie) which signposts Cape Canaveral, 'After the Gold Rush' (Neil Young) which references Sutter's Mill, and 'Homecoming' (Kanye West) which is placed near the rapper's home town of Chicago."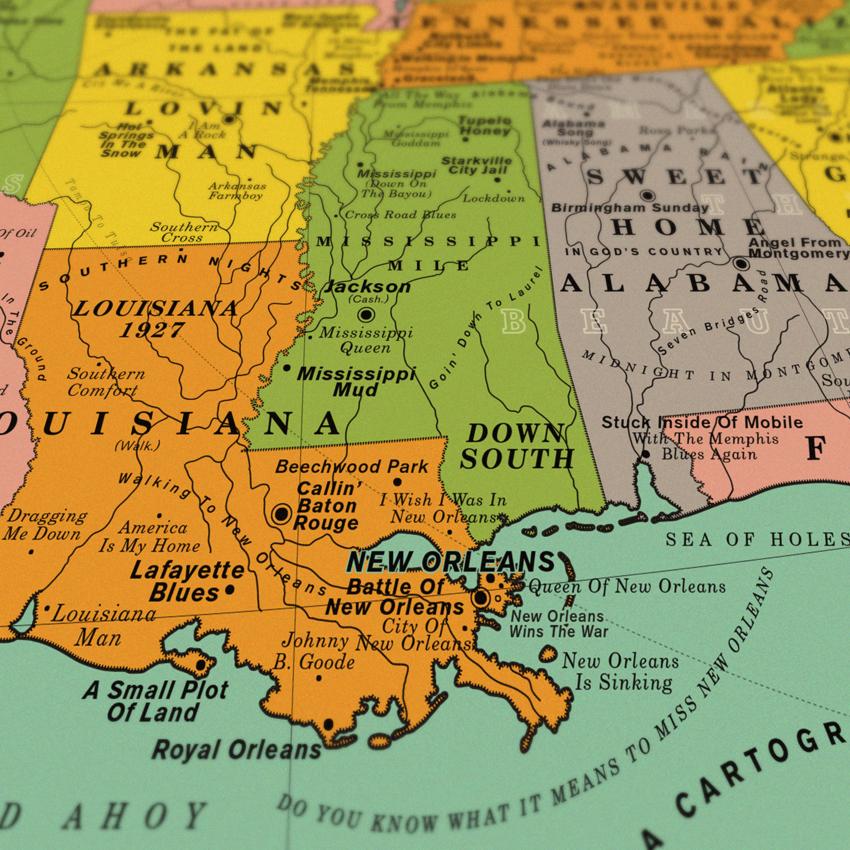 Perusing the map (zoom into a high-res version here) and playlist will doubtless alert you to other choices with oblique or implied references. In one instance, on the map of Florida, we see Green Day's "American Idiot," whose lyrics take on the whole nation, "under the new mania." Dorothy finds a single address for the song's vitriol, one suspiciously close to the so-called "Winter White House." Somehow I doubt the band would object to this creative geographical interpretation.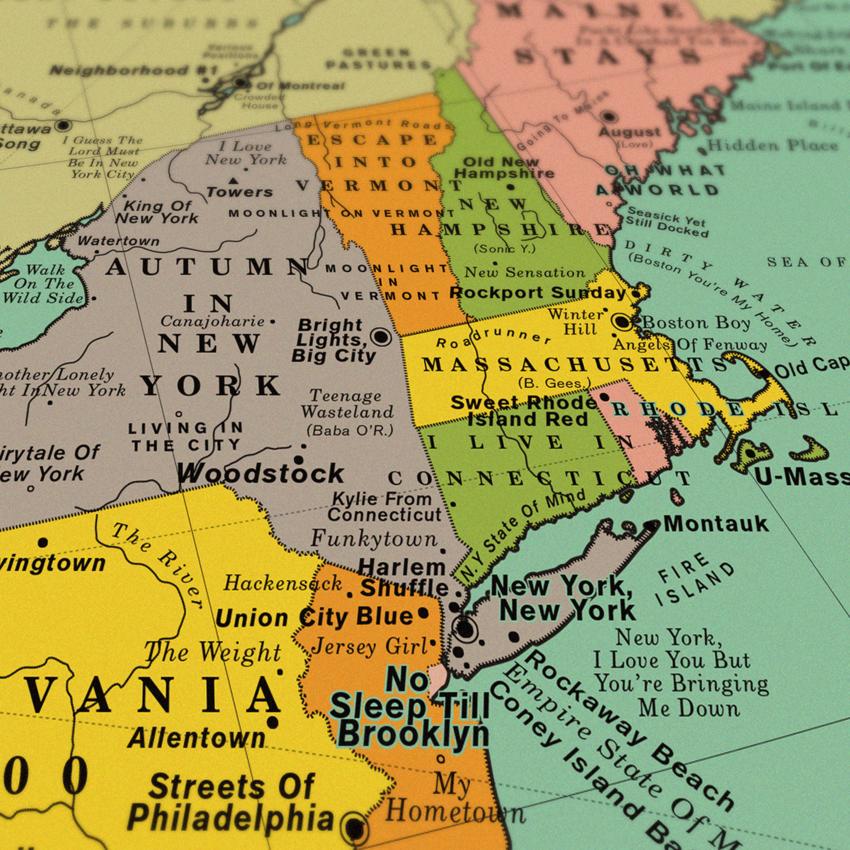 You can purchase your own copy of the map here.
Related Content:
Behold the MusicMap: The Ultimate Interactive Genealogy of Music Created Between 1870 and 2016
An Interactive Map Shows Just How Many Roads Actually Lead to Rome
A Handy, Detailed Map Shows the Hometowns of Characters in the Iliad
Josh Jones is a writer and musician based in Durham, NC. Follow him at @jdmagness