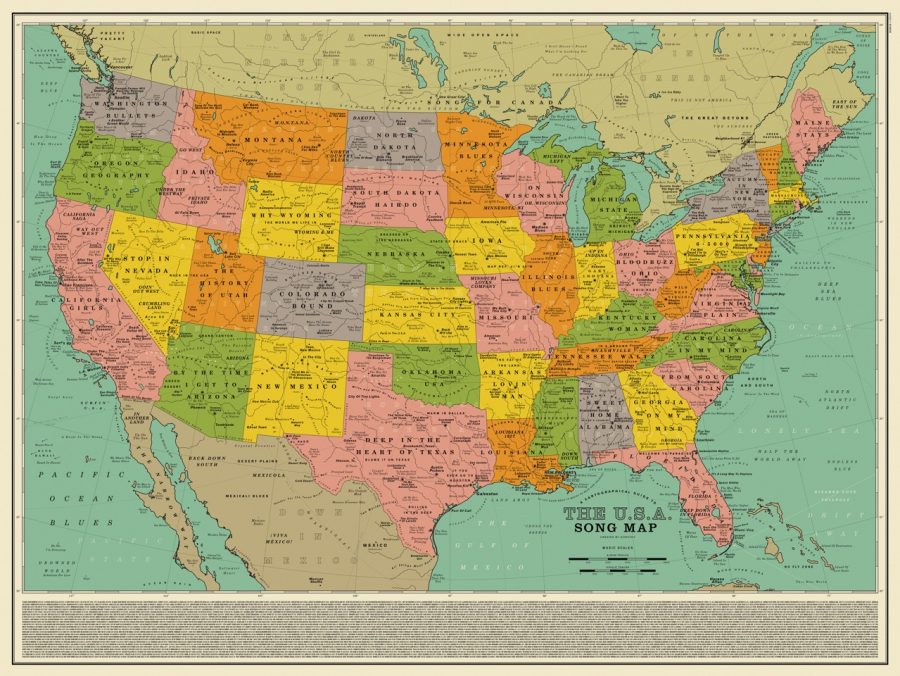 Accord­ing to Leonard Cohen, song­writ­ing is a lone­ly busi­ness, but there's noth­ing for it, he sings in "Tow­er of Song," when you're "born with the gift of a gold­en voice" and when "twen­ty-sev­en angels from the Great Beyond" tie you to a table and make you write. Just where is Cohen's tow­er? Maybe Mon­tre­al, his home­town, or his adopt­ed city of L.A.? He doesn't tell us, though we do know Hank Williams lives 100 floors above, so there's a good chance that it's not a place on earth.
Cohen the poet had a gift for mak­ing meta­phys­i­cal trips seem per­fect­ly nat­ur­al, but most song­writ­ers, lone­ly or oth­er­wise, rely on more real­ist con­ven­tions of nar­ra­tive sto­ry­telling, includ­ing spe­cif­ic set­tings, whether men­tioned in pass­ing or form­ing a cen­tral theme.
Songs like "Lit­tle Old Lady from Pasade­na," "Rock­away Beach," "Don't Go Back to Rockville," or "Straight Out­ta Comp­ton" helped put their respec­tive locales on the map.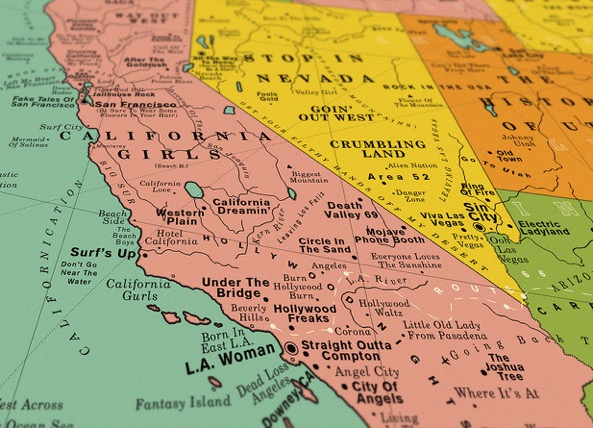 Design house Dorothy has tak­en that phrase lit­er­al­ly, cre­at­ing a map of the U.S. "made up entire­ly from the titles of over 1,000 songs" that "ref­er­ence states, cities, rivers, moun­tains and land­marks." In the playlist below, you can lis­ten to the country's geog­ra­phy, as sung by Lynyrd Skynyrd, David Bowie, R.E.M., Pink Floyd, George Strait, Kings of Leon, Jay Z, John­ny Cash, Miles Davis, Joan Baez, and hun­dreds more artists who have lit­tle in com­mon oth­er than their use of a U.S. city, state, land­mark, nat­ur­al for­ma­tion, etc. as an anchor for their lyrics.
Like Homer's Ili­ad, which maps the ancient Greek world with its copi­ous ref­er­ences to ports, cities, moun­tains, and so on, the pop canon could be used by some future civ­i­liza­tion to recon­struct the geog­ra­phy of the U.S. And if so, it might look quite a lot like this. But not only does the map sit­u­ate well-known songs about well-known places in their prop­er coor­di­nates, it also locates some­what obscure loca­tions name-checked in songs like The Band's "The Weight," whose men­tion of Nazareth refers not to the Bib­li­cal town, but rather to Nazareth, Penn­syl­va­nia, home of Mar­tin Gui­tars. (The city gets anoth­er boost, though not on this map, in Mark Knopfler's "Speed­way at Nazareth," which refers to anoth­er local land­mark.)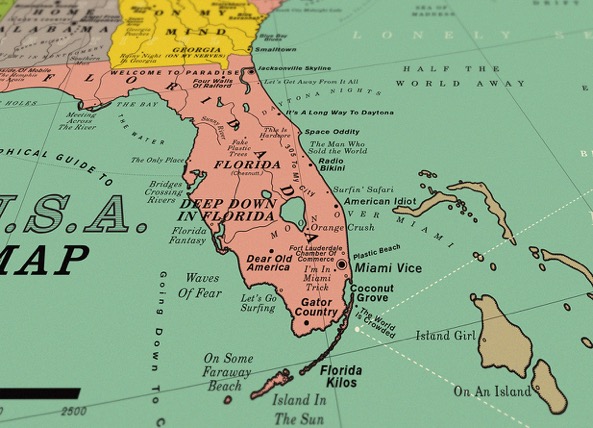 "Some of our favorite song choic­es are the ones which require you to think a lit­tle hard­er about con­nec­tions," Dorothy admits, "such as 'Space Odd­i­ty' (David Bowie) which sign­posts Cape Canaver­al, 'After the Gold Rush' (Neil Young) which ref­er­ences Sutter's Mill, and 'Home­com­ing' (Kanye West) which is placed near the rapper's home town of Chica­go."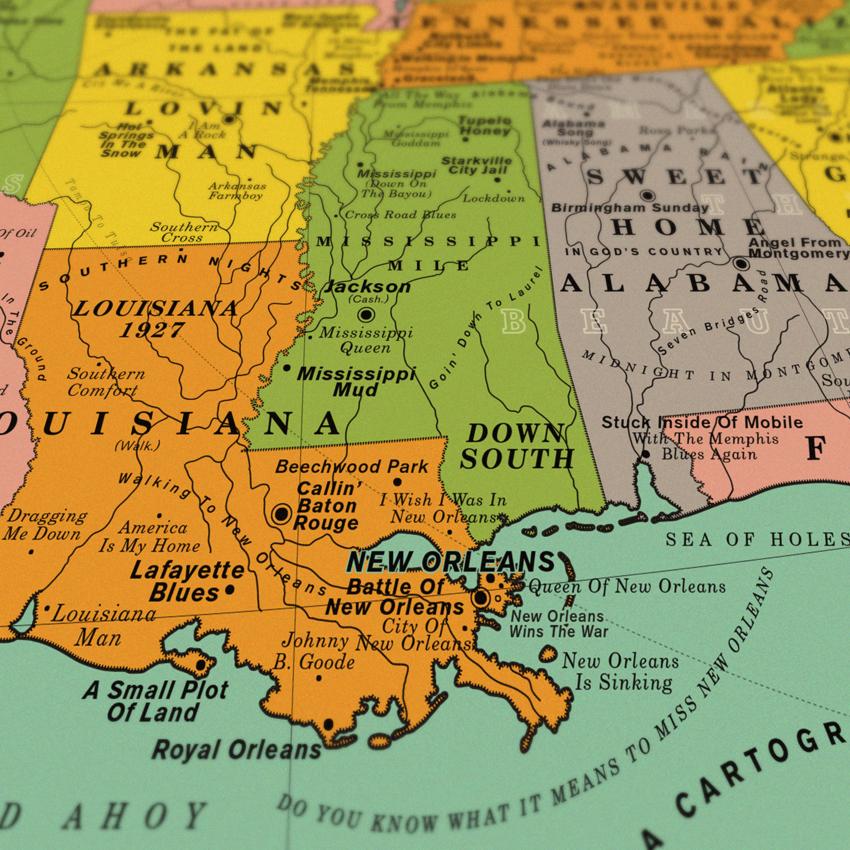 Perus­ing the map (zoom into a high-res ver­sion here) and playlist will doubt­less alert you to oth­er choic­es with oblique or implied ref­er­ences. In one instance, on the map of Flori­da, we see Green Day's "Amer­i­can Idiot," whose lyrics take on the whole nation, "under the new mania." Dorothy finds a sin­gle address for the song's vit­ri­ol, one sus­pi­cious­ly close to the so-called "Win­ter White House." Some­how I doubt the band would object to this cre­ative geo­graph­i­cal inter­pre­ta­tion.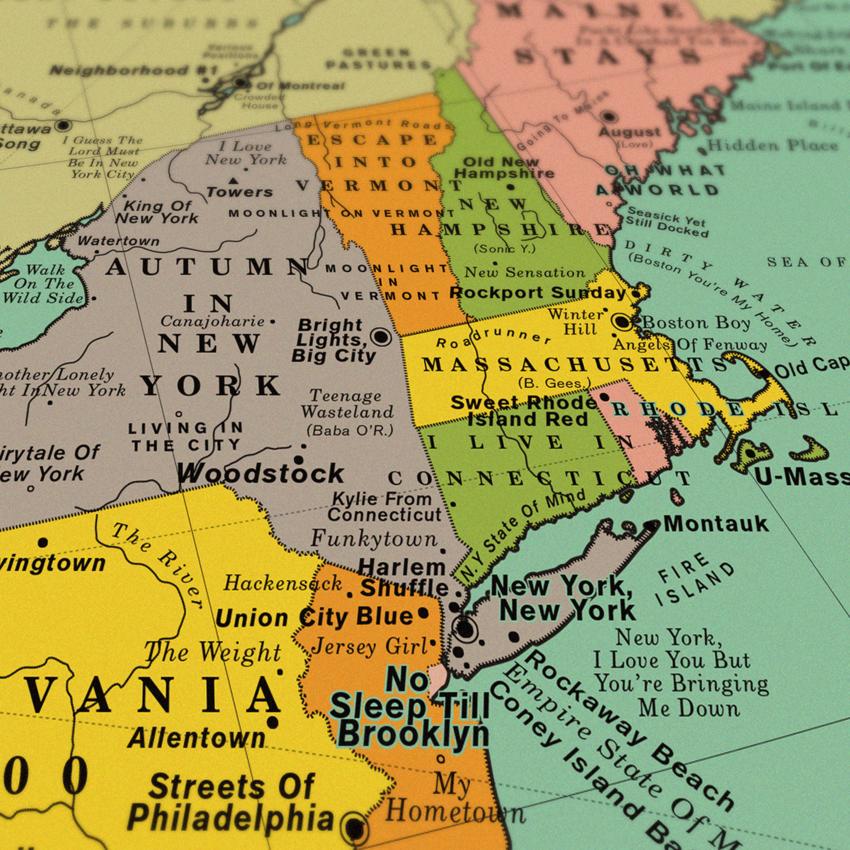 You can pur­chase your own copy of the map here.
Relat­ed Con­tent:
Behold the MusicMap: The Ulti­mate Inter­ac­tive Geneal­o­gy of Music Cre­at­ed Between 1870 and 2016
An Inter­ac­tive Map Shows Just How Many Roads Actu­al­ly Lead to Rome
A Handy, Detailed Map Shows the Home­towns of Char­ac­ters in the Ili­ad
Josh Jones is a writer and musi­cian based in Durham, NC. Fol­low him at @jdmagness