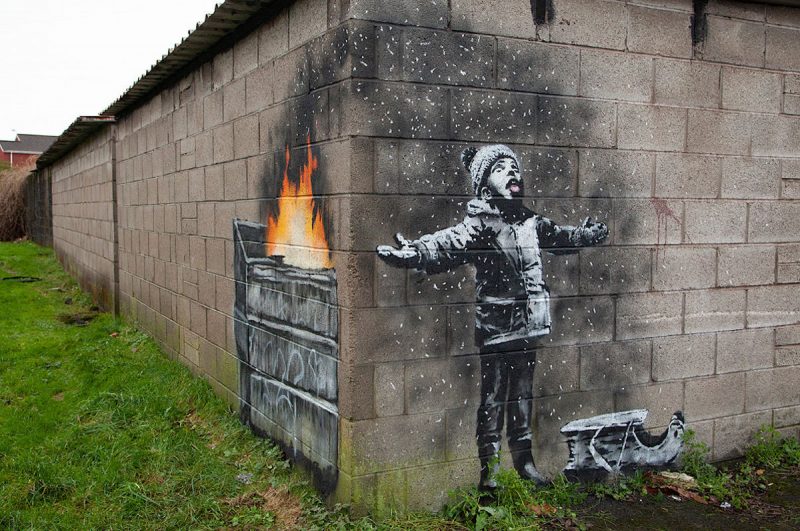 Season's greetings from Banksy. Two months after shredding a painting at a London auction, the street artist has resurfaced again. This time in Port Talbot, Wales, where he spray-painted a holiday mural on two sides of a garage. One sides shows a young boy frolicking in what looks like falling snow. The other side makes you realize that the snow is really a fire spewing toxic ash.
According to the BBC, Gary Owen, a Port Talbot resident, messaged Banksy last summer and asked him to put a spotlight on Port Talbot's chronic pollution problem. The steelworks of the industrial town puts dust in the air, creating potential health risks for children. When Owen learned about the mural, he reportedly said: "It's brilliant. I couldn't take it in. I didn't think it was true." That's all before some "some drunk halfwit" tried to attack the painting–very fortunately to no avail.
If you would like to sign up for Open Culture's free email newsletter, please find it here.
If you would like to support the mission of Open Culture, consider making a donation to our site. It's hard to rely 100% on ads, and your contributions will help us continue providing the best free cultural and educational materials to learners everywhere. You can contribute through PayPal, Patreon, Venmo (@openculture) and Crypto. Thanks!
Related Content:
Watch Dismaland — The Official Unofficial Film, A Cinematic Journey Through Banksy's Apocalyptic Theme Park
Banksy Shreds His $1.4 Million Painting at Auction, Taking a Tradition of Artists Destroying Art to New Heights
Behind the Banksy Stunt: An In-Depth Breakdown of the Artist's Self-Shredding Painting