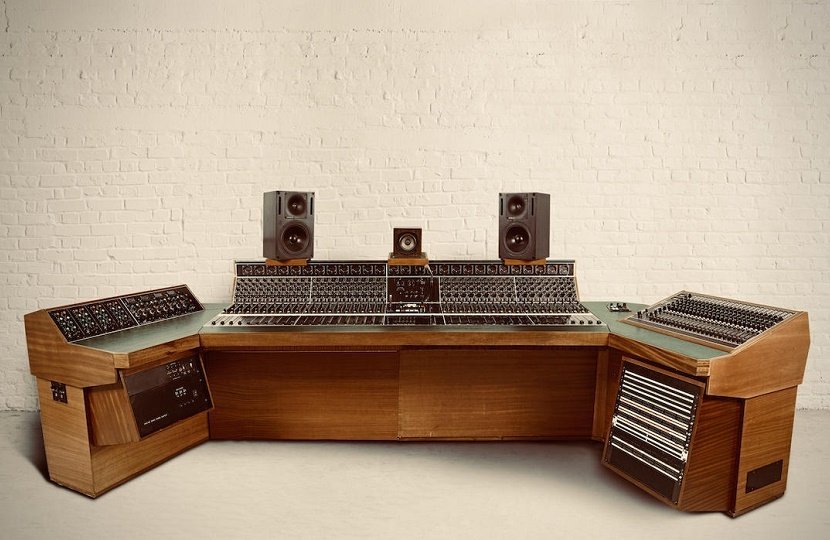 The amount of mon­ey one is will­ing to spend—should one have amounts of money—for a vin­tage record­ing con­sole will vary great­ly depend­ing on who one is. The aver­age per­son will see an enor­mous, heavy, wonky, wood and met­al space hog with no appar­ent pur­pose. The musi­cian, engi­neer, pro­duc­er, or stu­dio own­er, on the oth­er hand, will see a fine­ly-tuned instru­ment, whose pre­amps, EQs, com­pres­sors, meters, and cir­cuit­ry promise worlds of son­ic warmth and depth.
In the case of one par­tic­u­lar record­ing con­sole, the so-called "Helio­cen­tric Helios Con­sole," every­one will see a piece of music his­to­ry, one that right­ly belongs in a muse­um on pub­lic view. Such a fate is unlike­ly for this arti­fact, which goes on sale today at auc­tion house Bon­hams in Lon­don. It will end up in some well-heeled pri­vate hands, fetch­ing a hefty sum for rea­sons far beyond its clas­sic engi­neer­ing.
"Songs and albums record­ed on this bespoke con­sole and its orig­i­nal parts rank among some of the most rec­og­niz­able and best-loved pieces of music in exis­tence, and have result­ed in Gram­mys, Brit Awards and mul­ti­ple num­ber one spots," says Bonham's Claire Tole-Mole. "This con­sole is a piece of Britain's mod­ern cul­tur­al his­to­ry." Actu­al­ly an amal­gam of two dif­fer­ent his­toric con­soles, com­bined in 1996, the Island Record sec­tion of the mix­ing desk was used by Led Zep­pelin to record IV, the album fea­tur­ing their most famous song, "Stair­way to Heav­en."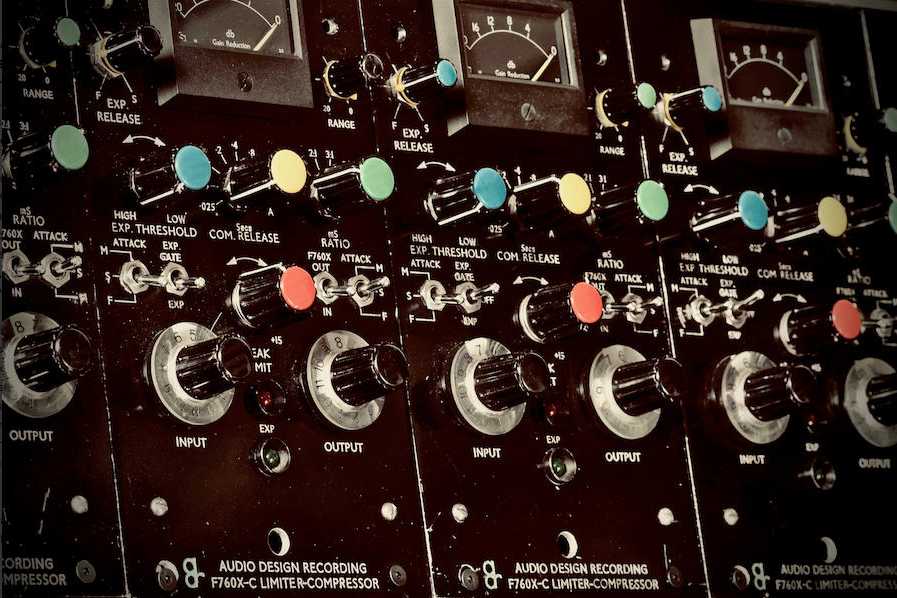 This tan­ta­liz­ing bit is only a taste of the HeliosCen­tric console's exten­sive prove­nance. Bob Mar­ley record­ed Catch a Fire and Burnin' on the machine, Jim­my Cliff record­ed "Many Rivers to Cross"; Eric Clapton's "After Mid­night" emerged from the con­sole, as did songs and albums made by George Har­ri­son, Steve Win­wood, Mick Fleet­wood, Steven Stills, Jimi Hen­drix, Ron­nie Wood, David Bowie, Free, The Rolling Stones, Sly Stone, Har­ry Nils­son, Cat Stevens, Jeff Beck, Mott the Hoople, Hum­ble Pie, Paul Weller, Super­grass, Sia, KT Tun­stall, Squeeze, the Pet Shop Boys, Keane, and Dido… among many more.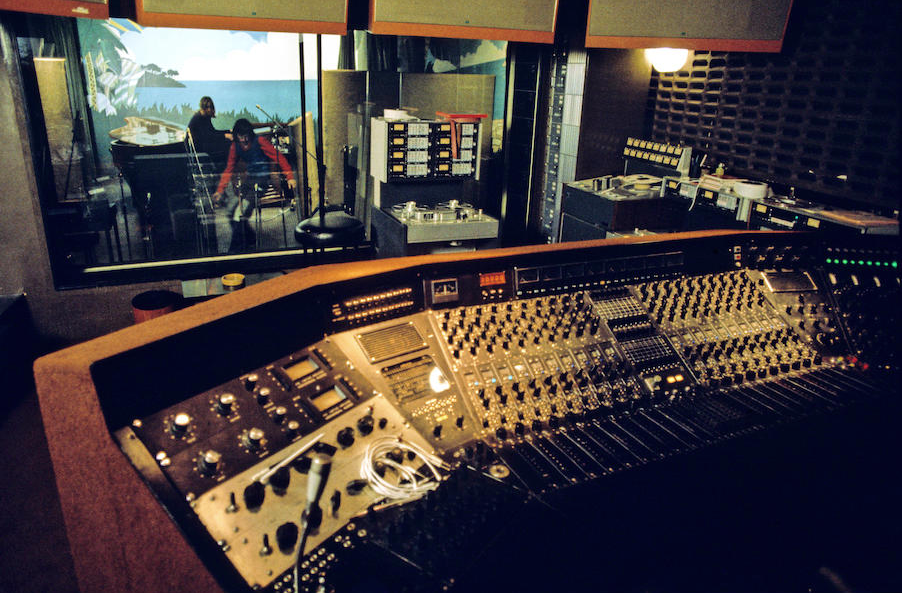 The num­ber of top-notch artists who have used one or both parts of the con­sole is aston­ish­ing, and its com­bin­ing also pro­vides devo­tees of rock his­to­ry with a great sto­ry: the founder of Helios Elec­tron­ics him­self, Dick Swet­ten­ham, who for­mer­ly worked at Abbey Road, per­son­al­ly con­sult­ed on the con­struc­tion of the new con­sole, which was put togeth­er by Elvis Costel­lo and Squeeze's Chris Dif­ford. You can read the machine's full his­to­ry at Bon­hams, as great a sto­ry as you're ever like­ly to hear about a piece of spe­cial­ized stu­dio equip­ment the size of a small car. The Helio­Cen­tric Con­sole is expect­ed to fetch six fig­ures, but as Rolling Stone points out, the auc­tion house recent­ly sold the con­sole used to record Pink Floyd's Dark Side of the Moon for $1.8 mil­lion. What's anoth­er few dozen clas­sic albums and sin­gles worth?
Relat­ed Con­tent:
Jim­my Page Tells the Sto­ry of "Stair­way to Heav­en": How the Most Played Rock Song Came To Be
Pro­duc­er Tony Vis­con­ti Breaks Down the Mak­ing of David Bowie's Clas­sic "Heroes," Track by Track
Bri­an Eno Presents a Crash Course on How the Record­ing Stu­dio Rad­i­cal­ly Changed Music: Hear His Influ­en­tial Lec­ture "The Record­ing Stu­dio as a Com­po­si­tion­al Tool" (1979)
Josh Jones is a writer and musi­cian based in Durham, NC. Fol­low him at @jdmagness