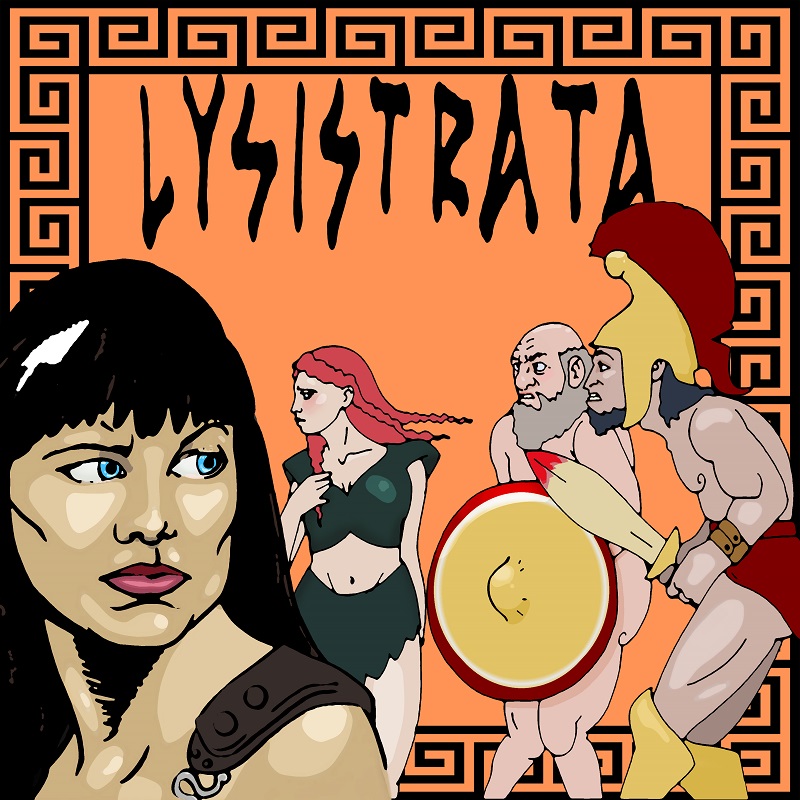 Remem­ber Lucy, aka Xena the War­rior Princess, per­haps bet­ter known to younger folks as Ron Swan­son's (even­tu­al) wife on Parks and Recre­ation? Before her career re-launched via major roles on Spar­ta­cus, Salem, and Ash vs. Evil Dead, she took some time off to study phi­los­o­phy and so got involved with The Par­tial­ly Exam­ined Life Phi­los­o­phy Pod­cast, which is com­ing up on its 10th birth­day and has now been down­loaded more than 25 mil­lion times.
She has now joined the gang for cold-read on-air per­for­mances with dis­cus­sions of Sartre's No Exit, Sopho­cles's Antigone, and most recent­ly Aristo­phanes's still-fun­ny pro­to-fem­i­nist com­e­dy Lysis­tra­ta. For the dis­cus­sion of this last, she was joined by fel­low cast mem­ber Emi­ly Perkins (she played the lit­tle girl on the 1990 TV ver­sion of Stephen King's "IT") to hash through whether this sto­ry of stop­ping war through a sex-strike is actu­al­ly fem­i­nist or not, and how it relates to mod­ern pol­i­tics. (For anoth­er take on this, see Spike Lee's 2015 adap­ta­tion of the sto­ry for the film Chi-Raq.)
And as a present to bring you into the New Year, she pro­vid­ed lead vocals on a new song by PEL host Mark Lin­sen­may­er about the funky ways women can be put on a pedestal, pro­ject­ed upon, unloaded upon, and oth­er­wise not treat­ed as quite human despite the inten­tion to pro­vide affec­tion. Stream it right below. And read the lyrics and get more infor­ma­tion on bandcamp.com.
Relat­ed Con­tent:
Actress­es Lucy Law­less & Jaime Mur­ray Per­form Jean-Paul Sartre's "No Exit" for The Par­tial­ly Exam­ined Life Pod­cast
Pablo Picasso's Ten­der Illus­tra­tions For Aristo­phanes' Lysis­tra­ta (1934)
Jean-Paul Sartre's No Exit: A BBC Adap­ta­tion Star­ring Harold Pin­ter (1964)