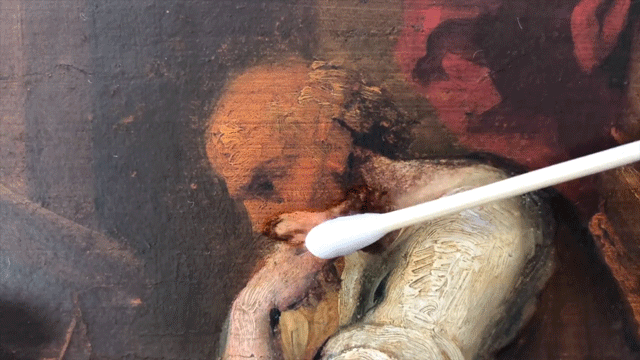 Even in our age of unprece­dent­ed­ly abun­dant images, deliv­ered to us at all times by print, film, tele­vi­sion, and espe­cial­ly the ever-mul­ti­ply­ing forms of dig­i­tal media, some­thing inside us still val­ues paint­ings. It must have to do with their phys­i­cal­i­ty, the phys­i­cal­i­ty of oil on can­vas or what­ev­er tan­gi­ble mate­ri­als the painter orig­i­nal­ly used. But in that great advan­tage of the paint­ing lies the great dis­ad­van­tage of the paint­ing: tan­gi­ble mate­ri­als degrade over time, and many, if not most, of the paint­ings we most revere have been around for a long time indeed, and few of them have come down to us in pris­tine shape.
Enter the art restor­er, who takes on the task of undo­ing, painstak­ing­ly and entire­ly by hand, both the rav­ages of time and the blun­ders of less com­pe­tent stew­ards who have come before. In this case, enter Julian Baum­gart­ner of Chicago's Baum­gart­ner Fine Art Restora­tion, a med­i­ta­tive short doc­u­men­tary on whose prac­tice we fea­tured ear­li­er this year here on Open Cul­ture.
You can see much more of it in these videos: in the one above, writes Colos­sal's Kate Sierzputows­ki, Baum­gart­ner "con­dens­es over 40 hours of del­i­cate swip­ing, scrap­ing, and paint retouch­ing into a 11.5 minute nar­rat­ed video" show­ing and explain­ing his restora­tion of The Assas­si­na­tion of Archimedes.
The project, not atyp­i­cal for a paint­ing restora­tion, "involved clean­ing a dark­ened var­nish from the sur­face of the piece, remov­ing the work from its orig­i­nal wood­en pan­el using both mod­ern and tra­di­tion­al tech­niques, mount­ing the thin paper-based paint­ing to acid-free board, and final­ly touch­ing up small areas that had become worn over the years." Baum­gart­ner's Youtube chan­nel also offers sim­i­lar con­densed restora­tion videos of two oth­er paint­ings, Moth­er Mary and a por­trait by the Amer­i­can Impres­sion­ist William Mer­rit Chase.
Baum­gart­ner packs into each of these videos an impres­sive amount of knowl­edge about his restora­tion tech­niques, which few of us out­side his field would have had any rea­son to know — or even imag­ine —before. They've racked up their hun­dreds of thou­sands of views in part thanks to that intel­lec­tu­al stim­u­la­tion, no doubt, but all these phys­i­cal mate­ri­als and the sounds they make have also attract­ed a crowd that shares a vari­ety of enthu­si­asm unknown before the age of dig­i­tal media. I'm talk­ing, of course, about ASMR video fans, whom Baum­gart­ner has oblig­ed by cre­at­ing a ver­sion of his The Assas­si­na­tion of Archimedes restora­tion espe­cial­ly for them. Now there's an art restor­er for the 21st cen­tu­ry.
via Colos­sal
Relat­ed Con­tent:
How an Art Con­ser­va­tor Com­plete­ly Restores a Dam­aged Paint­ing: A Short, Med­i­ta­tive Doc­u­men­tary
The Art of Restor­ing a 400-Year-Old Paint­ing: A Five-Minute Primer
The Art of Restor­ing Clas­sic Films: Cri­te­ri­on Shows You How It Refreshed Two Hitch­cock Movies
Rembrandt's Mas­ter­piece, The Night Watch, Will Get Restored and You Can Watch It Hap­pen Live, Online
25 Mil­lion Images From 14 Art Insti­tu­tions to Be Dig­i­tized & Put Online In One Huge Schol­ar­ly Archive
Based in Seoul, Col­in Mar­shall writes and broad­casts on cities, lan­guage, and cul­ture. His projects include the book The State­less City: a Walk through 21st-Cen­tu­ry Los Ange­les and the video series The City in Cin­e­ma. Fol­low him on Twit­ter at @colinmarshall or on Face­book.