You don't understand prewar 20th-century America unless you understand a particular 19th-century French painting: Jules Breton's The Song of the Lark. "In this evocative work, a young peasant woman stands silently in the flat fields of the artist's native Normandy as the sun rises, listening to the song of a distant lark," says a post from the Art Institute of Chicago. Apart from being selected as America's favorite painting in 1934, it was also Eleanor Roosevelt's favorite work of art, it provided the title for Willa Cather's third novel, and it "inspired Bill Murray while he was struggling as an actor in Chicago."
In the video above, a clip from a press conference on the Murray-featuring historical art-heist film The Monuments Men, he tells the story of how The Song of the Lark saved him. "This may be a little bit not-completely-true," Murray says, "but it's pretty true."
When he first started acting on the stage in his hometown of Chicago, he didn't quite have the skills that have made him such a compelling presence for more than forty years on the screen. After what sounds like one particularly poor early performance — poor enough to make him consider his life practically over — he took a despairing walk toward Lake Michigan, thinking, "If I'm going to die where I am, I may as well go over to the lake and float for a while after I'm dead."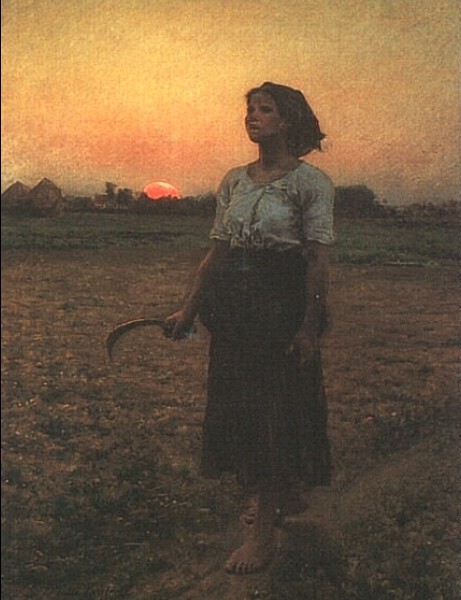 But then a sudden, impulsive turn up Michigan Avenue took Murray to the Art Institute of Chicago, and there he found himself in front of The Song of the Lark, which has now hung there for over a century. The sight of it got him thinking: "'Well, there's a girl who doesn't have a whole lot of prospects, but the sun's coming up anyway and she's got another chance at it.' So I think that gave me some sort of feeling that I, too, am a person, and I get another chance every day the sun comes up." Many of the Great Depression-era Americans who admired Breton's painting must have drawn similar feelings from it, just as surely as many of Murray's fans have found inspiration in all his characters, artfully crafted between the comedic and the dramatic — characters that, without The Song of the Lark, he may never have lived to perform.
Related Content:
The Art Institute of Chicago Puts 44,000+ Works of Art Online: View Them in High Resolution
Bill Murray Explains How He Pulled Himself Out of a Deep, Lasting Funk: He Took Hunter S. Thompson's Advice & Listened to the Music of John Prine
The Philosophy of Bill Murray: The Intellectual Foundations of His Comedic Persona
Bill Murray Reads the Poetry of Lawrence Ferlinghetti, Wallace Stevens, Emily Dickinson, Billy Collins, Lorine Niedecker, Lucille Clifton & More
Listen to Bill Murray Lead a Guided Mediation on How It Feels to Be Bill Murray
Art Exhibit on Bill Murray Opens in the UK
Based in Seoul, Colin Marshall writes and broadcasts on cities, language, and culture. His projects include the book The Stateless City: a Walk through 21st-Century Los Angeles and the video series The City in Cinema. Follow him on Twitter at @colinmarshall or on Facebook.