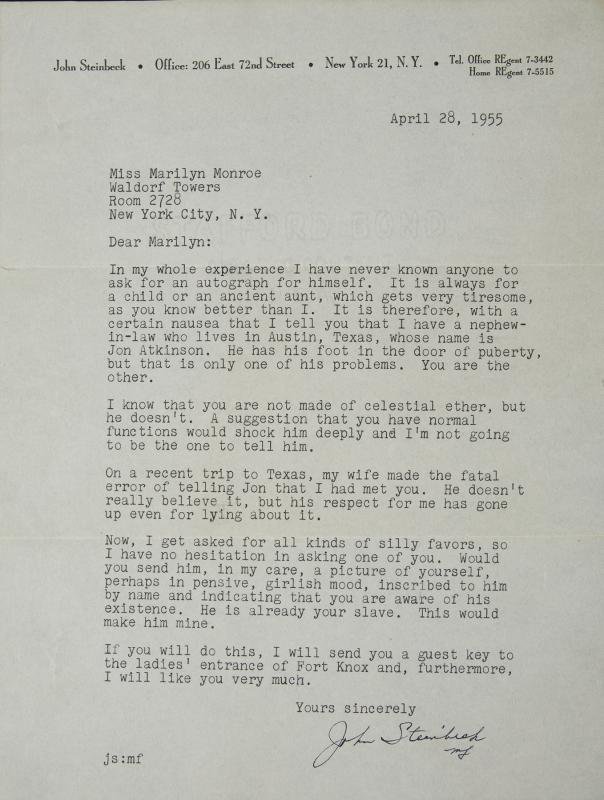 When asking a celebrity for a special favor, it helps to be a bit of a celebrity yourself.
As Keith Ferrell details in his biography, John Steinbeck: The Voice of the Land, the Nobel laureate had little patience for autograph seekers, pushy young writers seeking help getting published, and "people who never read books but enjoyed meeting authors."
The shoe went on the other foot when Mrs. Steinbeck let slip to her nephew that Uncle John had met the boy's movie star crush, Marilyn Monroe.
Suddenly, an autographed photo seemed in order.
And not just some standard issue publicity shot, but ideally one showing the star of The Seven Year Itch and Gentlemen Prefer Blondes in a "pensive girlish mood."
Also, could she please inscribe it by name to nephew Jon, a young man with, his uncle confided, "one foot in the door of puberty"?
The star-to-star tone Steinbeck adopts for the above letter seems designed to ward off suspicion that this nephew could be a convenient invention on the part of someone desiring such a prize for himself.
Sixty years after a secretary typed it up, Steinbeck's message fetched $3,520 at Julien's Auctions, one of a wide range of items culled from hardcore Marilyn Monroe collector, David Gainsborough-Roberts as well as the estate of Monroe's acting teacher, Lee Strasberg.
In addition to other correspondence, the Marilyn auction included annotated scripts, an empty prescription bottle, a ballerina paperweight, stockings and gowns, some pinup-type memorabilia, and a program from John F Kennedy's 1962 birthday celebration at Madison Square Garden.
One lot that is conspicuous for its absence is Steinbeck's promised "guest key to the ladies' entrance of Fort Knox."
Could it be that the boy never got his customized autograph?
We'd like to think that he did. Perhaps he's still savoring it in private.
H/T Alan Goldwasser/Letters of Note/Flashbak
Related Content:
"Nothing Good Gets Away": John Steinbeck Offers Love Advice in a Letter to His Son (1958)
The 430 Books in Marilyn Monroe's Library: How Many Have You Read?
Marilyn Monroe & Elvis Presley Star in an Action-Packed Pop Art Japanese Monster Movie
Ayun Halliday is an author, illustrator, theater maker and Chief Primatologist of the East Village Inky zine.  Join her in New York City for the next installment of her book-based variety show, Necromancers of the Public Domain, this Monday, March 11. Follow her @AyunHalliday.