Seder-Masochism, copyright abolitionist Nina Paley's latest animated release, is guaranteed to ruffle feathers in certain quarters, though the last laugh belongs to this trickster artist, who shares writing credit with "God, Moses or a series of patriarchal males, depending on who you ask."
Bypassing a commercial release in favor of the public domain goes a long way toward inoculating the film and its creator against expensive rights issues that could arise from the star-studded soundtrack.
It also lets the air out of any affronted parties' campaigns for mass box office boycotts.
"The criticism seems equally divided between people that say I'm a Zionist and people that say I'm an anti-Zionist," Paley says of This Land Is Mine, below, a stunning sequence of tribal and inter-tribal carnage, memorably set to Ernest Gold's theme for the 1960 epic Paul Newman vehicle, Exodus.
Released as a stand-alone short, This Land Is Mine has become the most viewed of Paley's works. She finds the opposing camps' equal outcry encouraging, proof that she's doing "something right."
More bothersome has been University of Illinois Associate Professor of Gender Studies Mimi Thi Nguyen's social media push to brand the filmmaker as transphobic. (Paley, no fan of identity politics, states that her "crime was, months earlier, sharing on Facebook the following lyric: 'If a person has a penis he's a man.'") Nguyen's actions resulted in the feminist film's ouster from several venues and festivals, including Ebertfest in Paley's hometown and a women's film festival in Belgium.
What would the ancient fertility goddesses populating both art history and Seder-Masochism have to say about that development?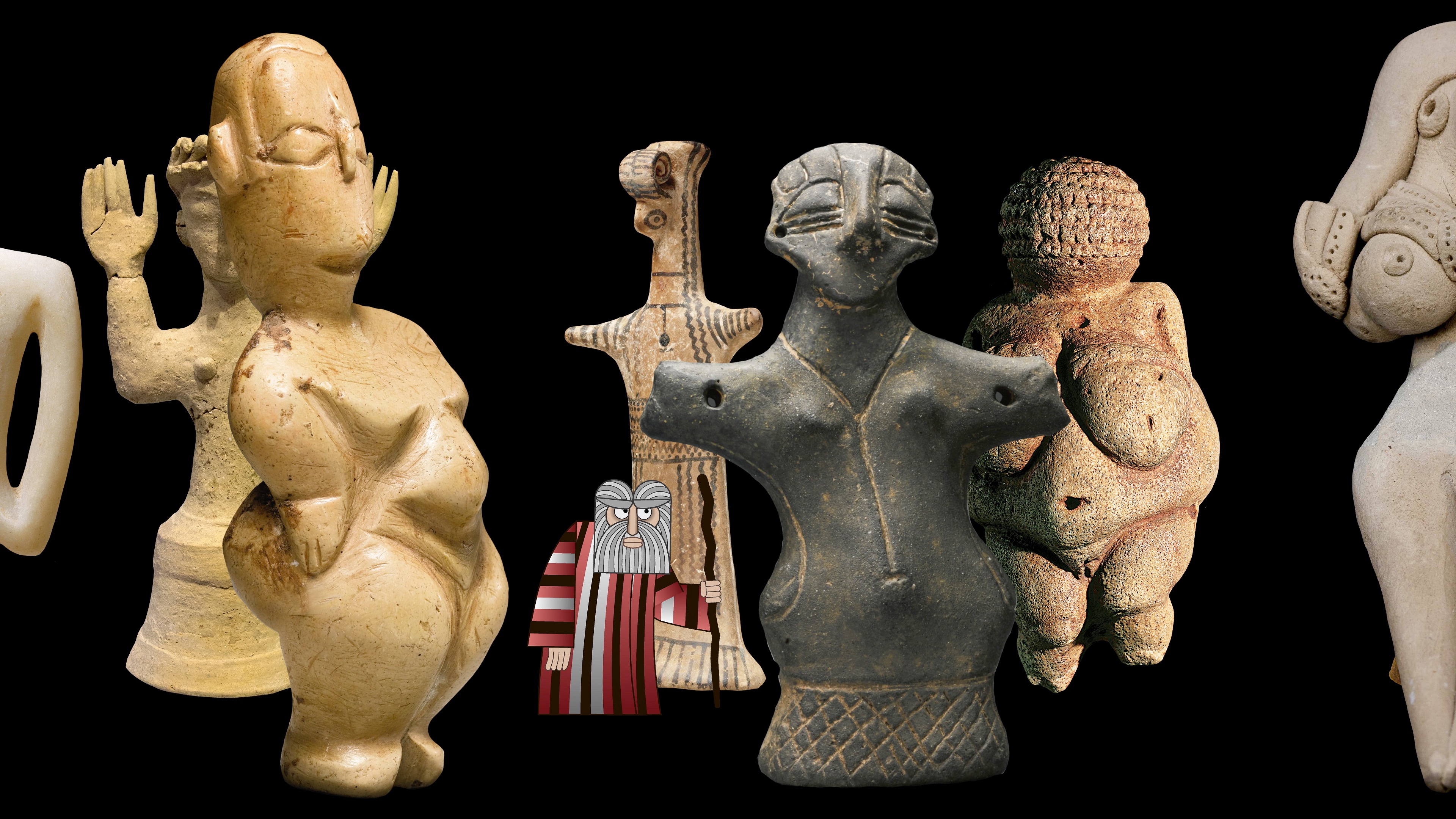 In Seder-Masochism, these goddess figures, whom Paley earlier transformed into a series of free downloadable GIFs, offer a mostly silent rebuke to those who refuse to acknowledge any conception of the divine existing outside patriarchal tradition.
In the case of Assistant Professor Nguyen, perhaps the goddesses would err on the side of diplomacy (and the First Amendment), framing the dust-up as just one more reason the public should be glad the project's lodged in the public domain. Anyone with access to the Internet and a desire to see the film will have the opportunity to do so. Called out, maybe. Shut down, never.
The goddesses supply a depth of meaning to this largely comic undertaking. Their ample curves inform many of the patterns that give motion to the animated cutouts.
Paley also gets a lot of mileage from replicating supernumerary characters until they march with ant-like purpose or bedazzle in Busby Berkeley-style spectacles. Not since Paul Mazursky's Tempest have goats loomed so large in cinematic choreography…
Paley's use of music is another source of abiding pleasure. She casts a wide net—punk, disco, Bulgarian folk, the Beatles, Free to Be You and Me—again, framing her choices as parody. "Hail, Hail, the Gang's All Here" accompanies the seventh plague of Egypt (don't bother looking it up. It's hail.) Ringo Starr's famous "Helter Skelter" aside ("I've got blisters on my fingers!") boils down to an apt choice for plague number six. (If you have to think about it…)
The elements of the Seder plate are listed to the strains of "Tijuana Taxi" because… well, who doesn't love Herb Alpert and the Tijuana Brass?
Paley's own religious background is of obvious interest here, and as with her previous feature, Sita Sings the Blues—also in the public domain—the autobiographical element is irresistible. A 2011 audio recording provides the excuse to portray her father, Hiram, who died the year after the interview was conducted, as a Monty Python-esque God. The senior Paley was raised in an observant Jewish household, but lost faith as a young man. An atheist who wanted his children to know something of their heritage, Passover was the one Jewish holiday he continued to celebrate. (He also forbade the kids from participating in any sort of secular Christmas activities.)
A wistful God with the complexion of a dollar bill, Hiram is at times surrounded by putti, in the form of his parents, his contentious Uncle Herschel, and his own sweet younger self.
For these scenes, Paley portrays herself as a spirited "sacrificial goat." This character finds an echo at film's end, when "Chad Gadya," the traditional Passover tune that brings the annual seder to a rollicking conclusion, is brought to life using embroidermation, a form Paley may or may not have invented.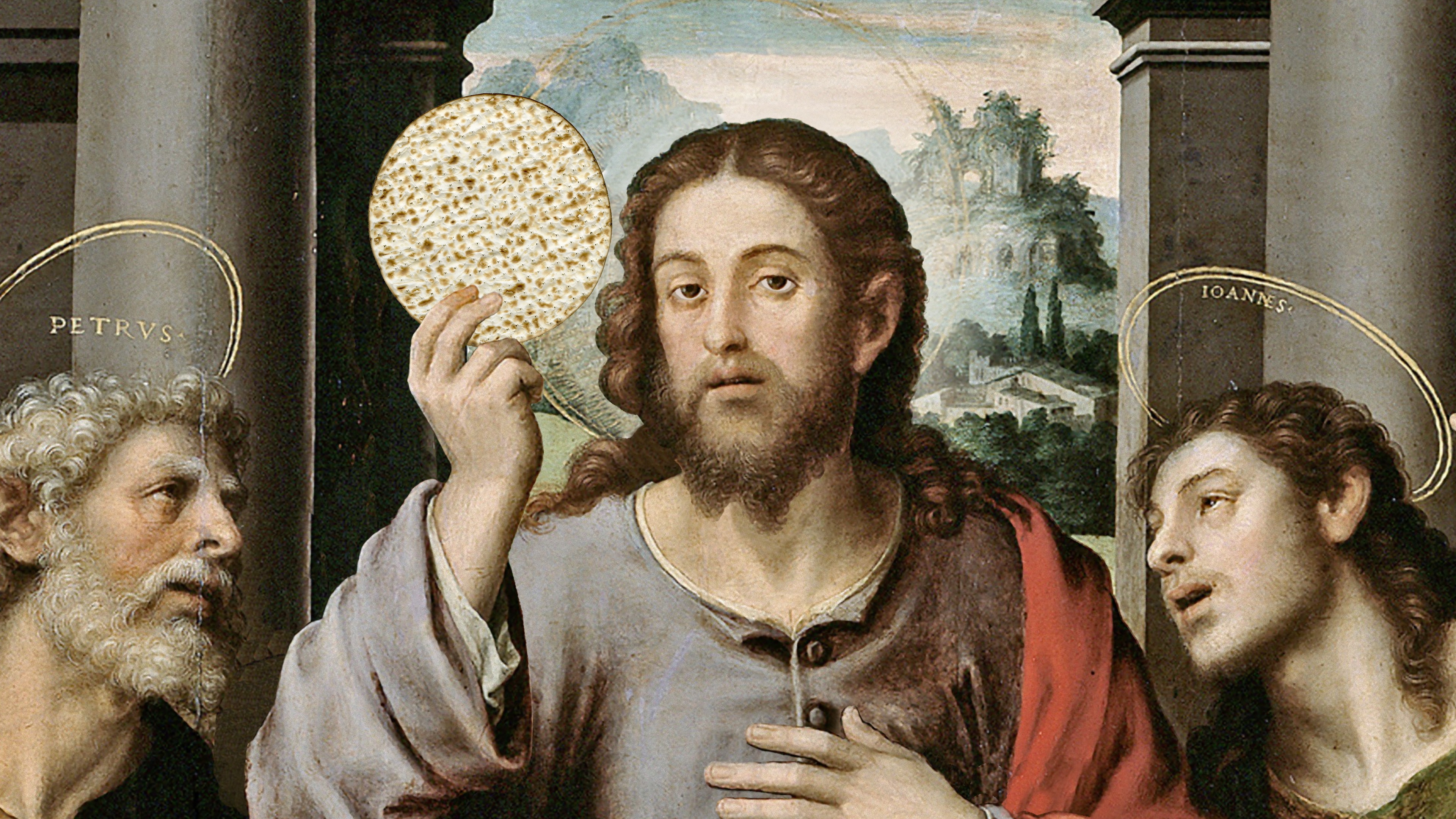 Perhaps Paley's most subversive joke is choosing Jesus, as depicted in Juan de Juanes' 1652 painting, The Last Supper, to deliver an educational blow-by-blow of Passover ritual.
Actually, much like Audrey Hepburn in My Fair Lady and Natalie Wood in West Side Story, Jesus was ghost-voiced by another performer—Barry Gray, narrator of the midcentury educational recording The Moishe Oysher Seder.
As you may have gleaned, Paley, despite the clean elegance of her animated line, is a maximalist. There's something for everyone (excepting, of course, Mimi Thi Nguyen)—a gleaming golden idol, a ball bouncing above hieroglyphic lyrics, actual footage of atrocities committed in a state of religious fervor, Moses' brother Aaron—a figure who's often shoved to the sidelines, if not left outright on the cutting room floor.
We leave you with Paley's prayer to her Muse, found freely shared on her website:
Our Idea
Which art in the Ether
That cannot be named;
Thy Vision come
Thy Will be done
On Earth, as it is in Abstraction.
Give us this day our daily Spark
And forgive us our criticisms
As we forgive those who critique against us;
And lead us not into stagnation
But deliver us from Ego;
For Thine is the Vision
And the Power
And the Glory forever.
Amen.
Watch Seder-Masochism in its entirety up top, or download it here. Purchase the companion book here.
Related Content:
Sita Sings the Blues Now on YouTube
Celebrate the Women's March with 24 Goddess GIFs Created by Animator Nina Paley: They're Free to Download and Remix
Watch Nina Paley's "Embroidermation," a New, Stunningly Labor-Intensive Form of Animation
Introduction to the Old Testament: A Free Yale Course 
Ayun Halliday is an author, illustrator, theater maker and Chief Primatologist of the East Village Inky zine.  Join her in New York City for the next installment of her book-based variety show, Necromancers of the Public Domain, this April. Follow her @AyunHalliday.