Com­ic-book sto­ries of a boy reporter and his dog (lat­er accom­pa­nied by a foul­mouthed sea cap­tain) fea­tur­ing rock­et­ships and sub­marines, boo­by-traps and buried trea­sure, gang­sters and abom­inable snow­men, smug­glers and super-weapons, all told with bright col­ors, clear lines, and prac­ti­cal­ly no girls in sight: no won­der The Adven­tures of Tintin at first looks tai­lor-made for ram­bunc­tious young­sters. But now, eighty years after Tintin's debut in the chil­dren's sup­ple­ment of a Bel­gian Catholic news­pa­per, his ever-grow­ing fan base sure­ly includes more grown-ups than it does kids, and grown-ups pre­pared to regard his adven­tures as seri­ous works of mod­ern art at that.
The field of Tintin enthu­si­asts (in their most ded­i­cat­ed form, "Tinti­nol­o­gists") includes some of the best-known mod­ern artists in his­to­ry. Roy Licht­en­stein, he of the zoomed-in com­ic-book aes­thet­ic, once made Tintin his sub­ject, and Tintin's cre­ator Hergé, who cul­ti­vat­ed a love for mod­ern art from the 1960s onward, hung a suite of Licht­en­stein prints in his office. As Andy Warhol once put it, "Hergé has influ­enced my work in the same way as Walt Dis­ney. For me, Hergé was more than a com­ic strip artist." And for Hergé, Warhol seems to have been more than a fash­ion­able Amer­i­can painter: in 1979, Hergé com­mis­sioned Warhol to paint his por­trait, and Warhol came up with a series of four images in a style rem­i­nis­cent of the one he'd used to paint Jack­ie Onas­sis and Mar­i­lyn Mon­roe.
Hergé and Warhol had first met in 1972, when Hergé paid a vis­it to Warhol's "Fac­to­ry" in New York — the kind of set­ting in which one imag­ines the straight-laced, six­tysome­thing Bel­gian set­ting foot only with dif­fi­cul­ty. But the two had more in com­mon as artists than it may seem: both got their start in com­mer­cial illus­tra­tion, and both soon found their careers defined by par­tic­u­lar works that explod­ed into cul­tur­al phe­nom­e­na. (Warhol may also have felt an affin­i­ty with Tintin in their shared rec­og­niz­abil­i­ty by hair­style alone.) The Inde­pen­dent's John Lich­field writes that Hergé, who had by that point learned to paint a few mod­ern abstract pieces of his own, "asked Warhol, mod­est­ly, whether the father of Tintin should also con­sid­er him­self a 'Pop Artist.' Warhol, although a great fan of Hergé, sim­ply stared back at him and did not reply."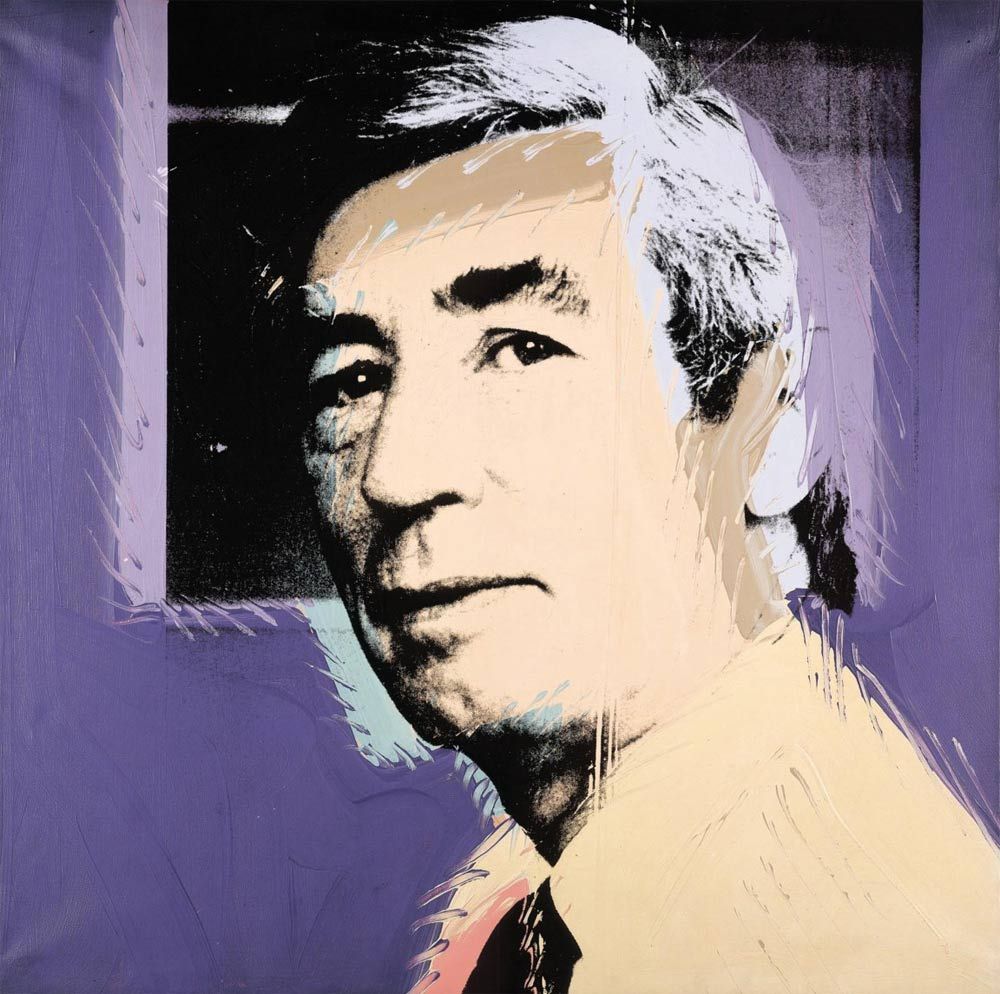 Warhol may not have known what to say forty years ago, but in that time Hergé has unques­tion­ably ascend­ed into the insti­tu­tion­al pan­theon of West­ern art: Lich­field­'s arti­cle is a review of a 2006 Hergé ret­ro­spec­tive at the Pom­pi­dou Cen­tre, and the years since have seen the open­ing of the Musée Hergé south of Brus­sels as well as increas­ing­ly elab­o­rate exhi­bi­tions on Tintin and his cre­ator all around the world. (I myself attend­ed such an exhi­bi­tion in Seoul, where I live, just last month.) The French artist Jean-Pierre Ray­naud express­es a now-com­mon kind of sen­ti­ment when he cred­its Hergé with "a pre­ci­sion of the kind I love in Mon­dri­an" and "the artis­tic econ­o­my that you find in Matisse." Warhol, who prob­a­bly would­n't have phrased his appre­ci­a­tion in quite that way, makes a more tonal­ly char­ac­ter­is­tic response in the clip above when Hergé tells him about Tintin's lat­ter-day switch from his sig­na­ture plus fours to jeans: "Oh, great!"
Relat­ed Con­tent:
Hergé Draws Tintin in Vin­tage Footage (and What Explains the Character's Endur­ing Appeal)
When Steve Jobs Taught Andy Warhol to Make Art on the Very First Mac­in­tosh (1984)
Andy Warhol Dig­i­tal­ly Paints Deb­bie Har­ry with the Ami­ga 1000 Com­put­er (1985)
The Odd Cou­ple: Jean-Michel Basquiat and Andy Warhol, 1986
Roy Licht­en­stein and Andy Warhol Demys­ti­fy Their Pop Art in Vin­tage 1966 Film
Comics Inspired by Wait­ing For Godot, Fea­tur­ing Tintin, Roz Chast, and Beav­is & Butthead
Based in Seoul, Col­in Mar­shall writes and broad­casts on cities, lan­guage, and cul­ture. His projects include the book The State­less City: a Walk through 21st-Cen­tu­ry Los Ange­les and the video series The City in Cin­e­ma. Fol­low him on Twit­ter at @colinmarshall or on Face­book.