Comic-book stories of a boy reporter and his dog (later accompanied by a foulmouthed sea captain) featuring rocketships and submarines, booby-traps and buried treasure, gangsters and abominable snowmen, smugglers and super-weapons, all told with bright colors, clear lines, and practically no girls in sight: no wonder The Adventures of Tintin at first looks tailor-made for rambunctious youngsters. But now, eighty years after Tintin's debut in the children's supplement of a Belgian Catholic newspaper, his ever-growing fan base surely includes more grown-ups than it does kids, and grown-ups prepared to regard his adventures as serious works of modern art at that.
The field of Tintin enthusiasts (in their most dedicated form, "Tintinologists") includes some of the best-known modern artists in history. Roy Lichtenstein, he of the zoomed-in comic-book aesthetic, once made Tintin his subject, and Tintin's creator Hergé, who cultivated a love for modern art from the 1960s onward, hung a suite of Lichtenstein prints in his office. As Andy Warhol once put it, "Hergé has influenced my work in the same way as Walt Disney. For me, Hergé was more than a comic strip artist." And for Hergé, Warhol seems to have been more than a fashionable American painter: in 1979, Hergé commissioned Warhol to paint his portrait, and Warhol came up with a series of four images in a style reminiscent of the one he'd used to paint Jackie Onassis and Marilyn Monroe.
Hergé and Warhol had first met in 1972, when Hergé paid a visit to Warhol's "Factory" in New York — the kind of setting in which one imagines the straight-laced, sixtysomething Belgian setting foot only with difficulty. But the two had more in common as artists than it may seem: both got their start in commercial illustration, and both soon found their careers defined by particular works that exploded into cultural phenomena. (Warhol may also have felt an affinity with Tintin in their shared recognizability by hairstyle alone.) The Independent's John Lichfield writes that Hergé, who had by that point learned to paint a few modern abstract pieces of his own, "asked Warhol, modestly, whether the father of Tintin should also consider himself a 'Pop Artist.' Warhol, although a great fan of Hergé, simply stared back at him and did not reply."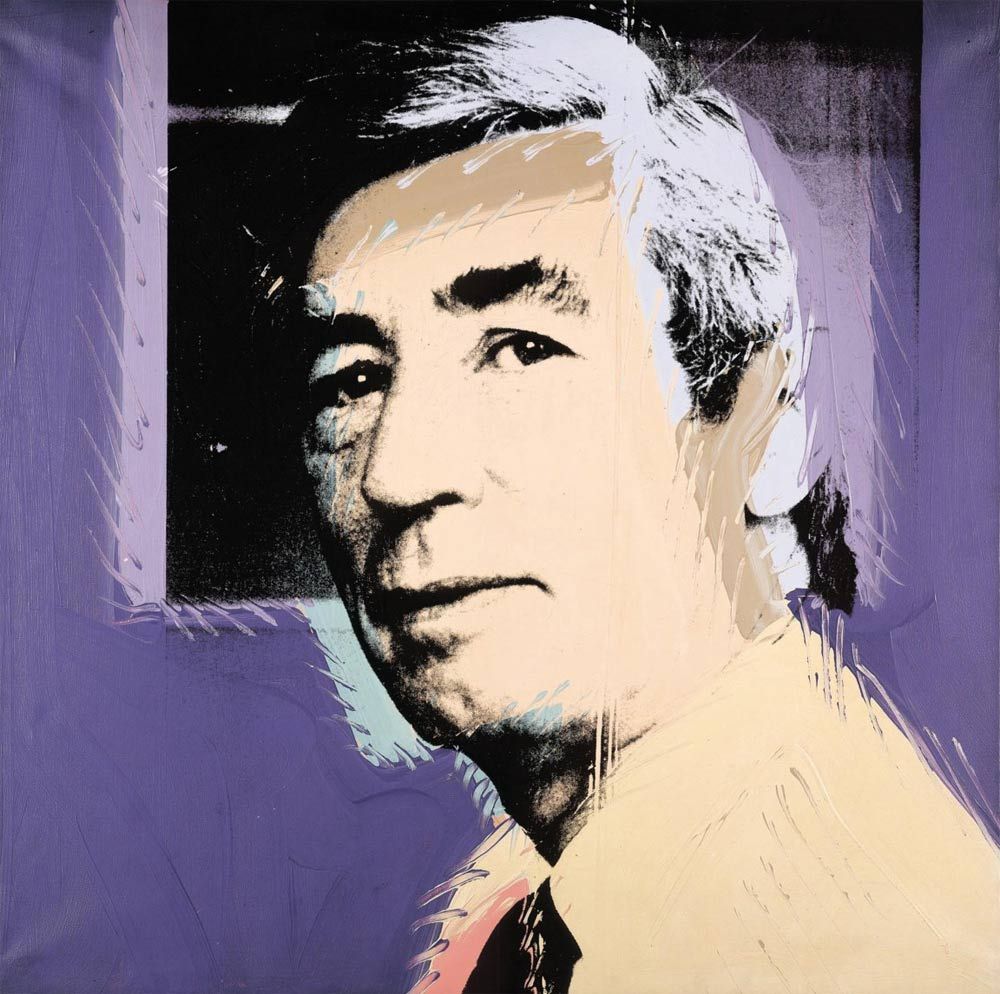 Warhol may not have known what to say forty years ago, but in that time Hergé has unquestionably ascended into the institutional pantheon of Western art: Lichfield's article is a review of a 2006 Hergé retrospective at the Pompidou Centre, and the years since have seen the opening of the Musée Hergé south of Brussels as well as increasingly elaborate exhibitions on Tintin and his creator all around the world. (I myself attended such an exhibition in Seoul, where I live, just last month.) The French artist Jean-Pierre Raynaud expresses a now-common kind of sentiment when he credits Hergé with "a precision of the kind I love in Mondrian" and "the artistic economy that you find in Matisse." Warhol, who probably wouldn't have phrased his appreciation in quite that way, makes a more tonally characteristic response in the clip above when Hergé tells him about Tintin's latter-day switch from his signature plus fours to jeans: "Oh, great!"
Related Content:
Hergé Draws Tintin in Vintage Footage (and What Explains the Character's Enduring Appeal)
When Steve Jobs Taught Andy Warhol to Make Art on the Very First Macintosh (1984)
Andy Warhol Digitally Paints Debbie Harry with the Amiga 1000 Computer (1985)
The Odd Couple: Jean-Michel Basquiat and Andy Warhol, 1986
Roy Lichtenstein and Andy Warhol Demystify Their Pop Art in Vintage 1966 Film
Comics Inspired by Waiting For Godot, Featuring Tintin, Roz Chast, and Beavis & Butthead
Based in Seoul, Colin Marshall writes and broadcasts on cities, language, and culture. His projects include the book The Stateless City: a Walk through 21st-Century Los Angeles and the video series The City in Cinema. Follow him on Twitter at @colinmarshall or on Facebook.