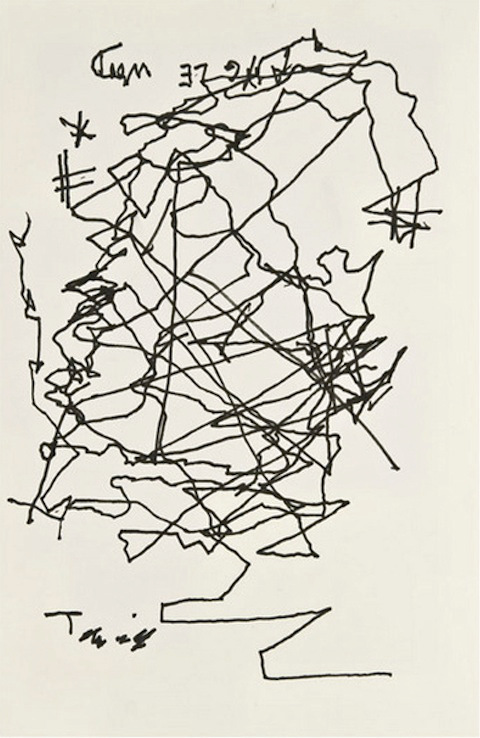 Jorge Luis Borges (1899–1986), one of the great writ­ers to come out of Argenti­na, went blind when he was only 55 years old. As unset­tling as it must have been, it was­n't par­tic­u­lar­ly a sur­prise. He once told The New York Times, "I knew I would go blind, because my father, my pater­nal grand­moth­er, my great-grand­fa­ther, they had all gone blind."
In the years fol­low­ing that life-chang­ing moment, Borges nev­er learned braille and could no longer read. But he did con­tin­ue to write; he served as the direc­tor of Argenti­na's Nation­al Library; he trav­eled and deliv­ered an impor­tant series of lec­tures at Har­vard on poet­ry (click to lis­ten); and he even took a stab at draw­ing — some­thing he did fair­ly well ear­li­er in life. (See our pre­vi­ous post: Two Draw­ings by Jorge Luis Borges Illus­trate the Author's Obses­sions.)
Above, you can see a self por­trait that Borges drew in the base­ment of the famous Strand Book­store in New York City. Accord­ing to the Times, he did this "using one fin­ger to guide the pen he was hold­ing with his oth­er hand." After mak­ing the sketch, Borges entered the main part of the book­store and start­ed "lis­ten­ing to the room, the stacks, the books," and made the remark­able obser­va­tion "You have as many books as we have in our nation­al library."
If you've ever been to The Strand, you know how many books it holds. Indeed, the store boasts of being "New York City's leg­endary home of 18 Miles of new, used and rare books." My guess is that Argenti­na's nation­al library might have a few more vol­umes than that. But who is real­ly count­ing?
Note: An ear­li­er ver­sion of this post appeared on our site in March 2014.
If you would like to sign up for Open Culture's free email newslet­ter, please find it here. Or fol­low our posts on Threads, Face­book, BlueSky or Mastodon.
If you would like to sup­port the mis­sion of Open Cul­ture, con­sid­er mak­ing a dona­tion to our site. It's hard to rely 100% on ads, and your con­tri­bu­tions will help us con­tin­ue pro­vid­ing the best free cul­tur­al and edu­ca­tion­al mate­ri­als to learn­ers every­where. You can con­tribute through Pay­Pal, Patre­on, and Ven­mo (@openculture). Thanks!
Relat­ed Con­tent:
Jorge Luis Borges' 1967–8 Nor­ton Lec­tures On Poet­ry (And Every­thing Else Lit­er­ary)
Borges: Pro­file of a Writer Presents the Life and Writ­ings of Argentina's Favorite Son, Jorge Luis Borges
Jorge Luis Borges Chats with William F. Buck­ley on Fir­ing Line (1977)