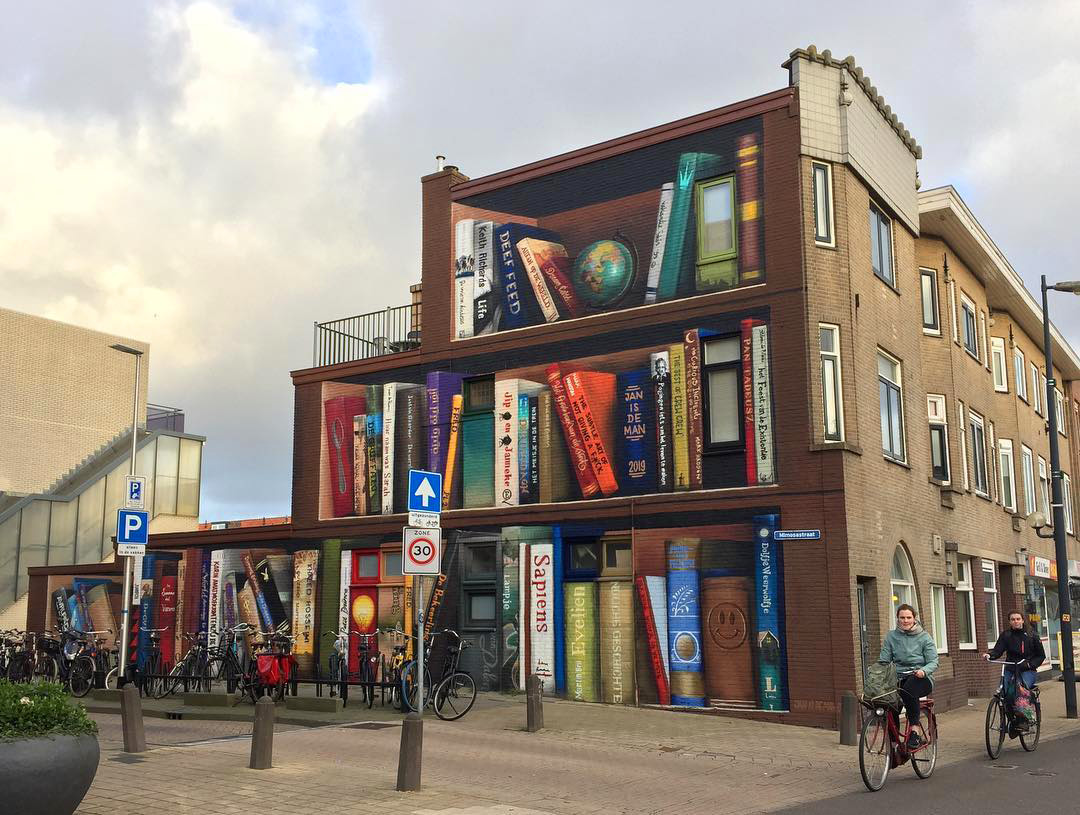 Book­cas­es are a great ice break­er for those who love to read.
What relief those shelves offer ill-at ease par­ty­go­ers… even when you don't know a soul in the room, there's always a chance you'll bond with a fel­low guest over one of your hosts' titles.
Occu­py your­self with a good browse whilst wait­ing for some­one to take the bait.
Now, with the aid of Dutch street artists Jan Is De Man and Deef Feed, some res­i­dents of Utrecht have turned their book­cas­es into street art, spark­ing con­ver­sa­tion in their cul­tur­al­ly diverse neigh­bor­hood.
De Man, whose close friends occu­py the ground floor of a build­ing on the cor­ner of Mimosas­traat and Ams­ter­dam, had ini­tial­ly planned to ren­der a giant smi­ley face on an exte­ri­or wall as a pub­lic morale boost­er, but the shape of the three-sto­ry struc­ture sug­gest­ed some­thing a bit more lit­er­ary.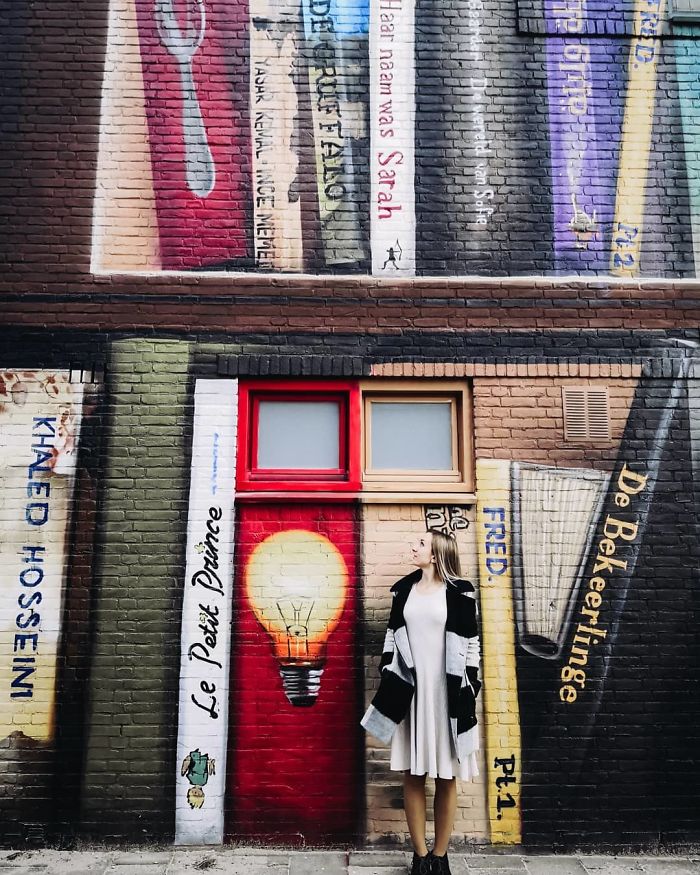 The trompe-l'oeil Boekenkast (or book­case) took a week to cre­ate, and fea­tures titles in eight dif­fer­ent lan­guages.
Look close­ly and you'll notice both artists' names (and a smi­ley face) lurk­ing among the spines.
Design mags may make an impres­sion by order­ing books accord­ing to size and col­or, but this com­mu­nal 2‑D boekenkast looks to belong to an avid and omniv­o­rous read­er.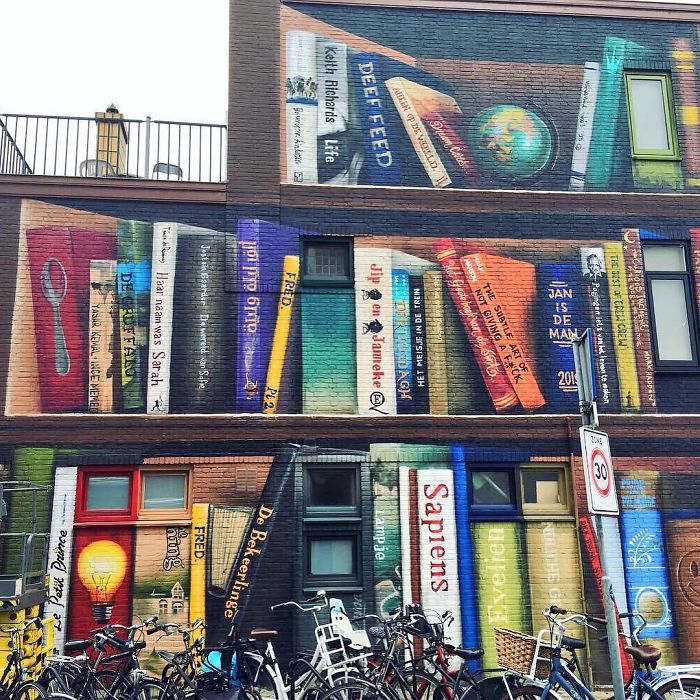 Some Eng­lish titles that caught our eye:
The Sub­tle Art of Not Giv­ing a F*ck
Kei­th Richards' auto­bi­og­ra­phy Life
The Curi­ous Inci­dent of the Dog in the Night­time
And a classy-look­ing hard­bound Play­boy col­lec­tion that may or may not exist in real life.
(Read­ers, can you spot the oth­er fakes?)
Boekenkast is the lat­est of a num­ber of glob­al book­shelf murals tempt­ing lit­er­ary pil­grims to take a self­ie on the way to the local indie book­shop.
via Bored Pan­da
Relat­ed Con­tent:
Japan­ese Artist Cre­ates Book­shelf Dio­ra­mas That Mag­i­cal­ly Trans­port You Into Tokyo's Back Alleys
157 Ani­mat­ed Min­i­mal­ist Mid-Cen­tu­ry Book Cov­ers
David Bowie Songs Reimag­ined as Pulp Fic­tion Book Cov­ers: Space Odd­i­ty, Heroes, Life on Mars & More
Ayun Hal­l­i­day is an author, illus­tra­tor, the­ater mak­er and Chief Pri­ma­tol­o­gist of the East Vil­lage Inky zine. Join her in New York City this May for the next install­ment of her book-based vari­ety show, Necro­mancers of the Pub­lic Domain. Fol­low her @AyunHalliday.