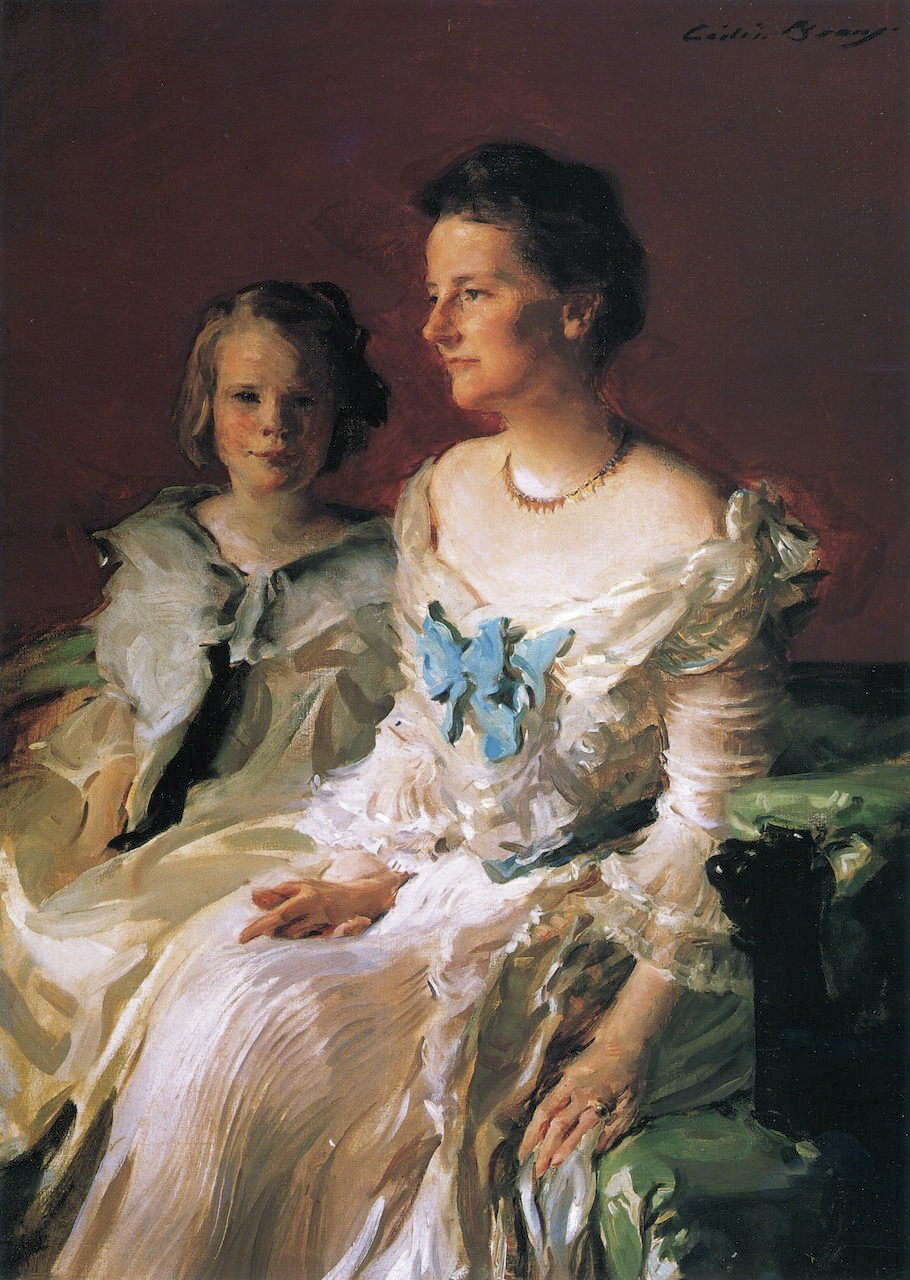 While one is still com­par­a­tive­ly young, one has many more thoughts & cer­tain­ly sen­ti­ments than one is able to make use of. It seems as if these might be stored up so that in old age or when one became less pro­lif­ic one could find mat­ter to use. Every thought or sug­ges­tion could be of use.
- Gertrude Van­der­bilt Whit­ney, sculp­tor, col­lec­tor, founder of the Whit­ney Muse­um of Amer­i­can Art, 1906
There are very few moral defens­es for rum­mag­ing inside another's pri­vate diary or sketch­book, until that per­son shuf­fles off this mor­tal coil … and even then snoop­ers may get burned by what they read.
Or not.
Bore­dom is anoth­er strong pos­si­bil­i­ty.
Best to stick with fig­ures of his­tor­i­cal import.
With all due respect to Fri­da Kahlo, I pre­fer those whom his­to­ry hasn't turned into mega-celebs.
It's fun to dis­cov­er a fas­ci­nat­ing per­son via her own words and doo­dles, rather than seek them out as a bedaz­zled fan girl.
The Women's His­to­ry Project at the Archives of Amer­i­can Art is scan­ning a trove of hand­writ­ten papers as part of a year long mis­sion to pre­serve and pass along the cre­ative process­es and dai­ly doings of var­i­ous women artists, art his­to­ri­ans, crit­ics, deal­ers, and gallery own­ers. Fas­ci­nat­ing read­ing awaits those who can get past the enig­mat­ic antique scrawl. More on that below.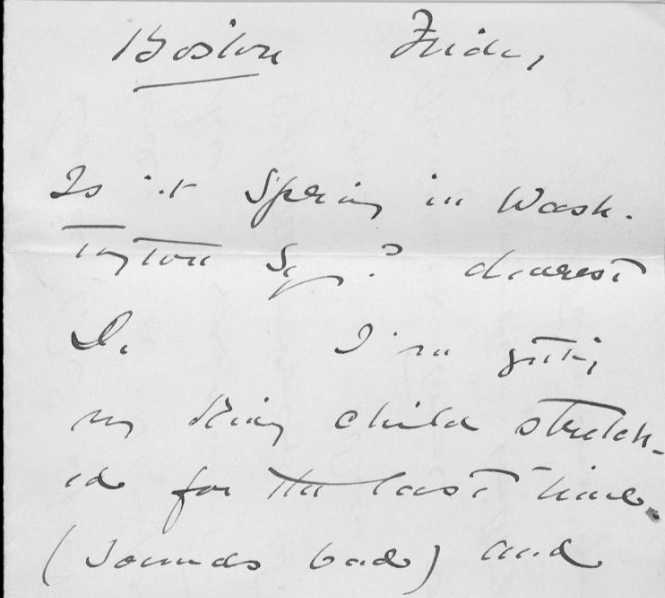 A sam­ple:
Por­traitist Cecil­ia Beaux's let­ters to her friend, fre­quent sit­ter, and pos­si­ble lover, actress Dorothea Gilder. (See Beaux's paint­ing of "Mrs. Theodore Roo­sevelt and daugh­ter Ethel" from 1902 up top.)
The note­book of sculp­tor Anna Cole­man Ladd, stuffed with quotes, poems, research, def­i­n­i­tions, and auto­bi­o­graph­i­cal mus­ings, dat­ed the same year that she found­ed the Amer­i­can Red Cross Stu­dio for Por­trait Masks for severe­ly dis­fig­ured WW1 vets.
The above men­tioned Whitney's 1914 trav­el diary, when she made sev­er­al trips to France in the name of estab­lish­ing and sup­port­ing a hos­pi­tal in north-cen­tral France.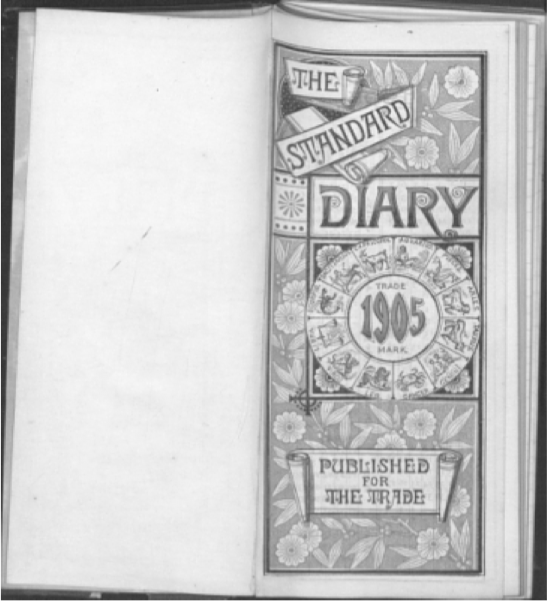 Ready to explore?
You can do more than that.
The project is a part of the Smith­son­ian Tran­scrip­tion Cen­ter, which depends upon the pub­lic to take a crack at deci­pher­ing the obscure cur­sive of these hand­writ­ten pages, strike-throughs, mar­gin­a­lia, and all. You can try your hand at a sin­gle sen­tence or tack­le an entire col­lec­tion or diary. No wor­ries if you have no tran­scrip­tion expe­ri­ence. The Cen­ter has easy to fol­low instruc­tions here.
Your efforts will make the dig­i­tized doc­u­ments key­word search­able, while pre­serv­ing the orig­i­nal cre­ators' mem­o­ries for future gen­er­a­tions. New con­tent will be added month­ly through March 2020.
Begin your explo­rations of the Women's His­to­ry Project at the Archives of Amer­i­can Art here.
via Hyper­al­ler­gic
Relat­ed Con­tent:
Ven­er­a­ble Female Artists, Musi­cians & Authors Give Advice to the Young: Pat­ti Smith, Lau­rie Ander­son & More
The Dai­ly Rit­u­als of 143 Famous Female Cre­ators: Octavia But­ler, Edith Whar­ton, Coco Chanel & More
"The Artist Project" Reveals What 127 Influ­en­tial Artists See When They Look at Art: An Acclaimed Video Series from The Met­ro­pol­i­tan Muse­um of Art
Ayun Hal­l­i­day is an author, illus­tra­tor, the­ater mak­er and Chief Pri­ma­tol­o­gist of the East Vil­lage Inky zine. Join her in New York City this June for the next install­ment of her book-based vari­ety show, Necro­mancers of the Pub­lic Domain. Fol­low her @AyunHalliday.