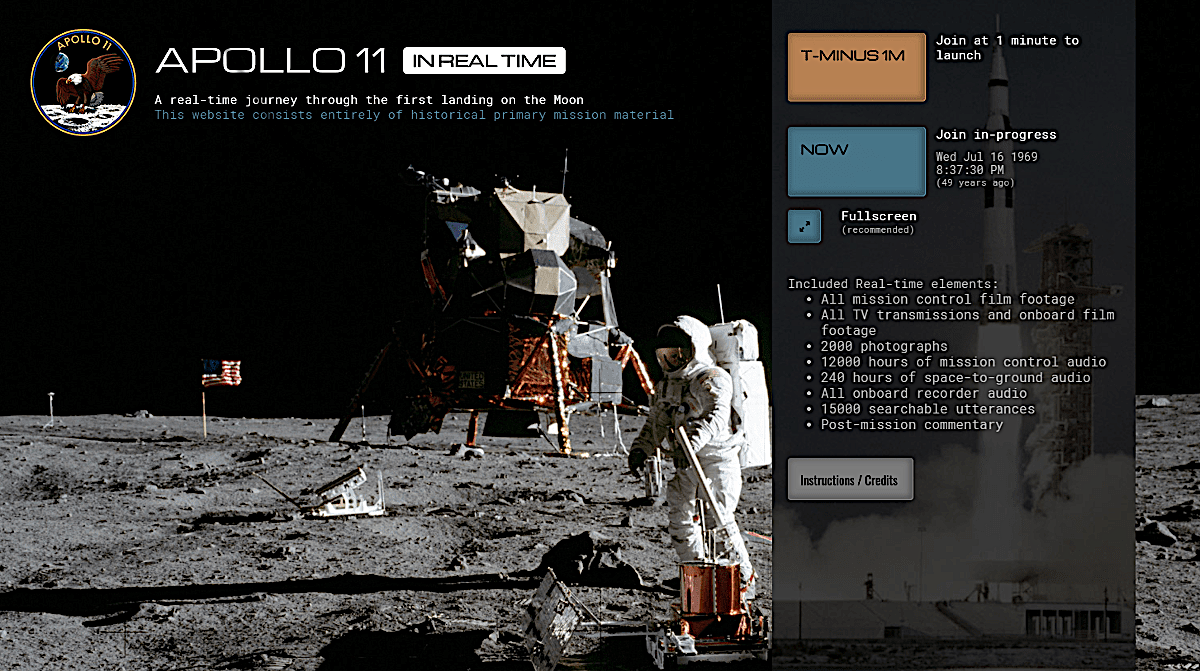 It only took four days. Four, long, nail-bit­ing days where any­thing could go wrong, with so many fraught steps, between the liftoff of Apol­lo 11 and Neil Arm­strong leav­ing the first foot­print on the moon. And now fifty years stretch­es between us and those days, very brief days indeed, where the pop­u­la­tion of the earth came togeth­er over one stun­ning act of sci­ence and inge­nu­ity. Yes, it was an Amer­i­can flag plant­ed on the moon, but it was one giant leap for mankind.
This July we might want to revis­it those warm feel­ings about human­i­ty in what feels like a dimin­ished world, and look in won­der at the stars again. The Apol­lo In Real Time web­site is here to do just that.
Now you can go to this web­site, sit back and watch as the entire Apol­lo 11 mis­sion unfolds in real time.
It's a beau­ti­ful­ly designed web­site, look­ing like a con­trol pan­el from NASA itself. There are three time­lines up top to show exact­ly where we are over the entire course of the nine days, from launch to re-entry. On the left there is a sum­ma­ry of Mis­sion Sta­tus, includ­ing veloc­i­ty and dis­tance from the earth. Below is a real time tran­script between mis­sion con­trol and the craft. And a strip down the mid­dle offers over 40 dif­fer­ent chan­nels of audio from all the main and not-so-main play­ers, a total of 11,000 hours, most of which has nev­er been heard before. Where avail­able there's film and video footage, along with pho­tographs, a lot of it tak­en by the astro­nauts them­selves, and all in the best pos­si­ble qual­i­ty. So if you think you've seen this footage over and over, think again.
(Side note: I find just lis­ten­ing to the sounds of mis­sion con­trol is very relax­ing. I'm think­ing a lot of you will agree.)
The site is the cre­ation of Ben Feist, a soft­ware engi­neer and his­to­ri­an at NASA, along with his team of col­lab­o­ra­tors, who under­took some­thing sim­i­lar a few years ago for Apol­lo 17.
via Kottke.org
Relat­ed Con­tent:
NASA Dig­i­tizes 20,000 Hours of Audio from the His­toric Apol­lo 11 Mis­sion: Stream Them Free Online
Watch the Orig­i­nal TV Cov­er­age of the His­toric Apol­lo 11 Moon Land­ing: Record­ed on July 20, 1969
The Source Code for the Apol­lo 11 Moon Land­ing Mis­sion Is Now Free on Github
Ted Mills is a free­lance writer on the arts who cur­rent­ly hosts the artist inter­view-based FunkZone Pod­cast and is the pro­duc­er of KCR­W's Curi­ous Coast. You can also fol­low him on Twit­ter at @tedmills, read his oth­er arts writ­ing at tedmills.com and/or watch his films here.