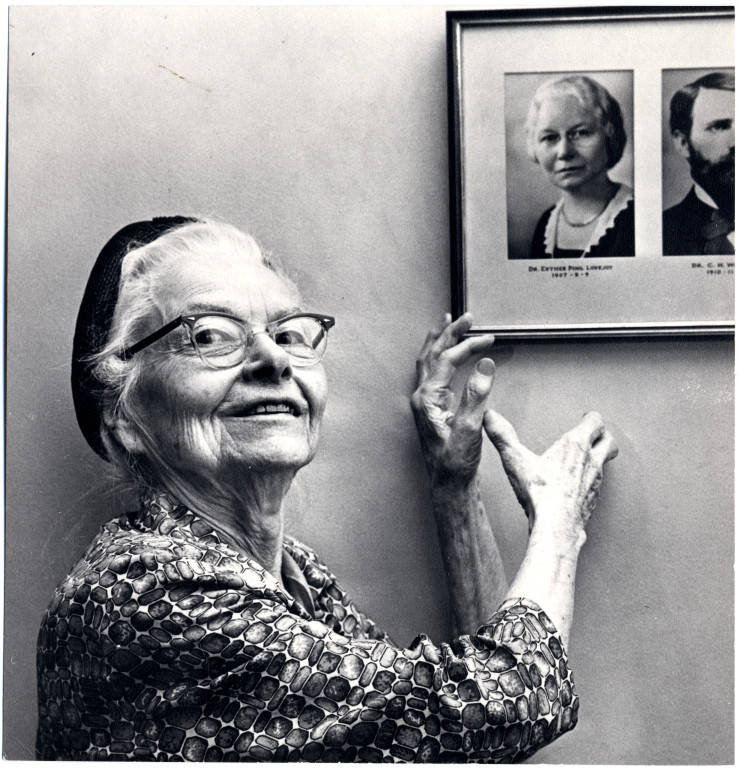 Pho­to of Dr. Esther Pohl Love­joy via Wiki­me­dia Com­mons
Almost every­one has advice they'd glad­ly give their younger self, so much so that Clem­son Uni­ver­si­ty psy­chol­o­gy pro­fes­sor Robin Kowal­s­ki and doc­tor­al stu­dent Annie McCord, were moved to ini­ti­ate a sys­tem­at­ic study of it.
The first of its kind, this study com­piled the respons­es of more than 400 par­tic­i­pants over 30, whose hypo­thet­i­cal younger self­'s aver­age age was 18.
The study's data was culled from a sur­vey con­duct­ed over Amazon's crowd­sourc­ing mar­ket­place, MTurk. Respon­dents spent 45 min­utes or so answer­ing hypo­thet­i­cal ques­tions online, receiv­ing $3 for their efforts.
Mon­ey-grub­bing, data-skew­ing shirk­ers were held at bay by ques­tion 36.
(Play along at home after the fact here.)
Kowal­s­ki and McCord's find­ings, pub­lished in the bimonth­ly aca­d­e­m­ic Jour­nal of Social Psy­chol­o­gy, echo many recur­rent themes in their oth­er sur­vey of the same demo­graph­ic, this one hav­ing to do with regret—the one that got away, blown edu­ca­tion­al oppor­tu­ni­ties, mon­ey squan­dered, and risks not tak­en.
Per­son­al­i­ty and sit­u­a­tion fig­ure in, of course, but over­whelm­ing­ly, the crowd-sourced advice takes aim at the fate­ful choic­es (or non-choic­es) of youth.
Some com­mon pieces of advice include:
"Be kinder to your­self."
"Always know your worth."
"The world is big­ger than you think it is and your wor­ries aren't as impor­tant as you think they are, just be you."
"Don't wor­ry if you look dif­fer­ent, or feel you look dif­fer­ent, from most oth­er peo­ple. There is much more to you than what oth­ers see on the sur­face."
"Don't get so caught up in the dif­fi­cul­ties of the moment since they are only tem­po­rary."
"Don't dwell on the past. Just because it was that way doesn't mean it will be that way again."
There's not much research to sug­gest how recep­tive the par­tic­i­pants' younger selves would have been to these unso­licit­ed pearls of wis­dom, but 65.7% of respon­dents report that they have imple­ment­ed some changes as a result of tak­ing Kowalk­si and McCord's sur­vey.
Dr. Kowal­s­ki, who's come to believe her "laser-focused on school" younger self would have ben­e­fit­ed from some inter­vals of rose-smelling, writes that the bet­ter-late-than-nev­er approach "can facil­i­tate well-being and bring us more in line with the per­son that we would like to be should we fol­low that advice."
If you want to dou­ble down, share your advice with chil­dren, prefer­ably your own.
And for those who can't rest easy til they've com­pared them­selves with Oprah Win­frey:
Be relaxed

Stop being afraid

Every­thing will be alright
No sur­prise there.
READERS—WHAT ADVICE WOULD YOU GIVE YOUR YOUNGER SELVES? Add your advice to the com­ments sec­tion below. (The author's is some­what unprint­able…)
For inspi­ra­tion, see the Advice to My Younger Self Sur­vey Ques­tions here and the relat­ed sur­vey deal­ing with regret here.
via Big Think
Relat­ed Con­tent:
Stephen Fry: What I Wish I Knew When I Was 18
The Top Five Regrets of the Dying
Bertrand Russell's Advice For How (Not) to Grow Old: "Make Your Inter­ests Grad­u­al­ly Wider and More Imper­son­al"
36 Artists Give Advice to Young Cre­ators: Wim Wen­ders, Jonathan Franzen, Lydia Davis, Pat­ti Smith, David Byrne, Umber­to Eco & More
Bri­an Eno's Advice for Those Who Want to Do Their Best Cre­ative Work: Don't Get a Job
Ayun Hal­l­i­day is an author, illus­tra­tor, the­ater mak­er and Chief Pri­ma­tol­o­gist of the East Vil­lage Inkyzine. Her month­ly install­ment book-based vari­ety show, Necro­mancers of the Pub­lic Domain, will resume in the fall. Fol­low her @AyunHalliday.