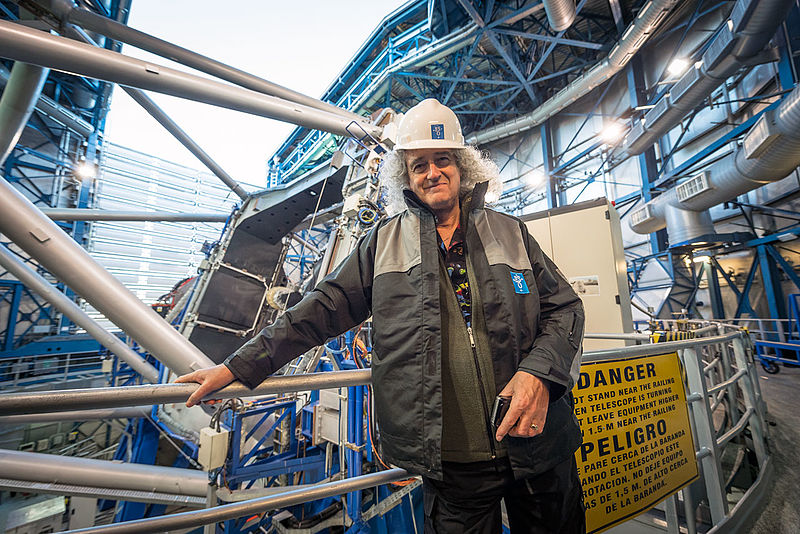 Photo by ESO/G. Huedepohl, via Wikimedia Commons
Queen couldn't possibly have been Queen without Freddie Mercury, nor could it have been Queen without Brian May. Thanks not least to the recent biopic, Bohemian Rhapsody, the band's already larger-than-life lead singer has become even larger still. But its guitarist, despite the film's surface treatment of his character, is in his own way an equally implausible figure. Not only did he show musical promise early, forming his first group while still at school, he also got his A Levels in physics, mathematics, and applied mathematics, going on to earn a Bachelor of Science in Physics with honors at Imperial College London.
Naturally, May then went for his PhD, continuing at Imperial College where he studied the velocity of, and light reflected by, interplanetary dust in the Solar System. He began the program in 1970, but "in 1974, when Queen was but a princess in its infancy, May chose to abandon his doctorate studies to focus on the band in their quest to conquer the world." So wrote The Telegraph's Felix Lowe in 2007, the year the by-then 60-year-old (and long world-famous) rocker finally handed in his thesis. "The 48,000-word tome, Radial Velocities in the Zodiacal Dust Cloud, which sounds suspiciously like a Spinal Tap LP, was stored in the loft of his home in Surrey." You can read it online here.
According to its abstract, May's thesis "documents the building of a pressure-scanned Fabry-Perot Spectrometer, equipped with a photomultiplier and pulse-counting electronics, and its deployment at the Observatorio del Teide at Izaña in Tenerife, at an altitude of 7,700 feet (2567 m), for the purpose of recording high-resolution spectra of the Zodiacal Light." Space.com describes the Zodiacial Light as "a misty diffuse cone of light that appears in the western sky after sunset and in the eastern sky before sunrise," one that has long tricked casual observers into "seeing it as the first sign of morning twilight." Astronomers now recognize it as "reflected sunlight shining on scattered space debris clustered most densely near the sun."
In his abstract, May also notes the unusually long period of study as 1970-2007, made possible in part by the fact that little other research had been done in this particular subject area during Queen's reign on the charts and thereafter. Still, he had catching up to do, including observational work in Tenerife (as much of a hardship posting as that isn't). Since being awarded his doctorate, May's scientific activities have continued, as have his musical ones and other pursuits besides, such as animal-rights activism and stereography. (Sometimes these intersect: the 2017 photobook Queen in 3-D, for example, uses a VR viewing device of May's own design.) The next time you meet a youngster dithering over whether to go into astrophysics or found one of the most successful rock bands of all time, point them to May's example and let them know doing both isn't without precedent.
Related Content:
Guitarist Brian May Explains the Making of Queen's Classic Song, 'Bohemian Rhapsody'
Brian May's Homemade Guitar, Made From Old Tables, Bike and Motorcycle Parts & More
Stephen Hawking's Ph.D. Thesis, "Properties of Expanding Universes," Now Free to Read/Download Online
Watch 94 Free Lectures From the Great Courses: Dystopian Fiction, Astrophysics, Guitar Playing & Much More
Based in Seoul, Colin Marshall writes and broadcasts on cities, language, and culture. His projects include the book The Stateless City: a Walk through 21st-Century Los Angeles and the video series The City in Cinema. Follow him on Twitter at @colinmarshall, on Facebook, or on Instagram.