A month before Leonard Cohen died in Novem­ber, 2016, The New York­er's edi­tor David Rem­nick trav­eled to the songwriter's Los Ange­les home for a lengthy inter­view in which Cohen looked both for­ward and back.
As a for­mer Zen monk, he was also adept at inhab­it­ing the present, one in which the shad­ow of death crept ever clos­er.
His for­mer lover and muse, Mar­i­anne Ihlen, had suc­cumbed to can­cer ear­li­er in the sum­mer, two days after receiv­ing a frank and lov­ing email from Cohen:
Well, Mar­i­anne, it's come to this time when we are real­ly so old and our bod­ies are falling apart and I think I will fol­low you very soon. Know that I am so close behind you that if you stretch out your hand, I think you can reach mine. And you know that I've always loved you for your beau­ty and your wis­dom, but I don't need to say any­thing more about that because you know all about that. But now, I just want to wish you a very good jour­ney. Good­bye old friend. End­less love, see you down the road.
The New York­er has nev­er shied from over-the-top phys­i­cal descrip­tions. The cour­te­ous, high­ly ver­bal young poet, who'd evinced "a kind of Michael Cor­leone Before the Fall look, sloe-eyed, dark, a lit­tle hunched" was now very thin, but still hand­some, with the hand­shake of "a court­ly retired capo."
In addi­tion to an album, You Want It Dark­er, to pro­mote, Cohen had a mas­sive back­log of unpub­lished poems and unfin­ished lyrics to tend to before the sands of time ran out.
At 82, he seemed glad to have all his men­tal fac­ul­ties and the sup­port of a devot­ed per­son­al assis­tant, sev­er­al close friends and his two adult chil­dren, all of which allowed him to main­tain his music and lan­guage-based worka­holic habits.
Time, as he not­ed, pro­vides a pow­er­ful incen­tive for fin­ish­ing up, despite the chal­lenges posed by the weak­en­ing flesh:
At a cer­tain point, if you still have your mar­bles and are not faced with seri­ous finan­cial chal­lenges, you have a chance to put your house in order. It's a cliché, but it's under­es­ti­mat­ed as an anal­gesic on all lev­els. Putting your house in order, if you can do it, is one of the most com­fort­ing activ­i­ties, and the ben­e­fits of it are incal­cu­la­ble.
He had clear­ly made peace with the idea that some of his projects would go unfin­ished.
You can hear his fond­ness for one of them, a "sweet lit­tle song" that he recit­ed from mem­o­ry, eyes closed, in the ani­mat­ed inter­view excerpt, above:
Lis­ten to the hum­ming­bird

Whose wings you can­not see

Lis­ten to the hum­ming­bird

Don't lis­ten to me.

Lis­ten to the but­ter­fly

Whose days but num­ber three

Lis­ten to the but­ter­fly

Don't lis­ten to me.

Lis­ten to the mind of God

Which doesn't need to be

Lis­ten to the mind of God

Don't lis­ten to me.
These unfin­ished thoughts close out Cohen's beau­ti­ful­ly named posthu­mous album, Thanks for the Dance, sched­uled for release lat­er this month.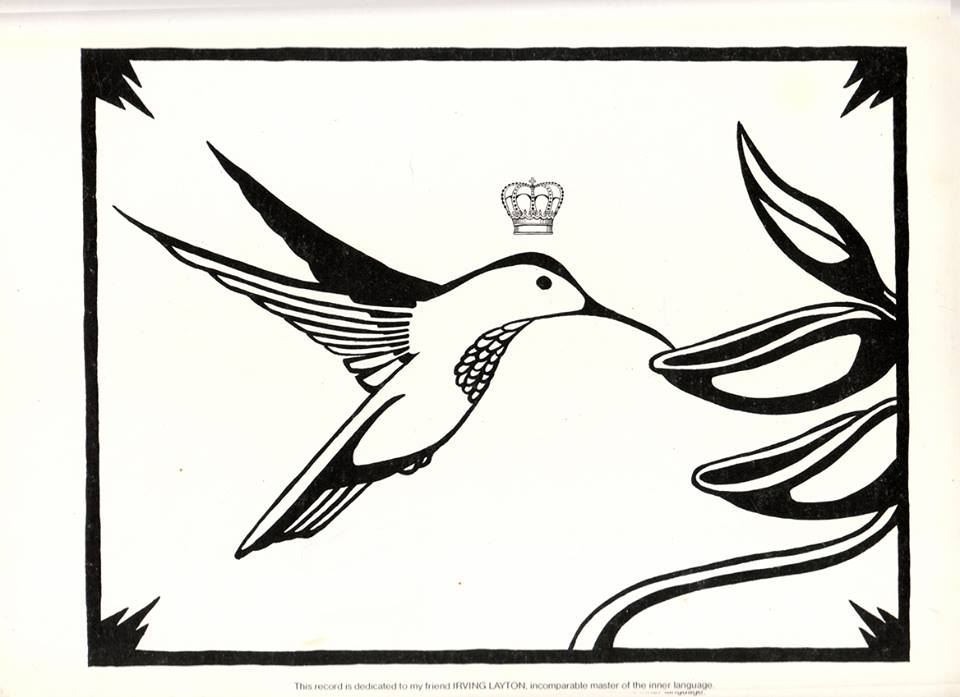 Dianne V. Lawrence, who designed Cohen's hum­ming­bird logo, a motif begin­ning with 1979's Recent Songs album, spec­u­lates that Cohen equat­ed the hum­ming­bird's enor­mous ener­gy usage and sus­te­nance require­ments with those of the soul.
Read Remnick's arti­cle on Leonard Cohen in its entire­ty here. Hear a record­ing of David Rem­nick­'s inter­view with Cohen–his last ever–below:
Relat­ed Con­tent:
Hear Leonard Cohen's Final Inter­view: Record­ed by David Rem­nick of The New York­er
Leonard Cohen's Last Work, The Flame Gets Pub­lished: Dis­cov­er His Final Poems, Draw­ings, Lyrics & More
How Leonard Cohen Wrote a Love Song
Ayun Hal­l­i­day is an author, illus­tra­tor, the­ater mak­er and Chief Pri­ma­tol­o­gist of the East Vil­lage Inky zine. Join her in NYC on Mon­day, Decem­ber 9 for her month­ly book-based vari­ety show, Necro­mancers of the Pub­lic Domain. Fol­low her @AyunHalliday.