In 1983, Rolling Stone proclaimed it the year of the "second British Invasion," a "golden age" of music from the likes of Duran Duran, Spandau Ballet, Culture Club, the Human League, Depeche Mode, and other radio-friendly synth pop hitmakers. The label stuck. Thirty years later, CBS News commemorated the year "a slew of [New Wave] acts came over to the states with their synthesizer-driven/R&B-inspired music."
Amidst this frenzy of praise, no one mentions the Clash, who played their final show in 1983. The year previous they hit number 8 on the Billboard Hot 100 with "Rock the Casbah." Combat Rock arguably proved that punk was still relevant in the early 1980s, though a punk transfigured into dancefloor-friendly funk, dub, and spoken word experimentation. Just as arguably, the Clash should be properly seen as leaders of the true second British Invasion—an invasion of British punk and post-punk bands in the late 70s.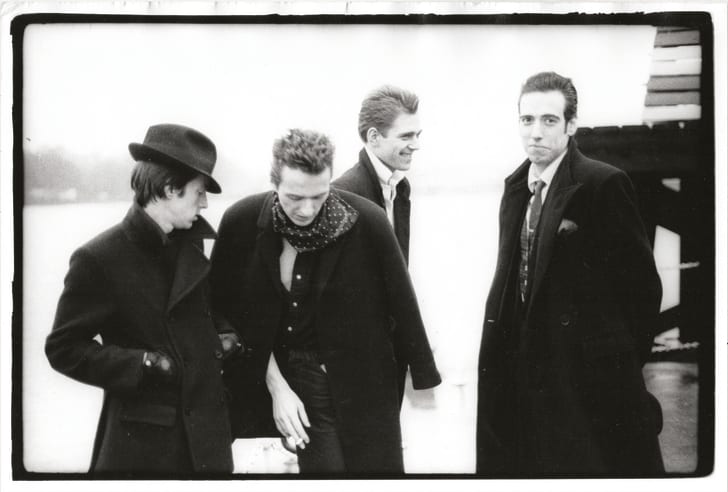 Four charming lads who'd grown up playing in the clubs, they spoke a working-class idiom, wrote in a number of different voices, took a consistently anti-war stance, and took punk where it had not gone before with studio and world music experiments. One needn't compare their 1979 double album London Calling to Sgt. Pepper's—though it does top several critics best-of-all-time lists—to see its similar influence on contemporary music.
Its title track even hit number 30 on the Billboard Disco Top 100 chart in 1980, a move that helped open the door for several dozen punk-inspired British New Wave bands to come. London Calling wasn't universally beloved. The commercial aims and more polished delivery divided punk fans, and some critics panned the album. None of that has mattered at all to the millions of devoted fans worldwide. Its iconic cover has become just as recognizable as the original that inspired it.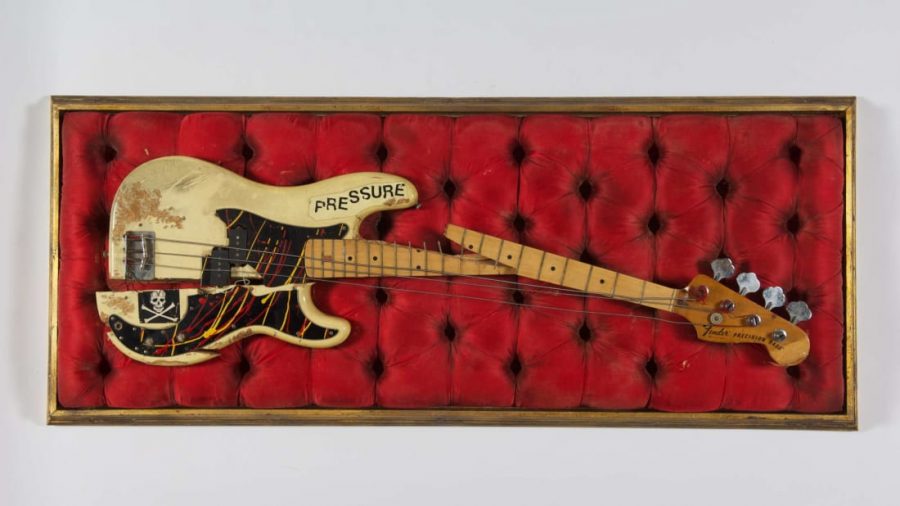 Now, and until April 2020, truly devoted fans can experience that album as no one has before by seeing in person, the actual Fender Precision bass that Paul Simenon smashed in the cover photo—only one of the many historic artifacts on display at the Museum of London in a free exhibition celebrating the album's 40th anniversary. Visitors can also see "Mick Jones's 1950s Gibson ES-295," writes Ellen Gotoskey at Mental Floss, "Joe Strummer's white 1950s Fender Esquire," and a pair of Topper Headon's drumsticks.
Also on display are "sketches from artist Ray Lowry that depict scenes from the London Calling tour," as well as an early sketch by Lowry of the album cover, and "photos taken by Pennie Smith (who snapped the London Calling cover image)." Viewers can see Strummer's typewriter, his notebook from the rehearsal and recording of the record, and Simenon's weathered late-70s leather jacket.
The exhibition may be free, but tickets to London are pricey. Still, fans can play along at home with the London Calling Scrapbook, a 120-page hardback book full of archival material and included in Sony's anniversary re-release of the album. But no lover of the Clash is without their own copy of London Calling. Put it on in celebration and judge whether, as the Museum of London writes, its "music and lyrics remain as relevant today as they were on release."
via Mental Floss
Related Content:
Hear The Clash's Vanilla Tapes, Demos of Nearly Every Song From London Calling
"Stay Free: The Story of the Clash" Narrated by Public Enemy's Chuck D: A New 8-Episode Podcast
The Clash Play Their Final Show (San Bernardino, 1983)
Josh Jones is a writer and musician based in Durham, NC. Follow him at @jdmagness