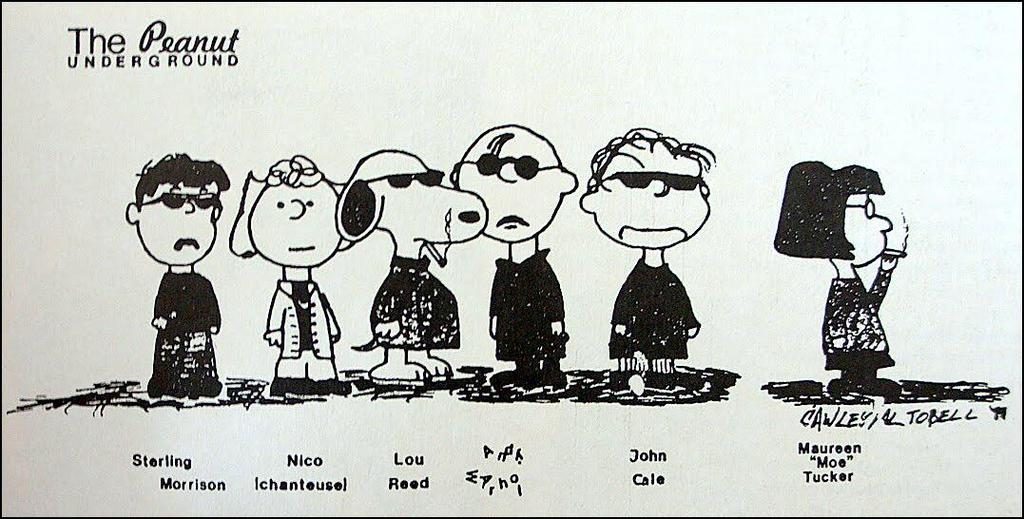 The fun cartoon above was apparently found in a "Guide to the Velvet Underground and Andy Warhol's Factory" published by the French magazine, Les Inrockuptibles in 1990. It came around the same time the Fondation Cartier pour l'art contemporain (located in Paris) held an exhibition dedicated to Andy Warhol. Of course, Warhol famously took a break from painting in the mid-1960s and, among other things, threw his influence behind the up-and-coming NYC band, The Velvet Underground. Serving as the band's manager, he "produced" VU's first album, which meant designing the album cover and giving the band members — Lou Reed, John Cale, Sterling Morrison, Maureen Tucker and Nico — the freedom to make whatever album they pleased, up to a certain point. Above, you can see these same musicians reimagined as Peanuts characters.
If you would like to get Open Culture post's via email, please sign up for our free email newsletter here.
And if you would like to support the mission of Open Culture, consider making a donation to our site. It's hard to rely 100% on ads, and your contributions will help us continue providing the best cultural and educational materials to learners everywhere. You can contribute through PayPal, Patreon, Venmo (@openculture) and Crypto. Thanks for your support!
Related Content:
The Velvet Underground Captured in Color Concert Footage by Andy Warhol (1967)
Andy Warhol Explains Why He Decided to Give Up Painting & Manage the Velvet Underground Instead (1966)
A Symphony of Sound (1966): Velvet Underground Improvises, Warhol Films It, Until the Cops Turn Up