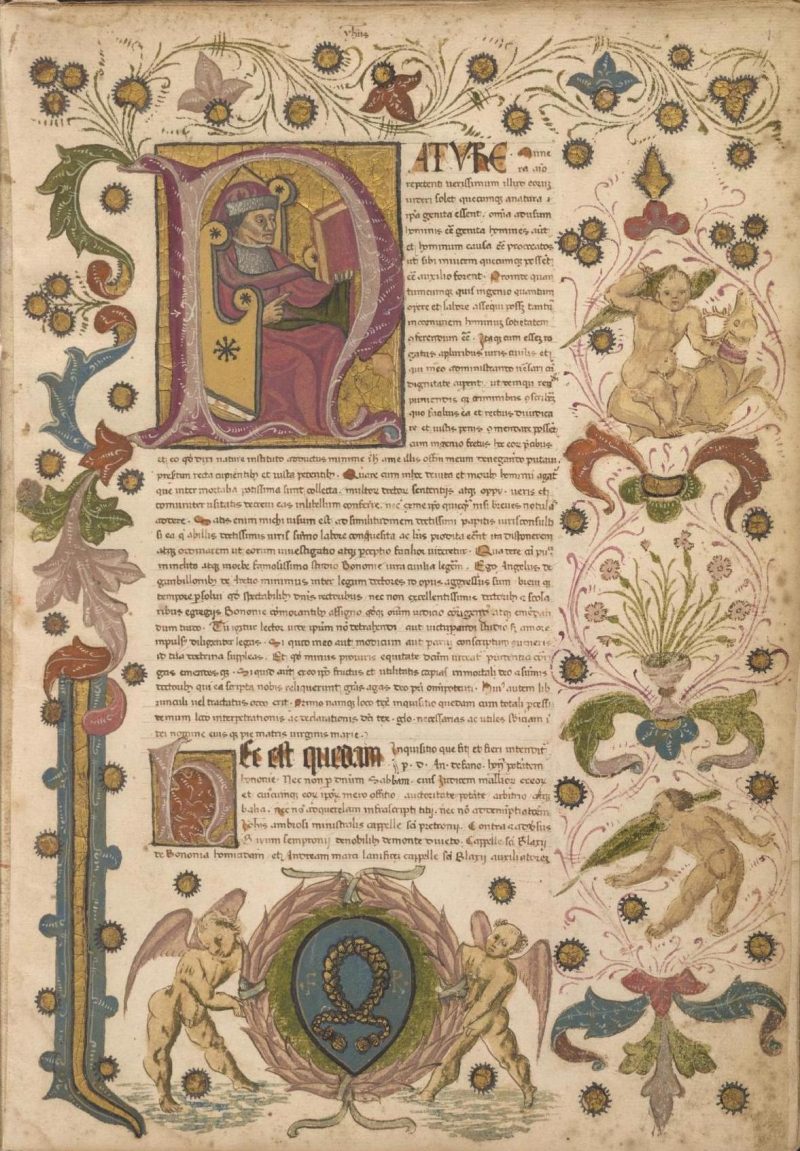 We might think we have a general grasp of the period in European history immortalized in theme restaurant form as "Medieval Times." After all, writes Amy White at Medievalists.net, "from tattoos to video games to Game of Thrones, medieval iconography has long inspired fascination, imitation and veneration." The market for swordplay, armor, quests, and sorcery has never been so crowded.
But whether the historical period we call medieval (a word derived from medium aevum, or "middle age") resembled the modern interpretations it inspired presents us with another question entirely—a question independent and professional scholars can now answer with free, easy reference to "high-resolution images of more than 160,000 pages of European medieval and early modern codices": richly illuminated (and amateurishly illustrated) manuscripts, musical scores, cookbooks, and much more.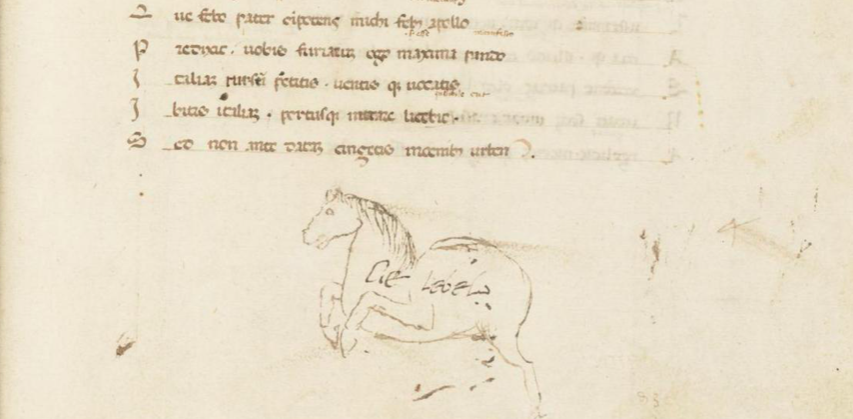 The online project, called Bibliotheca Philadelphiensis, houses its digital collection at the Internet Archive and represents "virtually all of the holdings of PACSCL [Philadelphia Area Consortium of Special Collections Libraries]," a wealth of documents from Princeton, Bryn Mawr, Villanova, Swarthmore, and many more college and university libraries, as well as the American Philosophical Society, National Archives at Philadelphia, and other august institutions of higher learning and conservation.
Lehigh University "contributed 27 manuscripts amounting to about 5,000 pages," writes White, including "a 1462 handwritten copy of Virgil's Aeneid with penciled sketches in the margins" (see above). There are manuscripts from that period like the Italian Tractatus de maleficiis (Treatise on evil deeds), a legal compendium from 1460 with "thirty-one marginal drawings in ink" showing "various crimes (both deliberate and accidental) being committed, from sword-fights and murders to hunting accidents and a hanging."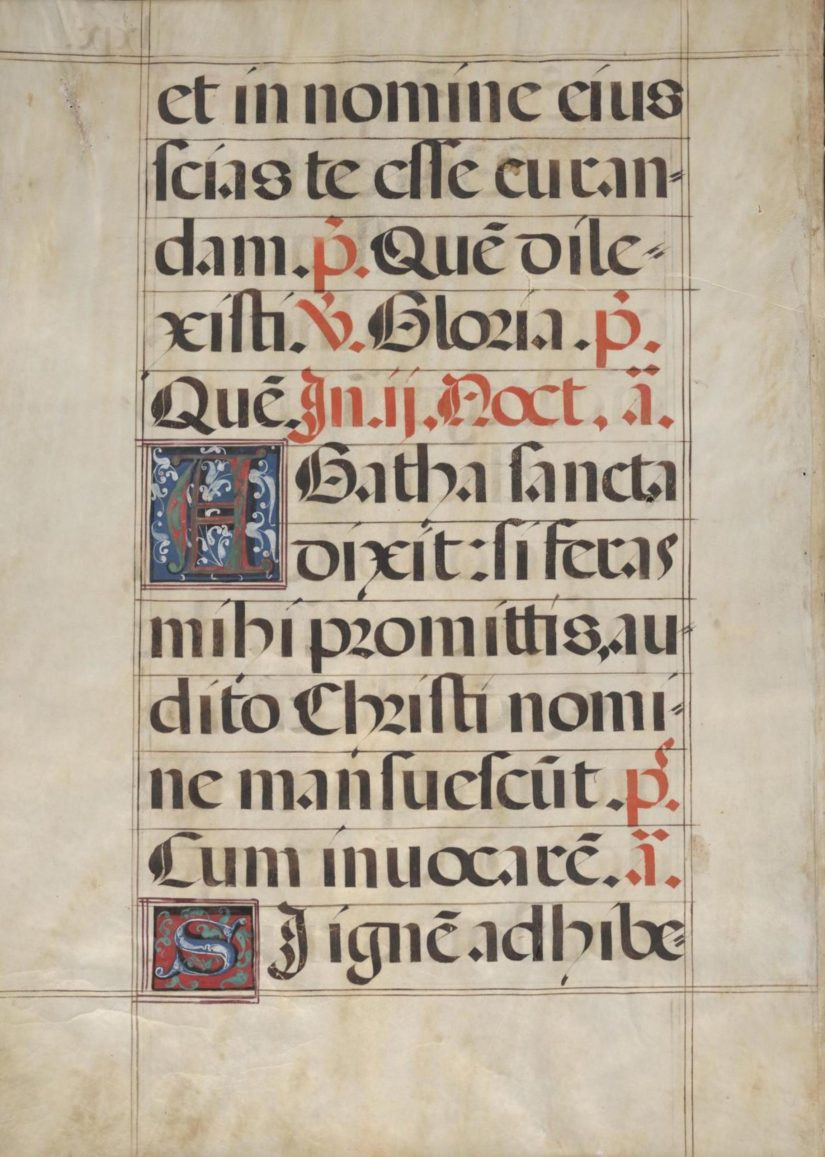 The Tractatus' drawings "do not appear to be the work of a professional artist," the notes point out, though it also contains pages, like the image at the top, showing a trained illuminator's hand. The Bibliotheca Philadelphiensis archive includes 15th and 16th-century recipes and extracts on alchemy, medical texts, and copious Bibles and books of prayer and devotion. There is a 1425 edition of Chaucer's Canterbury Tales in Middle English (lacking the prologue and several tales).
These may all seem of recent vintage, relatively speaking, for a medieval archive, but the collection reaches back to the 9th century, with hundreds of documents, like the 1000 AD music manuscript above, from a far earlier time. "Users can view, download and compare manuscripts in nearly microscopic detail," notes White. "It is the nation's largest regional online collection of medieval manuscripts," a collection scholars can draw on for centuries to come to learn what life was really like—at least for the few who could read and write—in Medieval Times.
via Medievalists.net
Related Content: 
Why Knights Fought Snails in Illuminated Medieval Manuscripts
800 Illuminated Medieval Manuscripts Are Now Online: Browse & Download Them Courtesy of the British Library and Bibliothèque Nationale de France
The Medieval Masterpiece, the Book of Kells, Is Now Digitized & Put Online
A Free Yale Course on Medieval History: 700 Years in 22 Lectures
Josh Jones is a writer and musician based in Durham, NC. Follow him at @jdmagness