According to the United Nations' Intergovernmental Panel on Climate Change, global warming is likely to reach 1.5°C above pre-industrial levels between 2030 and 2052 should it continue to increase at its current rate.
What does this mean, exactly?
A catastrophic series of chain reactions, including but not limited to:
–Sea level rise
–Change in land and ocean ecosystems
–Increased intensity and frequency of weather extremes
–Temperature extremes on land
–Drought due to precipitation deficits
–Species loss and extinction
Look to the IPCC's 2018 Special Report: Global Warming of 1.5°C for more specifics, or have a gander at these digital updates of masterpieces in Madrid's Museo del Prado's collections.
The museum collaborated with the World Wildlife Fund, choosing four paintings to be altered in time for the recently wrapped Madrid Climate Change Conference.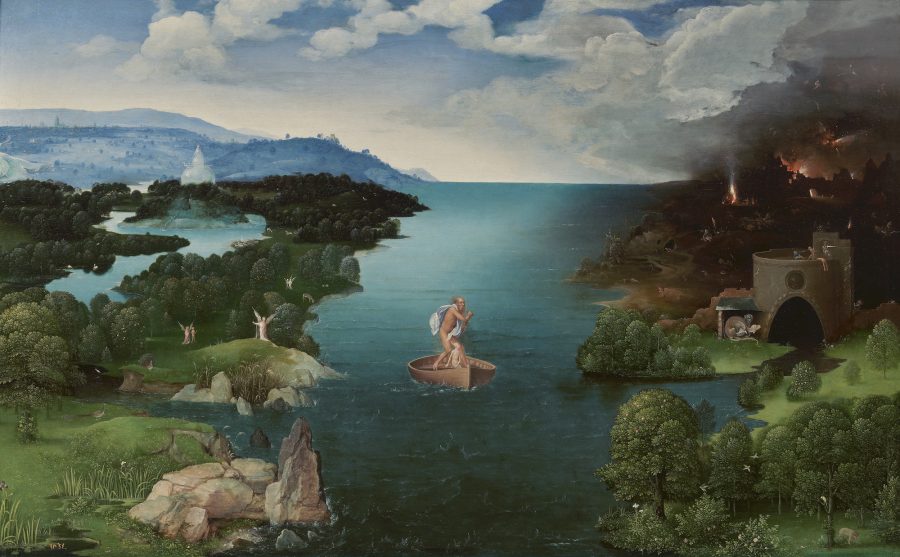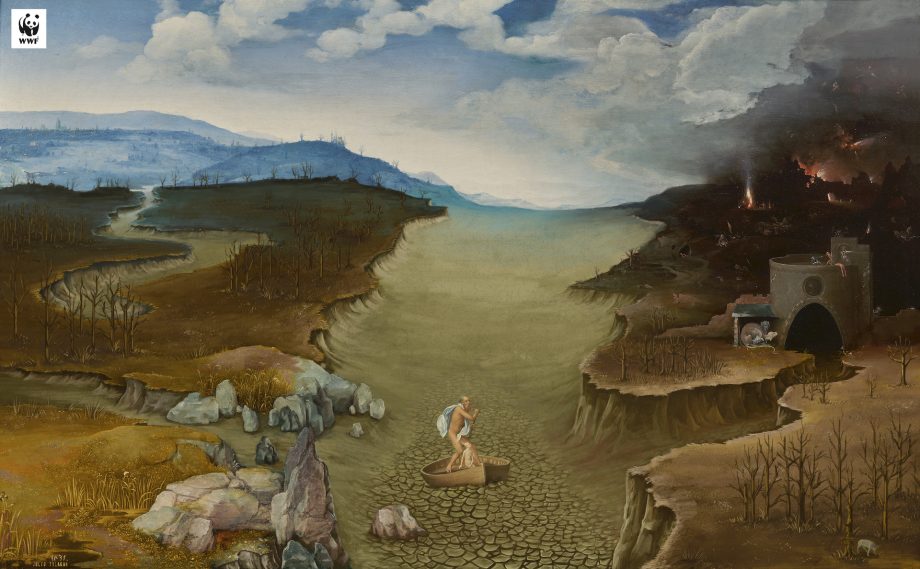 Artist Julio Falagan brings extreme drought to bear on El Paso de la Laguna Estigia (Charon Crossing the Styx) by Joachim Patinir, 1520 – 1524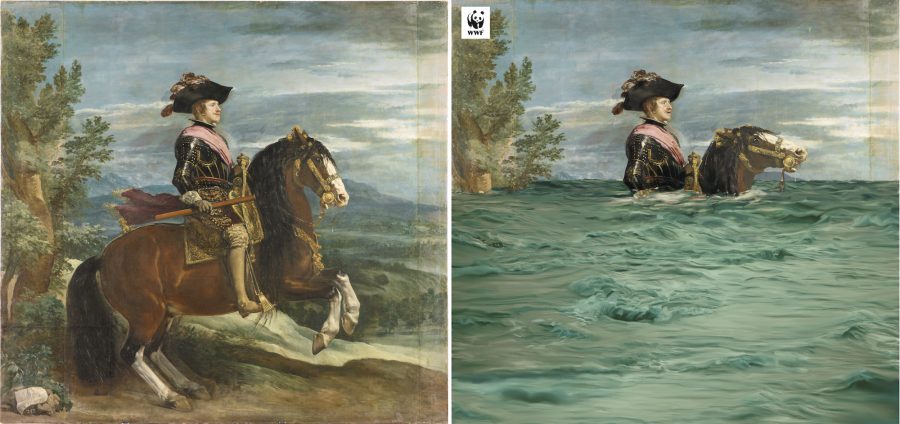 Marta Zafra raises the sea level on Felipe IV a Caballo (Philip the IV on Horseback) by Velázquez, circa 1635.
The Parasol that supplies the title for Francisco de Goya's El Quitasol of 1777 becomes a tattered umbrella barely sheltering miserable, crowded refugees in the sodden, makeshift camp of Pedro Veloso's reimagining.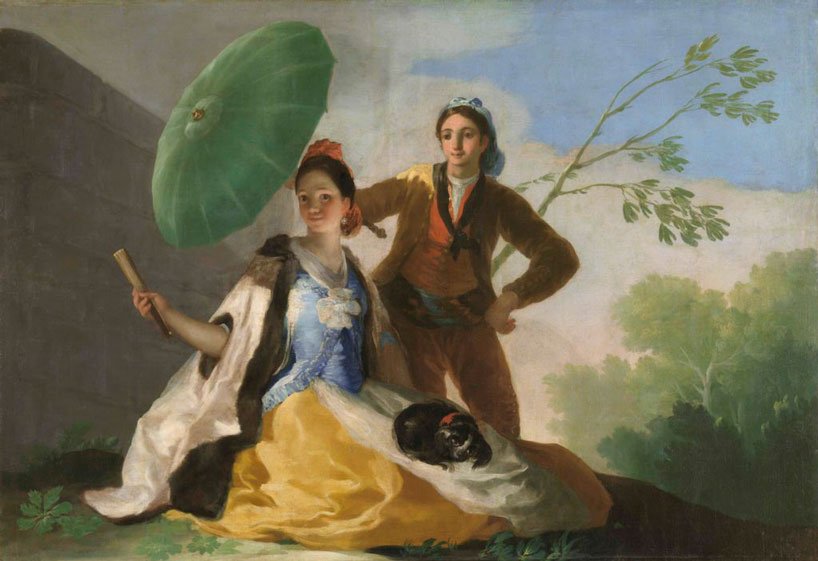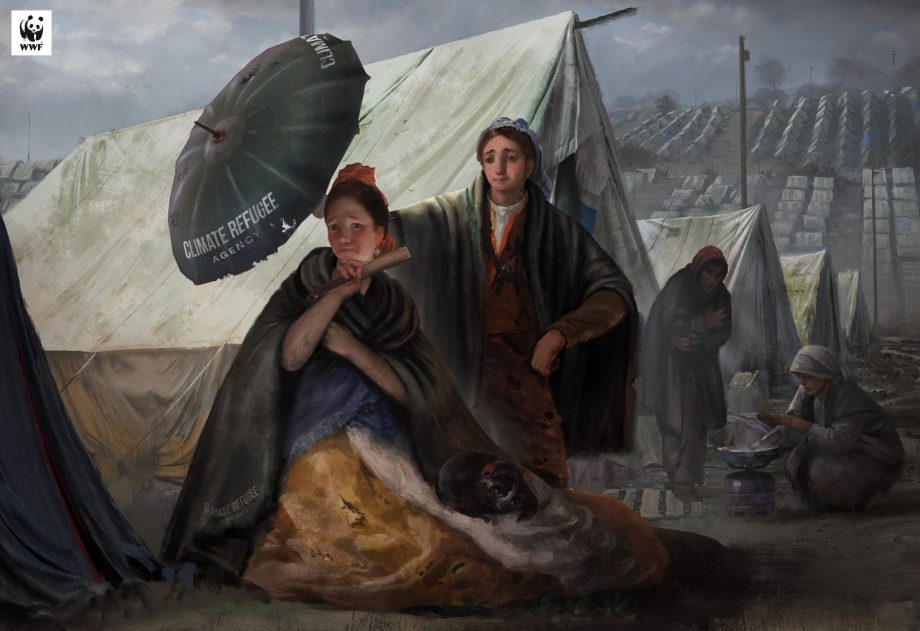 And the Niños en la Playa captured relaxing on the beach in 1909 by Joaquín Sorolla now compete for space with dead fish, as observed by artist Conspiracy 110 years further along.
None of the original works are currently on display.
It would be a public service if they were, alongside their drastically retouched twins and perhaps Hieronymus Bosch's The Garden of Earthly Delights, to further unnerve viewers about the sort of hell we'll soon be facing if we, too, don't make some major alterations.
For now the works in the +1.5ºC Lo Cambia Todo (+1.5ºC Changes Everything) project are making an impact on giant billboards in Madrid, as well as online.
Related Content:
Global Warming: A Free Course from UChicago Explains Climate Change
Climate Change Gets Strikingly Visualized by a Scottish Art Installation
A Century of Global Warming Visualized in a 35 Second Video
Perpetual Ocean: A Van Gogh-Like Visualization of our Ocean Currents
Ayun Halliday is an author, illustrator, theater maker and Chief Primatologist of the East Village Inky zine.  Join her in NYC on Monday, January 6 when her monthly book-based variety show, Necromancers of the Public Domaincelebrates Cape-Coddities by Roger Livingston Scaife (1920). Follow her @AyunHalliday.