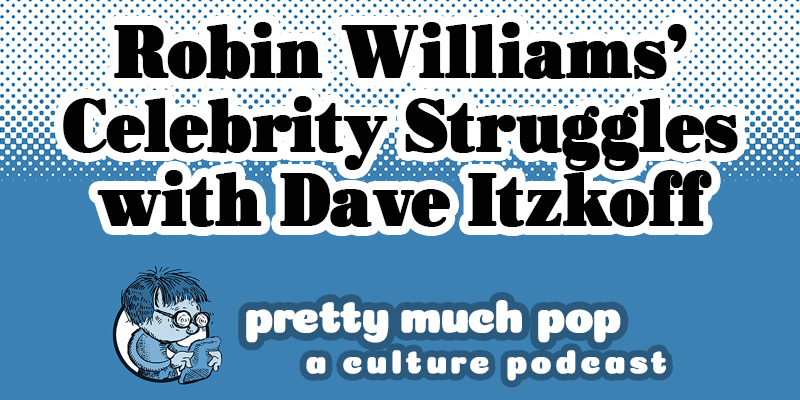 New York Times culture reporter Dave Itzkoff joins your hosts Mark Linsenmayer, Erica Spyres, and Brian Hirt to consider issues raised by Dave's 2018 biography Robin: How do we make sense of our strange relation to celebrities, and what are strategies that celebrities use to deal with their asymmetric relationship to the world? While Robin Williams tried, in gratitude, to share himself with his fans, and was very anxious about letting us all down when some of his later work didn't garner the widespread praise he was used to, someone like Joaquin Phoenix takes a much more seemingly detached attitude, keenly aware of the absurdity of the celebrity-audience relation.
We also talk to Dave about interview technique and the different attitudes that his subjects take toward him. Can an interview be something that has intrinsic value and not just parasitic on popular media?
For more about Robin, Dave participated in a recent podcast called Knowing: Robin Williams, which was created in part to support Dave's book (which some of us read for this episode; it's really good). HBO also recently released the documentary Come Inside My Mind that relates much of the same story.
For more on Joaquin Phoenix, read Dave's interview, this 2017 Times article by Bret Easton Ellis, or this Guardian article on I'm Still Here.
Read Dave's interviews at nytimes.com/by/dave-itzkoff or follow him @ditzkoff.
This episode includes bonus discussion that you can only hear by supporting the podcast at patreon.com/prettymuchpop. This podcast is part of the Partially Examined Life podcast network.
Pretty Much Pop: A Culture Podcast is the first podcast curated by Open Culture. Browse all Pretty Much Pop posts or start with the first episode.