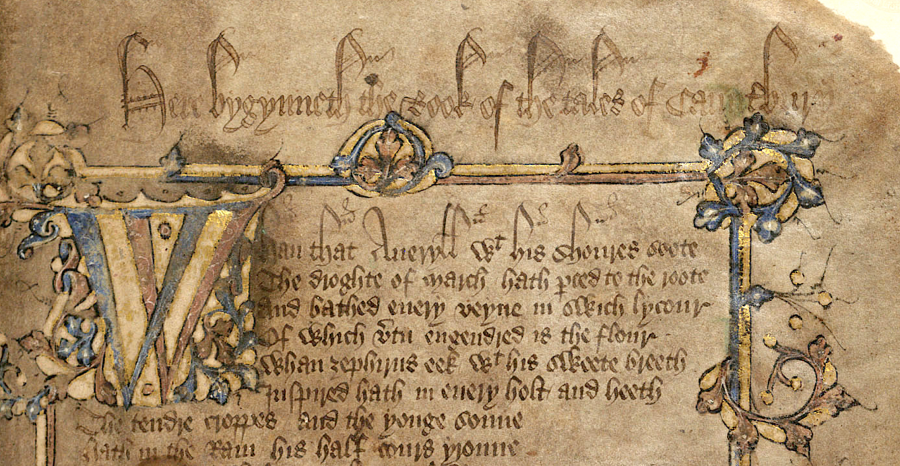 People's eyes tend to glaze over when they hear the phrase "digital humanities." Granted, it's not the most thrilling combination of words. But when you show them what's possible at the intersection of technology and the arts, the glaze turns to a gleam: a Shazam-like app for scanning, identifying, and learning about fine art? Yes, please…. An iPad app introducing the works of Shakespeare, with contextual notes, summaries, essays, and videos featuring Sir Ian McKellen? Fascinating….
The possibilities for casual learners and serious students alike are vast. You just have to know where to look. And if you're looking for a tech-savvy way into Chaucer's Canterbury Tales, the classic medieval story cycle written in Middle English verse and prose, you've found it. Thanks in part to medieval scholar Terry Jones, formerly a member of Monty Python—and the writer and director of Monty Python and the Holy Grail—we now have a Chaucer app.
"The project… features a 45-minute audio performance of the General Prologue of the Tales," writes Henry Bodkin at the Independent. "While listening to the reading, users have access to a modern translation, explanatory notes and a vocabulary explaining Middle English words used by Chaucer, as well as a digitized version of the original 14th century manuscript." The project was Jones' final scholarly work—he passed away last month—but his contribution is significant.
Jones' two books on Chaucer and his translation of the "General Prologue" are both featured in the app's introduction and notes, as Ellen Gutoskey notes at Mental Floss. One of the project's leaders, Peter Robinson of the University of Saskatchewan, also points to his behind-the-scenes influence. "His work and his passion for Chaucer was an inspiration for us. We talked a lot about Chaucer and it was his idea that the Tales would be turned into a performance."
We can enjoy many a modern English translation of Chaucer, and there's nothing wrong with doing so, but to truly understand what made the text so revolutionary, we should hear it in its original language. Middle English is beautifully musical, but it was not in Chaucer's time a literary tongue. Like Dante, he broke new ground by writing in the vernacular when most everyone else wrote in Latin or French.
The strangeness of Middle English to our eyes and ears can make approaching the Canterbury Tales for the first time a daunting experience. The Chaucer app is an excellent research tool for scholars, yet the researchers want "the public, not just academics to see the manuscript as Chaucer would have likely thought of it," says Robinson, "as a performance that mixed drama and humor." In other words, reading Chaucer should be fun.
Why else would Terry Jones—a man who knew his comedy as well as his medieval history—spend decades reading and writing about him? Find out for yourself at the Canterbury Tales app, where, with a click of a few buttons at the top of the page, you can see part of the original manuscript, a transcription of the Middle English text, explanatory notes, and Jones' translation of the "General Prologue."
Enter the app here.
Related Content:
Monty Python's Terry Jones (RIP) Was a Comedian, But Also a Medieval Historian: Get to Know His Other Side
The Canterbury Tales Remixed: Baba Brinkman's New Album Uses Hip Hop to Bring Chaucer Into the 21st Century, Yo
Sir Ian McKellen Releases New Apps to Make Shakespeare's Plays More Enjoyable & Accessible
Josh Jones is a writer and musician based in Durham, NC. Follow him at @jdmagness