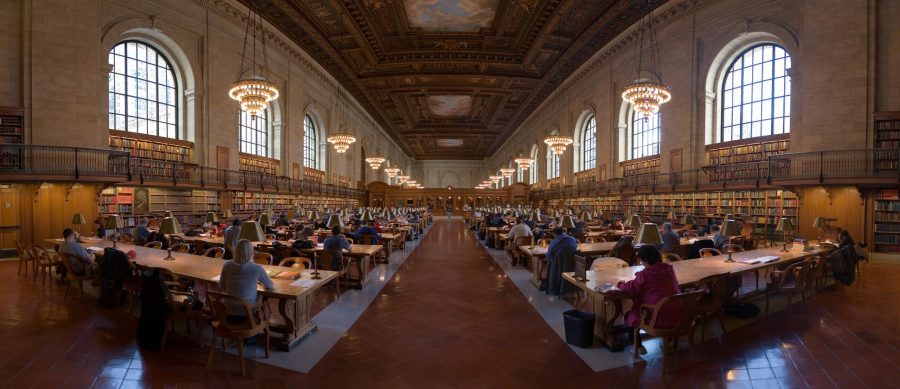 Image via Wiki­me­dia Com­mons
One recur­ring sto­ry over the past year, cov­ered by every major news out­let, asks whether stream­ing ser­vices are "killing" movie the­aters (or if they are killing them­selves). Anoth­er looks into the trend of binge-watch­ing, and the effect of an enter­tain­ment ecosys­tem built on shows that seem to stream them­selves. Giv­en the ubiq­ui­ty of this kind of cov­er­age, we might be for­giv­en for sus­pect­ing that the U.S. is turn­ing into a mass of pas­sive home view­ers trans­fixed by super­nat­ur­al thrillers, dark come­dies, real­i­ty TV, teen dra­mas, etc.….
This isn't entire­ly the case.… While oth­ers tal­ly up the num­ber of eye­balls on var­i­ous­ly-sized screens, vet­er­an polling out­fit Gallup spent part of Decem­ber 2019 ask­ing Amer­i­cans around the coun­try what they did when they went out. Among the nine activ­i­ties they listed—including movies, con­certs, sport­ing events, muse­ums, zoos, and casinos—"visiting the library remains the most com­mon cul­tur­al activ­i­ty Amer­i­cans engage in, by far," aver­ag­ing 10.5 vis­its per year, notes Justin McCarthy at Gallup News.
To put that "by far" into per­spec­tive, those polled report­ed, on aver­age, going to the library almost twice as often as going to the movies, the sec­ond-place activ­i­ty, over the past year. But as with all such polling data, we should not draw hasty con­clu­sions with­out look­ing at specifics. Gallup breaks down the demo­graph­ics by gen­der, age, income, region, and by house­holds with and with­out chil­dren. Sur­pris­ing­ly, they found very lit­tle dif­fer­ence between the lat­ter two groups' report­ed library trips.
Among the oth­er cat­e­gories, we find that women report­ed going to libraries almost twice as often as men; that peo­ple between 18–29 report going over twice as often as those between 50–64—perhaps due to col­lege assign­ments; and that low income house­holds report going at much high­er rates than those in high­er brack­ets. "Cost seems to be a fac­tor dri­ving these trends," writes Brig­it Katz at Smith­son­ian. "Vis­it­ing the library is free, as are the vari­ety of ser­vices libraries offer, includ­ing Wi-Fi."
Indeed, "29 per­cent of library-going Amer­i­cans over the age of 16 went to use com­put­ers, the inter­net or a pub­lic Wi-Fi net­work." Libraries are places to gain access to cul­tur­al expe­ri­ences that can be cost-pro­hib­i­tive else­where: to take free class­es and enjoy free movies, music, and, yes, books. The num­ber of aver­age vis­its has remained unchanged since a sim­i­lar poll in 2001, "sug­gest­ing libraries are as pop­u­lar now as they were at the turn of the mil­len­ni­um." Trips to the movies, on the oth­er hand, are down an aver­age of 1.3 vis­its.
Make of the data what you will in the full break­down at Gallup News. The tele­phone sur­vey has a very small sam­ple size—1,024 adults in all 50 states—which may not be at all rep­re­sen­ta­tive of the whole. Nonethe­less, McCarthy con­cludes that "despite the pro­lif­er­a­tion of dig­i­tal-based activ­i­ties over the past two decades… libraries have endured." May they con­tin­ue to do so, and to serve the needs of all Amer­i­cans, espe­cial­ly those who might oth­er­wise have lit­tle access to the kinds of knowl­edge, infor­ma­tion, and cul­ture that libraries stew­ard.
via Smith­son­ian
Relat­ed Con­tent:
The New York Pub­lic Library Announces the Top 10 Checked-Out Books of All Time
Free Col­or­ing Books from World-Class Libraries & Muse­ums: Down­load & Col­or Hun­dreds of Free Images
Libraries & Archivists Are Dig­i­tiz­ing 480,000 Books Pub­lished in 20th Cen­tu­ry That Are Secret­ly in the Pub­lic Domain
Josh Jones is a writer and musi­cian based in Durham, NC. Fol­low him at @jdmagness.