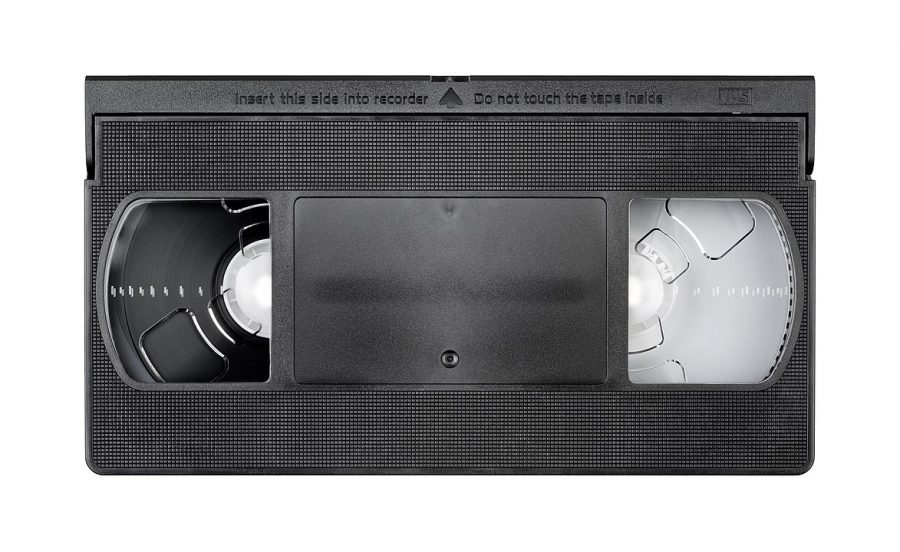 Image by Evan-Amos, via Wikimedia Commons
My neighborhood thrift store has a very large VHS wall, filled with Hollywood movies, endless children's videos, instructional tapes, and best of all a box of unknown vids. Maybe they're blank. Maybe they contain 6 episodes of Matlock. And maybe, just maybe, they have something completely nuts.
But who has time or the old technology for that, especially when the Internet Archive has recently expanded its VHS Vault section to 20,000 digitized tapes under the (non) curation of archivist Jason Scott. We make no claims for the quality of the videos contained therein, because that's really up to you. A cursory glance shows episodes of Blues Clues next to Traci Lords' workout tape next to Mystery Science Theater alongside Gerry Anderson's Lavender Castle, a mix of claymation, puppetry, and rudimentary CGI.
So look: you have to go digging. There's gems among the junk. There's That's My Bush! the ill-conceived and ill-fated sitcom from South Park's Trey Parker and Matt Stone that disappeared down the memory hole after 9-11.
Or check out this Law Enforcement Guide to Satanic Cults, 75 minutes of paranoid lunacy with a halfway decent ambient soundtrack and some groovy visuals. Once you hear "abnormal sexology" you'll be hooked!
This 1994 footage/interviews from the playa at Burning Man is a fascinating time capsule. "We have enough guns out here to start World War III," one man says. Yep, it was certainly a different time.
You'll also find plenty of just straight-up "no idea what's on this, just hit play and record" VHS tapes, like this 4 hour block of MTV from 1995.
The Archive also serves another purpose: right now it acts as a kind of "safe space" from the increasingly unforgiving algorithms of YouTube, designed to take down anything its AI hears as unlicensed footage or music. It's one reason for the amount of Mystery Science Theater episodes up here, as some can no longer be shown due to expired film rights.
And unlike YouTube, all the videos are available for you to download, keep, remix, edit, and/or purge. You won't have to wash your hands like after a trip to the thrift store, but your soul will feel equally gross. Enjoy! Enter the archive here.
Related Content:
The Internet Archive Is Digitizing & Preserving Over 100,000 Vinyl Records: Hear 750 Full Albums Now
The Internet Archive Makes 2,500 More Classic MS-DOS Video Games Free to Play Online: Alone in the Dark, Doom, Microsoft Adventure, and Others
Watch 700 Videos Nostalgia-Inducing Videos from the Early Days of MTV
Ted Mills is a freelance writer on the arts who currently hosts the artist interview-based FunkZone Podcast and is the producer of KCRW's Curious Coast. You can also follow him on Twitter at @tedmills, read his other arts writing at tedmills.com and/or watch his films here.