London-based couple Filippo and Marianna's self-isolation project calls to mind artist (and museum curator) Bill Scanga's At the Met, exhibited nearly 20 years ago as part of the group show Almost Warm and Fuzzy: Childhood and Contemporary Art at P.S.1 Contemporary Art Center (now known as MoMA PS1).
Scanga's installation involved hanging mini-replicas of works from the Metropolitan Museum's American collection on extremely long wires that traveled from under-ceiling picture rail to the baseboard, where a collection of art-loving taxidermied mice waited expectantly. One rested on a familiar-looking, black vinyl upholstered bench, a tiny blue shopping bag from the Met's gift store parked near its dainty, shoeless feet.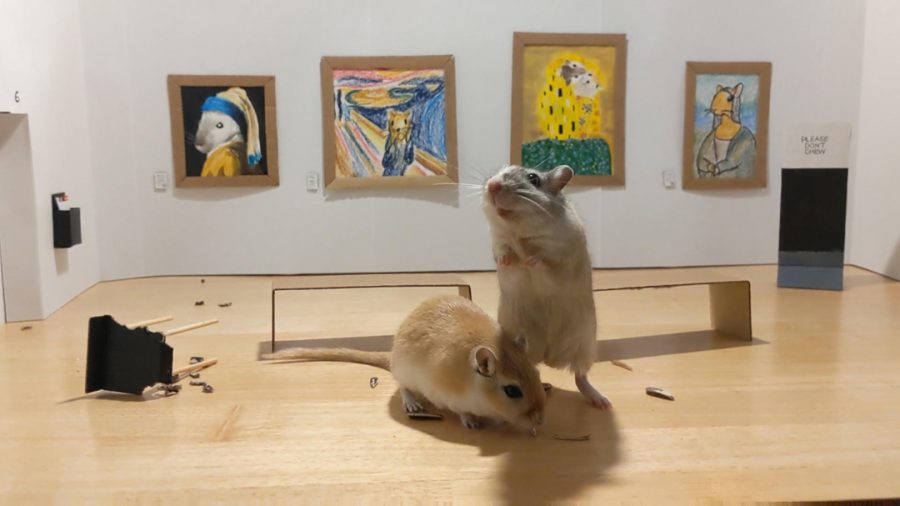 Filippo and Marianna's art-loving rodents are gerbils, and unlike Scanga's artfully stuffed models, theirs—9-month-old brothers Pandoro and Tiramisù—are very much alive, as Tiramisù proved when he gnawed the unseen gallery assistant's painstakingly assembled cardboard stool to bits under the watchful eye of the tiny Girl with a Pearl Earring facsimile Marianna crafted for his cultural enrichment.
A video the couple published on Reddit, above, shows the furry museum goers scampering under the benches to the tune of "The Blue Danube" and placing their paws on the artwork, including an expert, gerbil-themed forgery of Gustav Klimt's gold-flecked Symbolist masterpiece, The Kiss.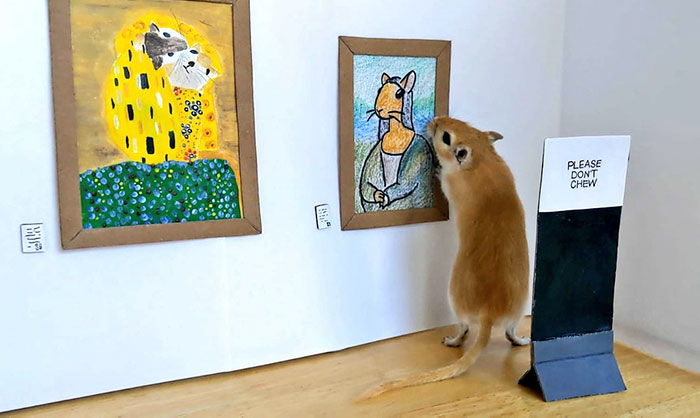 Not to be vulgar, but if this museum has a restroom, Pandoro and Tiramisù seem to have given it a miss, an impropriety surpassing any waged by the titular characters of Beatrix Potter's Tale of Two Bad Mice.
Filippo and Marianna accepted the destruction of their exquisitely staged set with a cheer that suggests they're not shut up for the duration with a small child… just gerbils, who can be deposited back into their Habitrail when the fun's over.
The attention to detail—the gallery tags! The laminated cards in multiple languages in a wall-mounted holder!—captured the imagination of Reddit. Users jumped Marianna's original post—(Quarantine, day 14. Me and my boyfriend spent the whole day setting up an art gallery for our gerbil)—with suggestions of other famous works to recreate in miniature and add to the collection. Rest assured no groan-worthy, pun-based, gerbil-centric title was left unexpressed.
With cultural institutions temporarily shuttered for the good of public health, many viewers also shared their yearning to get back inside favorite museums. (Marianna reports that Filippo is a museum worker.)
For now, we must be patient, and live vicariously through gerbils 'til the long wait is over.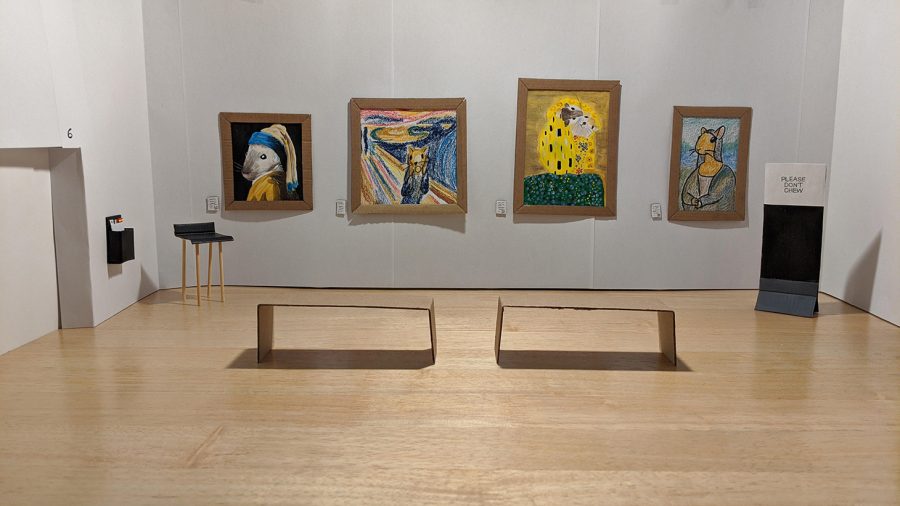 Via Hyperallergic
Related Content: 
Two Cats Keep Trying to Get Into a Japanese Art Museum … and Keep Getting Turned Away: Meet the Thwarted Felines, Ken-chan and Go-chan
Take a Virtual Tour of 30 World-Class Museums & Safely Visit 2 Million Works of Fine Art
14 Paris Museums Put 300,000 Works of Art Online: Download Classics by Monet, Cézanne & More
Ayun Halliday is an author, illustrator, theater maker and Chief Primatologist of the East Village Inky zine.  Like Choir! Choir! Choir!, she has been crowdsourcing art in isolation, most recently a hastily assembled tribute to the classic 60s social line dance, The Madison. Follow her @AyunHalliday.