Accord­ing to DEVO's co-prin­ci­ple song­writer and bassist Ger­ald Casale, the exper­i­men­tal art band turned ear­ly MTV pop-punk dar­lings were "pro-infor­ma­tion, anti stu­pid con­for­mi­ty and knew that the strug­gle for free­dom against tyran­ny is nev­er-end­ing."
Their sin­gu­lar per­for­mance garb also set them apart, and none more so than the bright red plas­tic Ener­gy Dome hel­mets they donned 40 years ago this month, upon the release of their third album, Free­dom of Choice.
The record, which the band con­ceived of as a funk album, explod­ed into main­stream con­scious­ness. The visu­als may have made an even more last­ing impact than the music, which includ­ed the chart top­ping "Whip It."
Even the most anti-New Wave met­al­head could iden­ti­fy the source of those domes, which have been likened to upturned flower pots, dog bowls, car uri­nals, and lamp shades.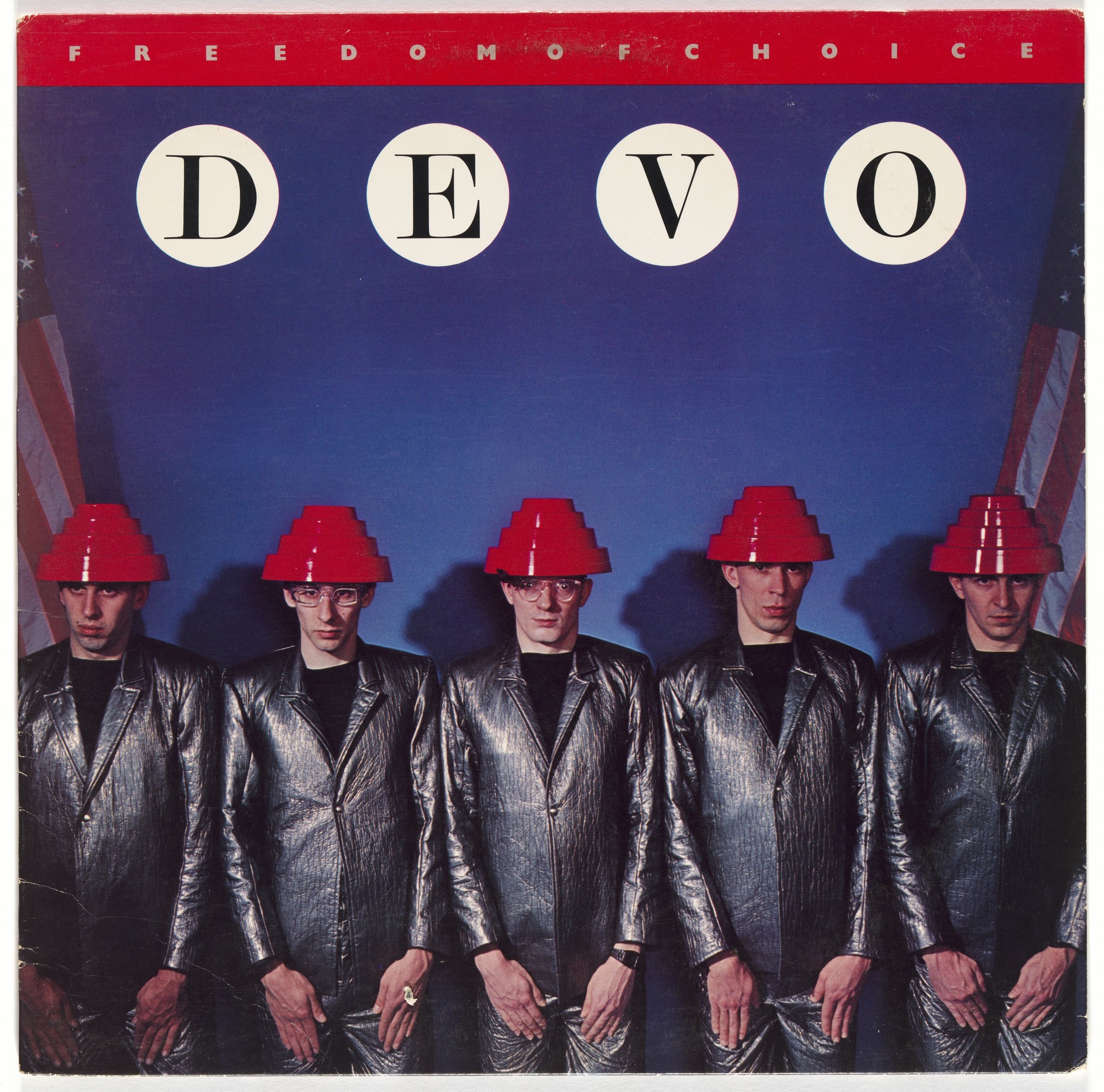 What they prob­a­bly don't know is the Ener­gy Dome was "designed accord­ing to ancient zig­gu­rat mount pro­por­tions used in votive wor­ship. Like the mounds, it col­lects ener­gy and recir­cu­lates it. In this case, the dome col­lects ener­gy that escapes from the crown of the human head and push­es it back into the Medu­la Oblon­ga­ta for increased men­tal ener­gy."
Thus sayeth Casale, any­way.
DEVO's 2020 con­cert plans were, of course, scotched by the coro­n­avirus pan­dem­ic, but the band has found an alter­na­tive way to mark the 40th anniver­sary of Free­dom of Choice and the birth of its icon­ic head­gear.
In addi­tion to face masks embla­zoned with the famil­iar red tiered shape, DEVO­tees with mon­ey and con­fi­dence to spare can ante up for a DIY Per­son­al Pro­tec­tive Equip­ment kit that trans­forms a stan­dard-issue Ener­gy Dome into a face shield.
It's worth not­ing that before tak­ing your con­vert­ed ener­gy dome out for a par­ti­cle deflect­ing spin, you'll have to truf­fle up a hard hat sus­pen­sion lin­er and install it for a prop­er fit.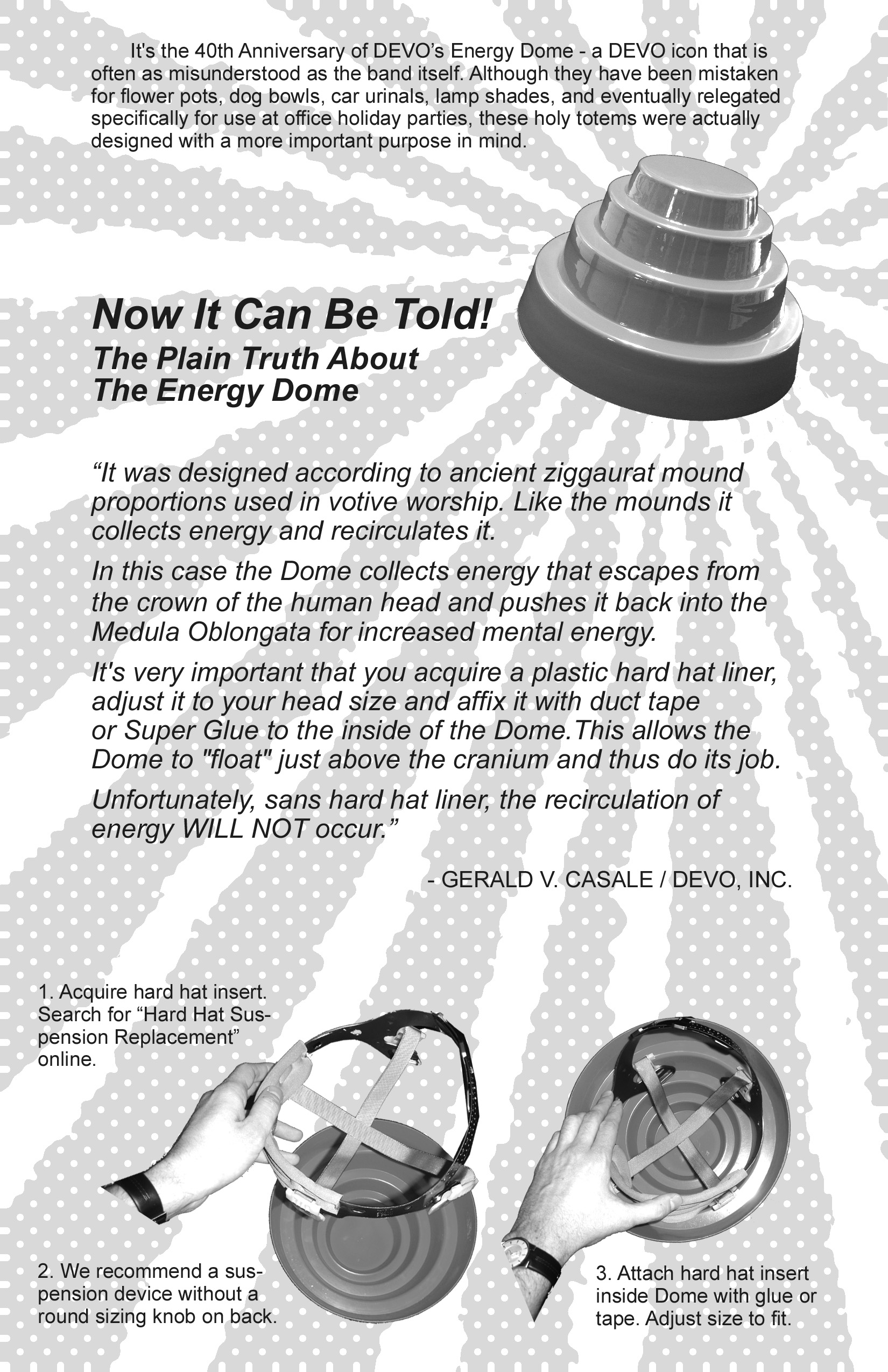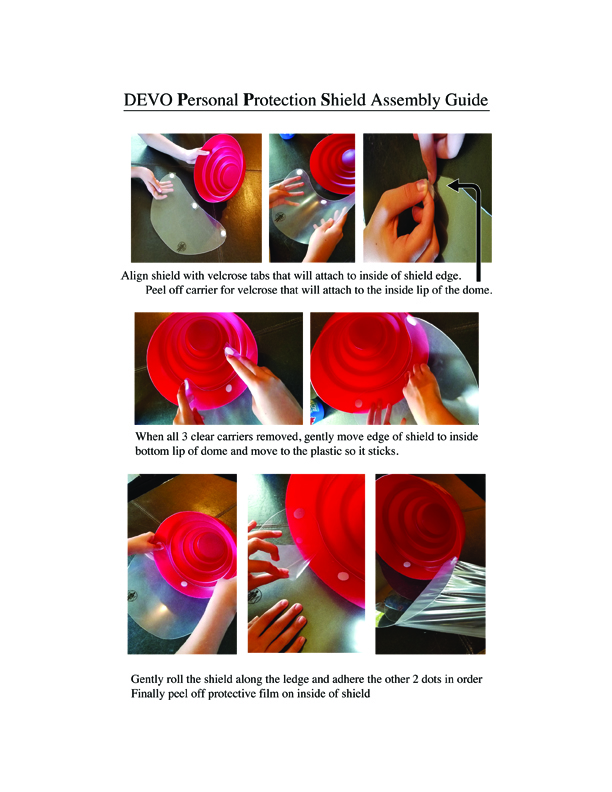 Casale her­ald­ed the open­ing of DEVO's merch store in a Face­book post:
Here we are 40 years lat­er, liv­ing in the alter­nate real­i­ty night­mare spawned by Covid 19 and the botched response of our world "lead­ers" to do the right thing quick­ly. We are not exag­ger­at­ing when we say that 2020 could be the last time you might be able to exer­cise your free­dom of choice. If you don't use it, you can cer­tain­ly lose it.
Uh, he's talk­ing about vot­ing, right, rather than storm­ing the capi­tol build­ing to demand the pre­ma­ture reopen­ing of inessen­tial busi­ness­es or mak­ing out­sized threats in response to gro­cery store mask poli­cies?
Per­haps the pow­er of the Ener­gy Dome is such that it could reawak­en the pro-infor­ma­tion, anti-stu­pid­i­ty sen­si­bil­i­ties of some dor­mant DEVO fans among the unmasked rank and file.
As Casale him­self posit­ed in an inter­view with Amer­i­can Song­writer: "You make it taste good so that they don't real­ize there's med­i­cine in it."
Pre-order masks and PPE kits from DEVO's offi­cial merch store.
Down­load instruc­tions for installing a hard hat sus­pen­sion replace­ment inside the Ener­gy Dome pri­or to attach­ing the shield.
Relat­ed Con­tent:
Japan­ese Design­er Cre­ates Free Tem­plate for an Anti-Virus Face Shield: Down­load, and Then Use a Print­er, Paper & Scis­sors
The Phi­los­o­phy & Music of Devo, the Avant-Garde Art Project Ded­i­cat­ed to Reveal­ing the Truth About De-Evo­lu­tion
The Mas­ter­mind of Devo, Mark Moth­ers­baugh, Presents His Per­son­al Syn­the­siz­er Col­lec­tion
Devo's Mark Moth­ers­baugh & Oth­er Arists Tell Their Musi­cal Sto­ries in the Ani­mat­ed Video Series, "Cal­i­for­nia Inspires Me"
Ayun Hal­l­i­day is an author, illus­tra­tor, the­ater mak­er and Chief Pri­ma­tol­o­gist of the East Vil­lage Inky zine. Here lat­est project is an ani­ma­tion and a series of free down­load­able posters, encour­ag­ing cit­i­zens to wear masks in pub­lic and wear them prop­er­ly. Fol­low her @AyunHalliday.