Fiber artist Bisa Butler's quilted portraits of Black Americans gain extra power from their medium.
Each work is comprised of many scraps, carefully cut and positioned after hours of research and preliminary sketches.
Velvet and silk nestle against bits of vintage flour sacks, West African wax print fabric, denim and, occasionally, hand-me-downs from the sitter's own collection.
In The Warmth of Other Sons, a 12-foot, life-sized portrait of an African American family who migrated north in search of economic opportunity, a wary-looking young girl clutches a purse to her chest. The purse is constructed from a commercial wax cotton print titled Michelle Obama's Bag, which commemorates one of the former First Lady's trips to Africa.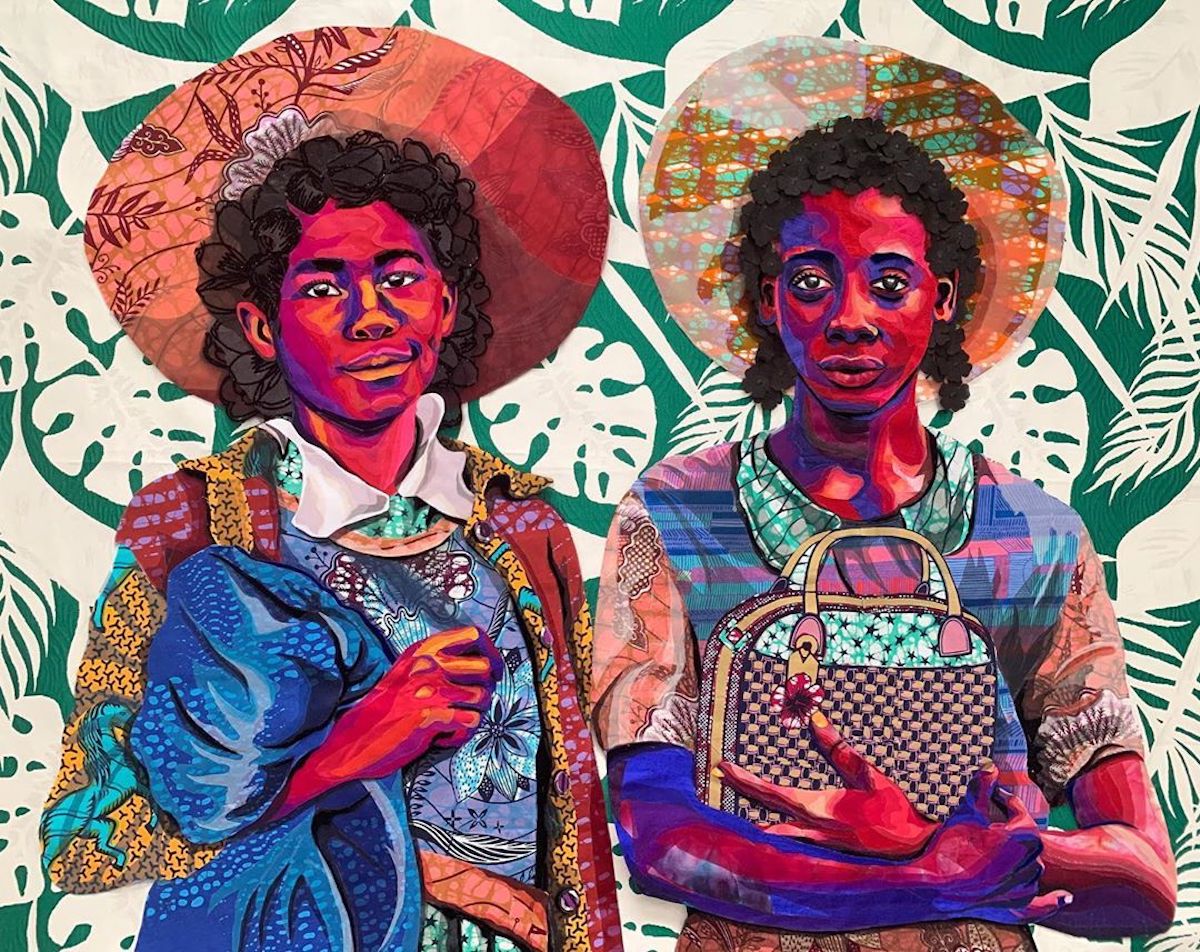 As anthropologist Nina Sylvanus writes in Patterns in Circulation: Cloth, Gender, and Materiality in West Africa:
To wear this pattern…is both to honor and aspire to be ravishingly beautiful and powerful like Michele Obama; It is considered a must-have fashion piece in the wardrobe of stylish women in Abidjan, Lomé, and Lagos.
The vibrant colors of Butler's materials also inform her portraits, particularly those inspired by historical figures whose images are most familiar in black-and-white.
She is also deeply influenced by her undergraduate years at Howard University, where many of her professors were part of the AfriCOBRA artists' collective. They encouraged students to think of blank canvases as black, rather than white, and to throw out the Beaux Arts palette in favor of West African fabric's Kool-Aid colors—"bright orange, bright yellow, crimson red, intense blue."
As she describes in the above video:
The initial start is who's it gonna be? Then after you choose that person, choose your color scheme. The color scheme is based on what you feel about that person. People have color around them, in them, that is not evidently visible to the naked eye.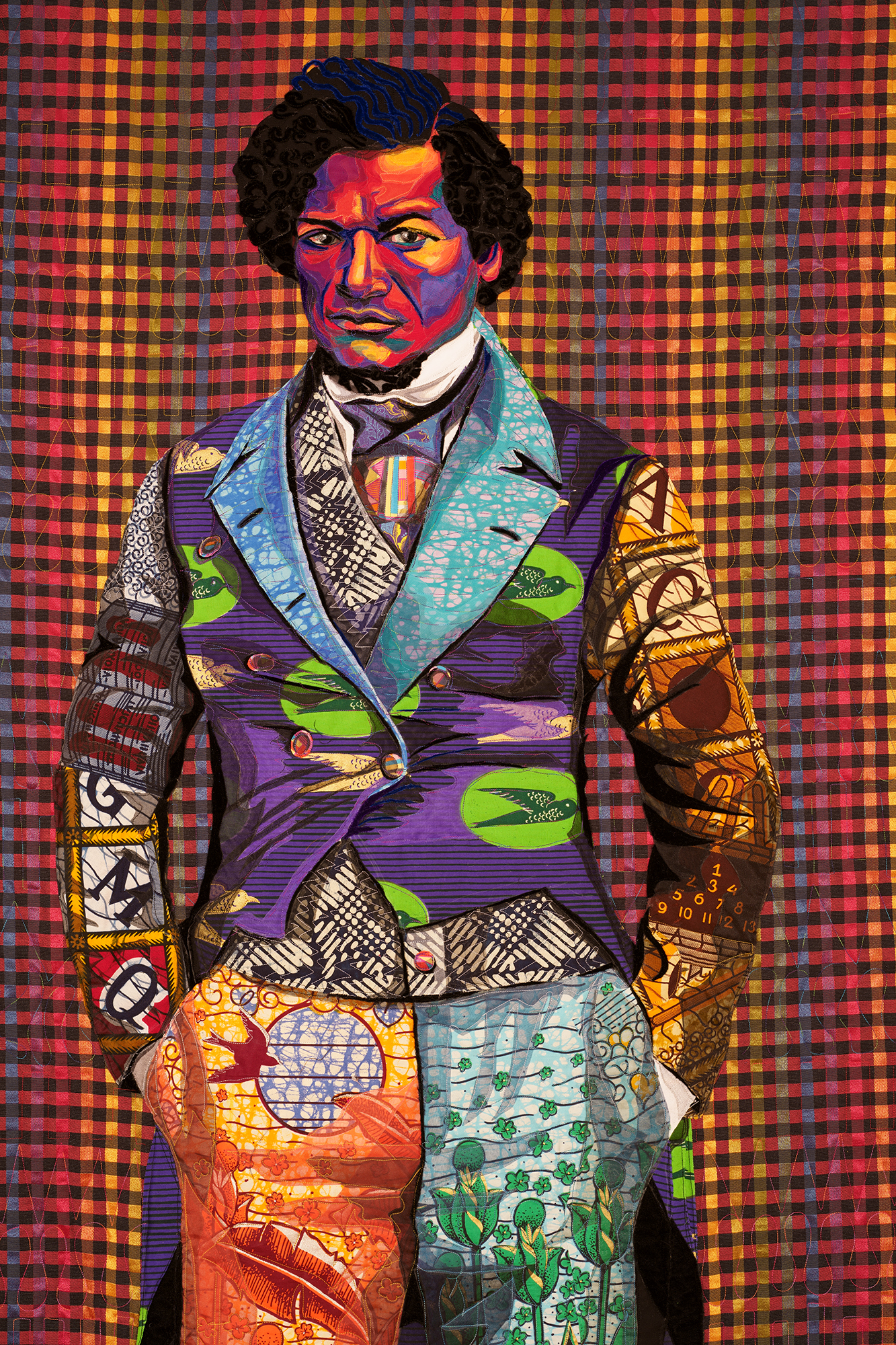 The Storm, the Whirlwind, and The Earthquake, her recently completed full-length portrait of a 30-year old Frederick Douglass, reimagines the abolitionist's 19th-century garb as something akin to a modern day Harlem dandy's bold embrace of color, pattern, and style, deliberately challenging the status quo. The rich color scheme extends to his skin and the homey background fabric.
Butler, who was raised in an art-filled New Jersey home by a Black American mother and a Ghanian father, also credits her grandmother, the subject of her first quilted portrait, with helping her find her aesthetic.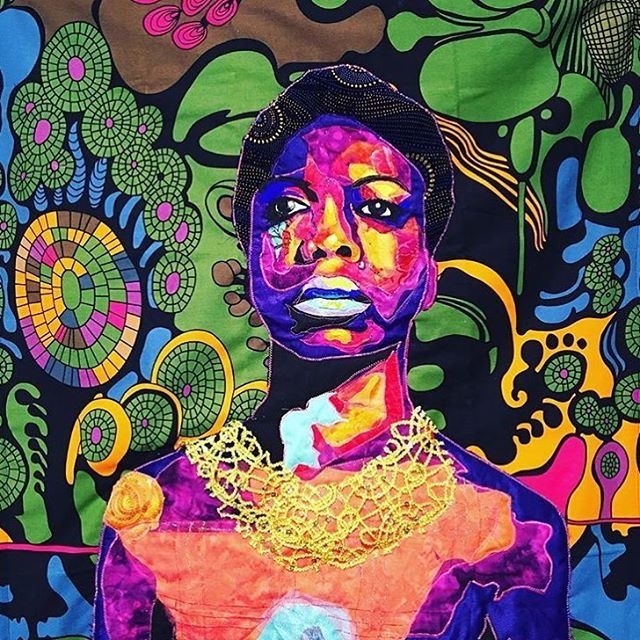 An early attempt to paint a portrait of her beloved relative (and childhood sewing instructor) resulted in disappointment on both sides. The crestfallen artist's aunt tipped her off that the older lady's mental self-picture was that of someone 30 years younger.
Inspired by the collaged work of Romare Bearden, Butler gave it another go, this time in quilted form, taking care to represent her grandmother as an attractive woman in the prime of life. This time her efforts were met with enthusiasm. "I could feel an energy in the room that something new was happening," Butler recalls.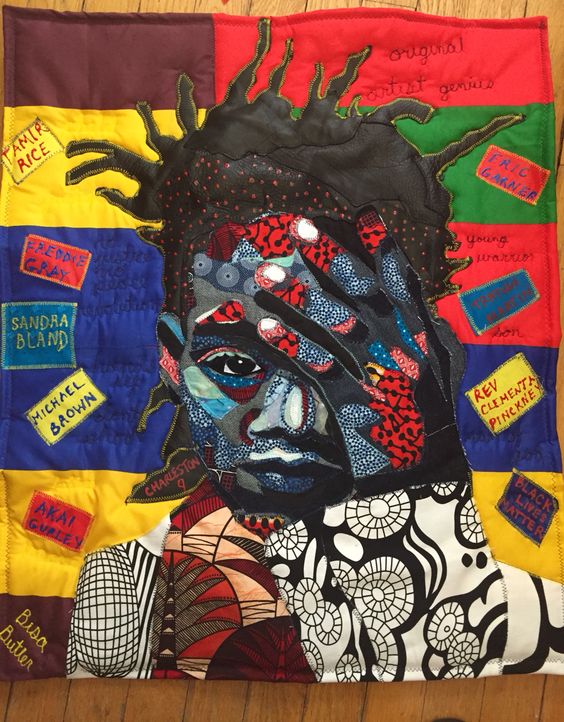 Whether her subjects are living or dead, Butler strives to bring the same sense of "dignity and regal opulence" to unsung citizens that she does when creating portraits of such famous Americans as Nina Simone, Zora Neale Hurston, Jackie Robinson, Lauren Hill, Josephine Baker, and Jean-Michel Basquiat:
African Americans have been quilting since we were brought to this country and needed to keep warm. Enslaved people were not given large pieces of fabric and had to make do with the scraps of cloth that were left after clothing wore out. From these scraps the African American quilt aesthetic came into being. Some enslaved peoples were so talented that they were tasked for creating beautiful quilts that adorned their enslavers beds. My own pieces are reminiscent of this tradition, but I use African fabrics from my father's homeland of Ghana, batiks from Nigeria, and prints from South Africa. My subjects are adorned with and made up of the cloth of our ancestors. If these visages are to be recreated and seen for the first time in a century, I want them to have their African Ancestry back, I want them to take their place in American History. I want the viewer to see the subjects as I see them. 
Explore the work of Bisa Butler on the artist's Instagram, or MyModernmet and Colossal.
Related Content:
Take Free Courses on African-American History from Yale and Stanford: From Emancipation, to the Civil Rights Movement, and Beyond
Too Big for Any Museum, AIDS Quilt Goes Digital Thanks to Microsoft
The Solar System Quilt: In 1876, a Teacher Creates a Handcrafted Quilt to Use as a Teaching Aid in Her Astronomy Class
Ayun Halliday is an author, illustrator, theater maker and Chief Primatologist of the East Village Inky zine.  Follow her @AyunHalliday.