Bird-watching is having a moment, thanks to the pandemic.
As non-essential workers adjusted to spending more time at home, their ears adjusted to the increasingly non-foreign sound of birdsong outside their windows.
Those sweet tweets are no doubt largely responsible for the record breaking turnout at this year's Global Big Day, the Cornell Lab of Ornithology's annual birding event, held earlier this spring.
50,000 participants logged 2.1 million individual observations, and 6,479 species.
Apparently, there are even more birds in this world than there are sourdough starters…
…though for the immediate future, civic-minded birdwatchers will be confining their observations to the immediate vicinity, as a matter of public health.
We look forward to the day when bird enthusiasts residing outside of Belize, Mexico, or Guatemala can again travel to the Yucatán Peninsula in hopes of a face-to-face encounter with the Black Cat Bird.
Til then, the animated video above, in which a Black Catbird unwittingly duets with Belize's Garifuna Collective, makes a soothing place holder.
The catbird and the collective appear along with nine other electronic musician / endangered native bird teams on the fundraising album, A Guide to the Birdsong of Mexico, Central America & the Caribbean.
A Black-cheeked Ant-Tanager joins NILLO, a producer and DJ from Costa Rica who draws musical inspiration from the tribal communities around him.
Siete Catorce, a producer who helped popularize the popular border genre known as ruidosón—a mix of cumbia and prehispanic tribal sounds—is paired with a Yellow-headed Parrot.
Jordan "Time Cow" Chung of Equiknoxx seamlessly integrates a Jamaican Blackbird into his unique brand of organic, experimental dancehall.
The album follows 2015's Guide to the Birdsong of South America, and as with its predecessor, 100% of the profits will be donated to regional organizations focused on birds and conservation—Birds Caribbean, La Asociación Ornitológica de Costa Rica, and Mexico's Fundacion TXORI.
Birds, as the project's founder, Robin Perkins, told Gizmodo's Earther, are the most musical animals in the world:
There's something really nice about focusing on endangered species and songs that are disappearing and not being preserved and to use music to raise awareness about the species. I believe music has a big power for social activism and social change and for environmental change.
Listen to A Guide to the Birdsong of Mexico, Central America & the Caribbean for free on Spotify.
Buy the album or individual tracks on Bandcamp to benefit the charities above.
Robin Perkins' limited edition prints of the featured birds also benefit the bird-focused regional charities and can be purchased here.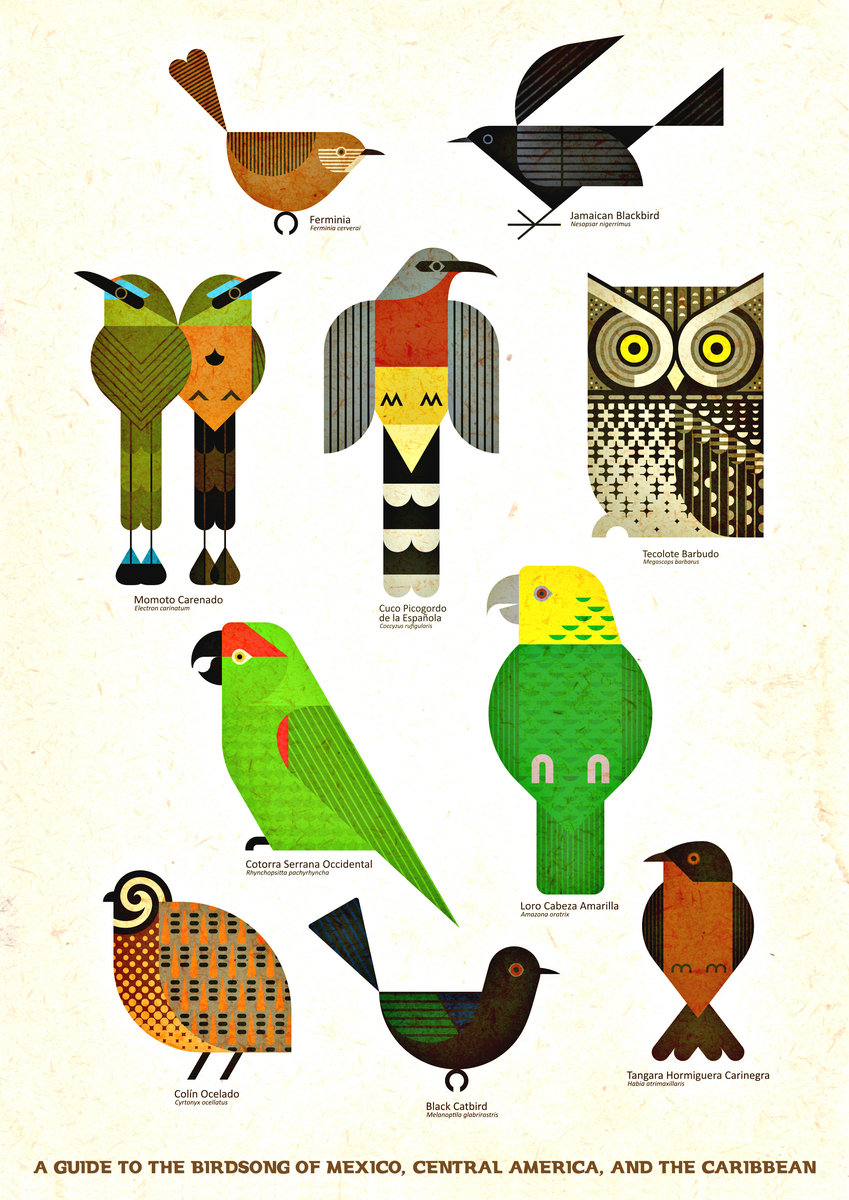 Related Content:
Explore an Interactive Version of The Wall of Birds, a 2,500 Square-Foot Mural That Documents the Evolution of Birds Over 375 Million Years
The Bird Library: A Library Built Especially for Our Fine Feathered Friends
Cornell Launches Archive of 150,000 Bird Calls and Animal Sounds, with Recordings Going Back to 1929
What Kind of Bird Is That?: A Free App From Cornell Will Give You the Answer
Download 435 High Resolution Images from John J. Audubon's The Birds of America
Ayun Halliday is an author, illustrator, theater maker and Chief Primatologist of the East Village Inky zine. Follow her @AyunHalliday.