Every­thing old is new again and Tuscany's buchette del vino—wine windows—are def­i­nite­ly rolling with the times.
As Lisa Har­vey ear­li­er report­ed in Atlas Obscu­ra, buchette del vino became a thing in 1559, short­ly after Cosi­mo I de' Medici decreed that Flo­rence-dwelling vine­yard own­ers could bypass tav­erns and wine mer­chants to sell their prod­uct direct­ly to the pub­lic. Wealthy wine fam­i­lies eager to pay less in tax­es quick­ly fig­ured out a workaround that would allow them to take advan­tage of the edict with­out requir­ing them to actu­al­ly open their palace doors to the rab­ble:
Any­one on the street could use the wood­en or met­al knock­er … and rap on a wine win­dow dur­ing its open hours. A well-respect­ed, well-paid ser­vant, called a can­ti­niere and trained in prop­er­ly pre­serv­ing wine, stood on the oth­er side. The can­ti­niere would open the lit­tle door, take the customer's emp­ty straw-bot­tomed flask and their pay­ment, refill the bot­tle down in the can­ti­na (wine cel­lar), and hand it back out to the cus­tomer on the street.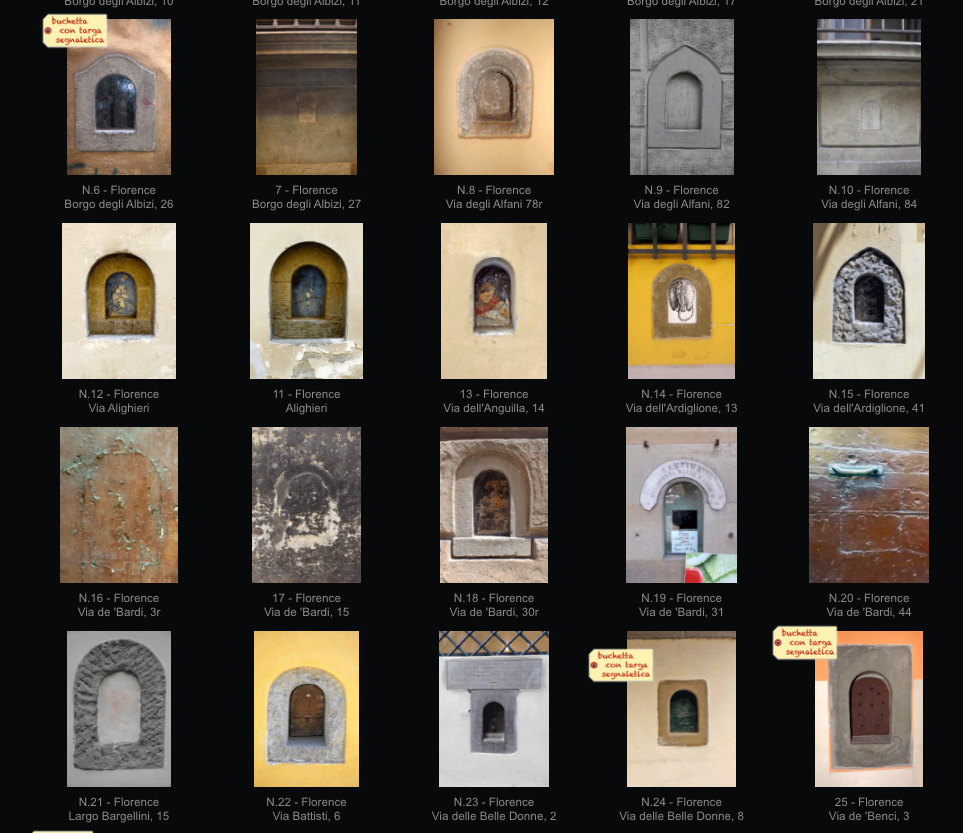 Sev­en­ty years fur­ther on, these lit­er­al holes-in-the-walls served as a means of con­tact­less deliv­ery for post-Renais­sance Ital­ians in need of a drink as the sec­ond plague pan­dem­ic raged.
Schol­ar Francesco Rondinel­li (1589–1665) detailed some of the extra san­i­ta­tion mea­sures put in place in the ear­ly 1630s:
A met­al pay­ment col­lec­tion scoop replaced hand-to-hand exchange

Imme­di­ate vine­gar dis­in­fec­tion of all col­lect­ed coins

No exchange of emp­ty flasks brought from home

Cus­tomers who insist­ed on bring­ing their own reusable bot­tles could do self-serve refills via a met­al tube, to pro­tect the essen­tial work­er on the oth­er side of the win­dow.
Sound famil­iar?
After cen­turies of use, the win­dows died out, falling vic­tim to flood, WWII bomb­ings, fam­i­ly relo­ca­tions, and archi­tec­tur­al ren­o­va­tion.
The nov­el coro­n­avirus pan­dem­ic has def­i­nite­ly played a major role in putting wine win­dows back on the public's radar, but Babae, a casu­al year-old restau­rant gets cred­it for being the first to reac­ti­vate a dis­used buchet­ta del vino for its intend­ed pur­pose, sell­ing glass­es of red for a sin­gle hour each day start­ing in August 2019.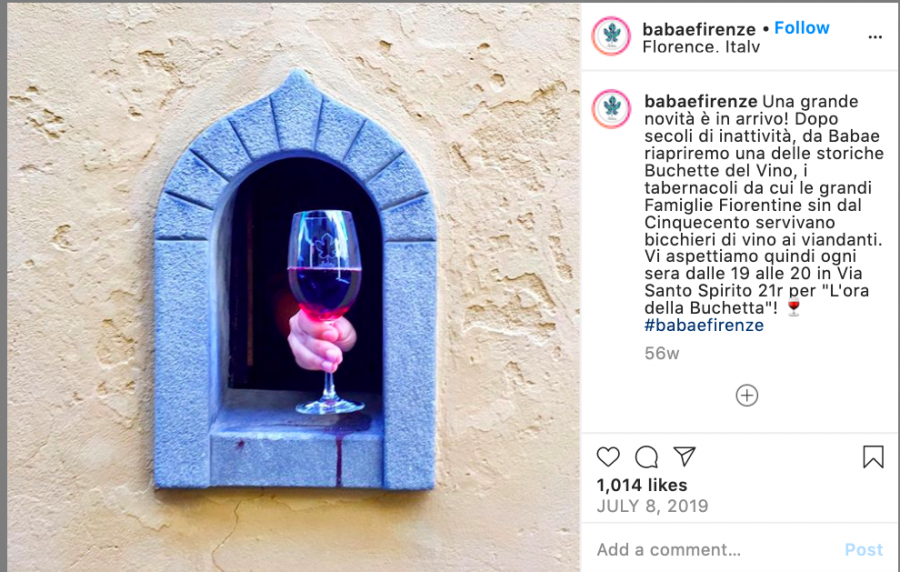 Now sev­er­al oth­er authen­tic buchette have returned to ser­vice, with menus expand­ed to accom­mo­date serv­ings of ice cream and cof­fee.
Giv­en this suc­cess, per­haps they'll take a cue from Japan's 4.6 mil­lion vend­ing machines, and begin dis­pens­ing an even wider array of items.
They may even take a page from the past, and send some of the mon­ey they take in back out, along with food and yes—wine—to sus­tain needy mem­bers of the com­mu­ni­ty.
The Buchette del Vino Asso­ci­azi Cul­tur­ale cur­rent­ly lists 146 active and inac­tive wine win­dows in Flo­rence and the sur­round­ing regions, accom­pa­ny­ing their find­ings with pho­tos and arti­cles of his­tor­i­cal rel­e­vance.
Via Atlas Obscu­ra
Relat­ed Con­tent:
Quar­an­tined Ital­ians Send a Mes­sage to Them­selves 10 Days Ago: What They Wish They Knew Then
Ital­ians' Night­ly Sin­ga­longs Prove That Music Soothes the Sav­age Beast of Coro­n­avirus Quar­an­tine & Self-Iso­la­tion
A Free Course from MIT Teach­es You How to Speak Ital­ian & Cook Ital­ian Food All at Once
Ayun Hal­l­i­day is an author, illus­tra­tor, the­ater mak­er and Chief Pri­ma­tol­o­gist of the East Vil­lage Inky zine. Fol­low her @AyunHalliday.