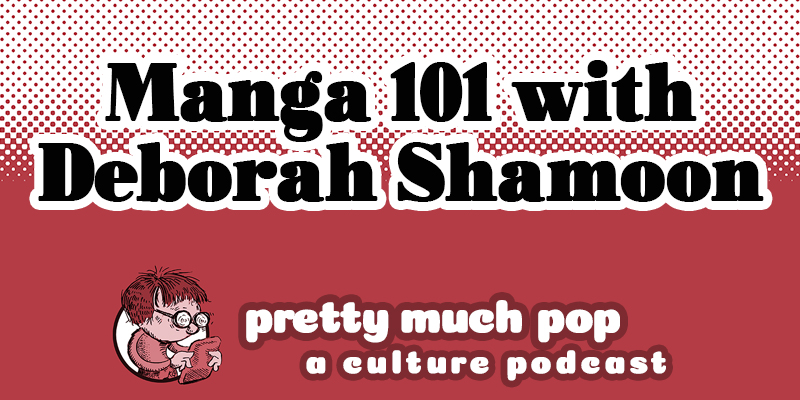 One of our goals on Pretty Much Pop: A Culture Podcast has been to look into not just our favorite creators and genres but into things that get a lot of buzz but which we really don't know anything about. Manga is a great example of a "look what these crazy kids are into today" kind of area for many (older) Americans.
Deborah Shamoon, an American who teaches Japanese studies at the National University of Singapore and  has loved manga since adolescence, here schools manga noobs Mark Linsenmayer and Brian Hirt–along with Erica Spyres, who also doesn't read manga but at least has a complicated history with anime. What are the barriers for Americans (whether comics readers or not) to appreciate manga? For some of us, manga is actually easier to appreciate than anime given the latter's sound and pacing.
We talk about manga's publication history, how fast to read manga, and its use of iconography to depict sound and movement. Deborah gives us the truth about the famed Osamu Tezuka's place as "god of comics"; we discuss his Metropolis, Astro Boy and Princess Knight, which is not as you may have been told the first "shojo" manga, meaning aimed at girls. Shojo manga is Deborah's specialty: She wrote a book called Passionate Friendship: The Aesthetics of Girls' Culture in Japan. We discuss The Heart of Thomas, Sailor Moon, and how Tezuka actually copied that big-eye style from Hideko Mizuno's Silver Petals. Do you need to get a handle on these old classics to appreciate the newer stuff that's made such a dent in America like Death Note? Probably not, though some Akira wouldn't hurt you.
A few of the articles we looked at included:
We also looked at some "best of" lists to know what titles to try to look at:
Deborah recommends the Japanese Media and Popular Culture Site from the University of Tokyo for academic writing on manga. She wrote an article on shojo manga for that site that sums up the history conveyed in her book. She's also been interviewed for the Japan Station and Meiji at 150 podcasts.
Learn more at prettymuchpop.com. This episode includes bonus discussion that you can only hear by supporting the podcast at patreon.com/prettymuchpop. This podcast is part of the Partially Examined Life podcast network.
Pretty Much Pop: A Culture Podcast is the first podcast curated by Open Culture. Browse all Pretty Much Pop posts