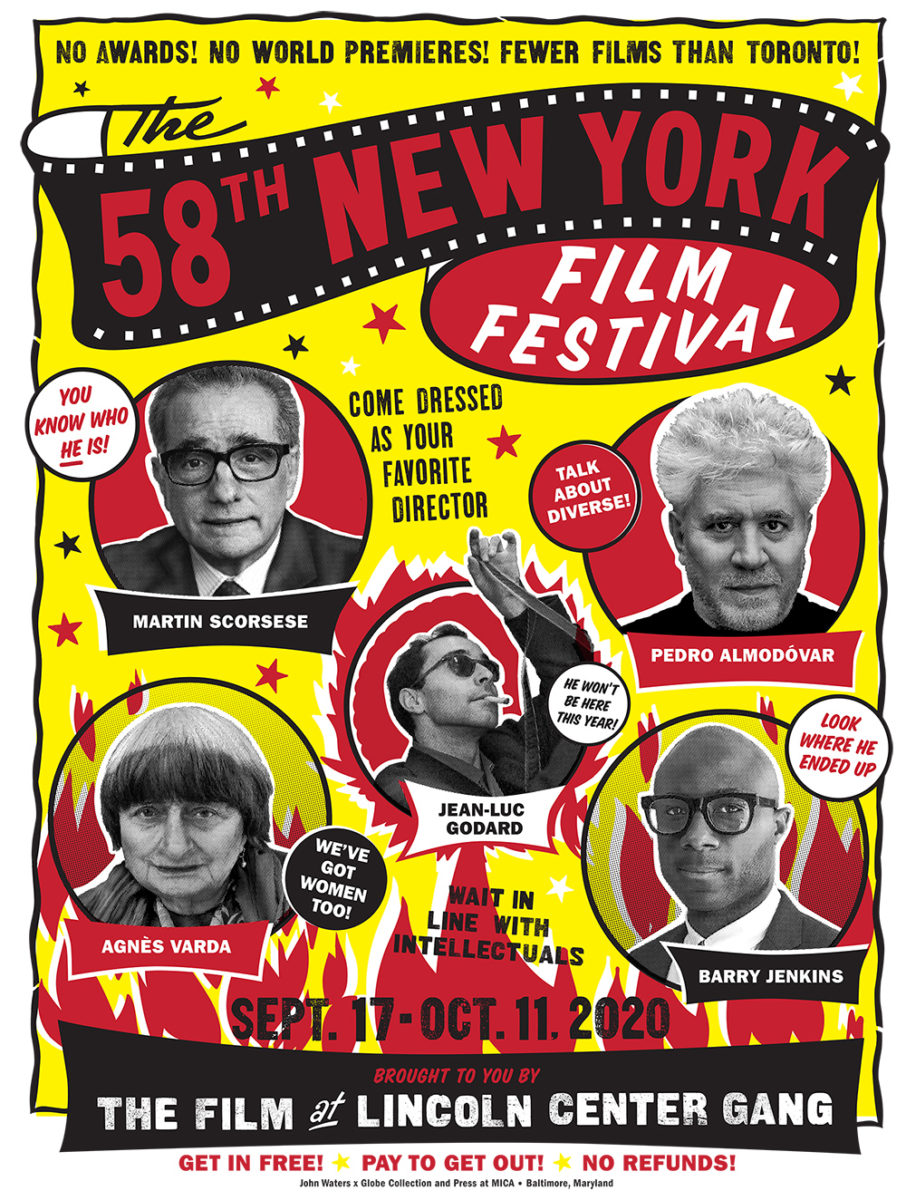 Yesterday, Film at Lincoln Center unveiled the poster for the 58th New York Film Festival (September 17-October 11, 2020). And it's created by none other than filmmaker, artist, and "Pope of Trash," John Waters.
The New York Film Festival writes: The "poster is both a fond tribute and witty parody of the historic festival, poking fun at the long-held stereotypes, valid critiques, and presumed pomp and circumstance of the annual Lincoln Center event. The concept was developed before the current health crisis, in collaboration with and inspired by Globe Poster, the legendary press of Waters's hometown. Founded in 1929 in Baltimore, Maryland, Globe Poster delivered eye-catching posters to promote concerts, drag races, circuses, carnivals, and more. Fluorescent colors, bold wood type, and lettering that shook and shimmied defined Globe's iconic style, attracting clients from James Brown and Marvin Gaye to Tina Turner and the Beach Boys."
For a little laugh, study the poster closely above. And then head to the Relateds below for more.
Would you like to support the mission of Open Culture? Please consider making a donation to our site. It's hard to rely 100% on ads, and your contributions will help us continue providing the best free cultural and educational materials to learners everywhere.
Also consider following Open Culture on Facebook and Twitter and sharing intelligent media with your friends. Or sign up for our daily email and get a daily dose of Open Culture in your inbox. 
Related Content:
John Waters' RISD Graduation Speech: Real Wealth is Never Having to Spend Time with A-Holes
John Waters Narrates Offbeat Documentary on an Environmental Catastrophe, the Salton Sea
John Waters Makes Handmade Christmas Cards, Says the "Whole Purpose of Life is Christmas"
An Anti, Anti-Smoking Announcement from John Waters
When John Waters Appeared on The Simpsons and Changed America's LGBTQ Views (1997)
Hear Moby Dick Read in Its Entirety by Tilda Swinton, Stephen Fry, John Waters & Others