"For a nor­mal per­son back in the day," says LEGO designer/architect Rok Kobe about the Colos­se­um in Rome, "You had nev­er seen a build­ing that was over a sto­ry high. And to be con­front­ed with such an amaz­ing piece of engi­neer­ing that's almost 200-meters wide and 50 meters tall, it was unprece­dent­ed."
Sim­i­lar­ly, any LEGO fan might feel this awe while greet­ing this month's debut of the LEGO Colos­se­um. At 9036 pieces it has bro­ken the record as the biggest LEGO set in exis­tence, beat­ing out the Star Wars' Mil­len­ni­um Fal­con (7,541 pieces) and the Taj Mahal (5,923 pieces). Every few years LEGO steps up its game, which might pos­si­bly end with a neigh­bor­hood-devour­ing repli­ca of the Great Wall of Chi­na. But we're get­ting ahead of our­selves.
The Colos­se­um's facade has been faith­ful­ly recre­at­ed on all three lev­els, with the Doric columns at the bot­tom, the Ion­ic columns in the mid­dle, and the Corinthi­an columns on top. And it also adds the con­tem­po­rary part of the are­na that has been rebuilt to show the orig­i­nal lev­el of the are­na in Roman times.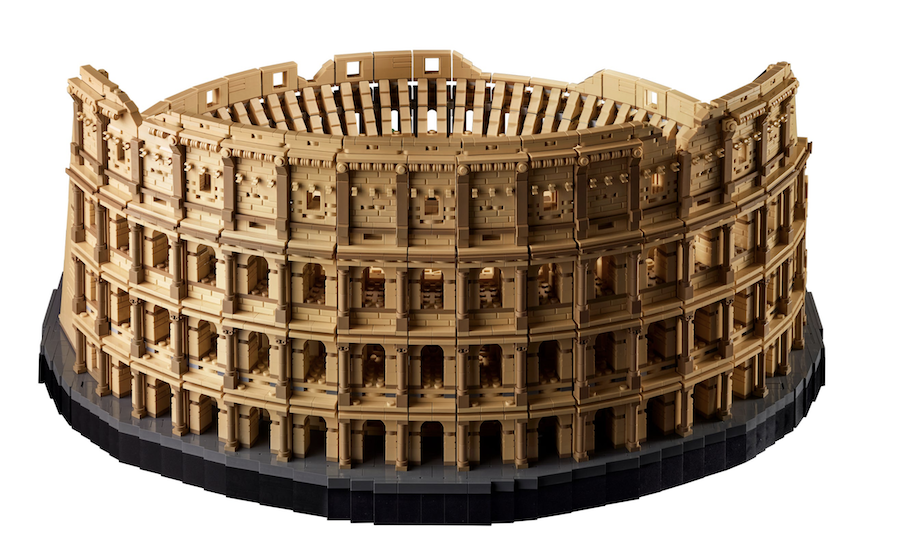 The orig­i­nal Colos­se­um was built over eight years between year 72 AD and 80 AD and between two emper­ors, Ves­pasian and Titus. And though we know it as a sand­stone-col­ored struc­ture these days, arche­ol­o­gists have deter­mined it was also col­ored red, black, and azure. The LEGO ver­sion may not be so dra­mat­ic, but it does con­tain a bit more col­or than the real-life mod­el.
Rok Kobe knows of what he speaks and mod­els. Grow­ing up in Ljubl­jana, capi­tol of Slove­nia, he would play on the Roman ruins in the city cen­ter, espe­cial­ly the Roman Wall. "The five year old would be proud of the adult that got to design this LEGO set," he says.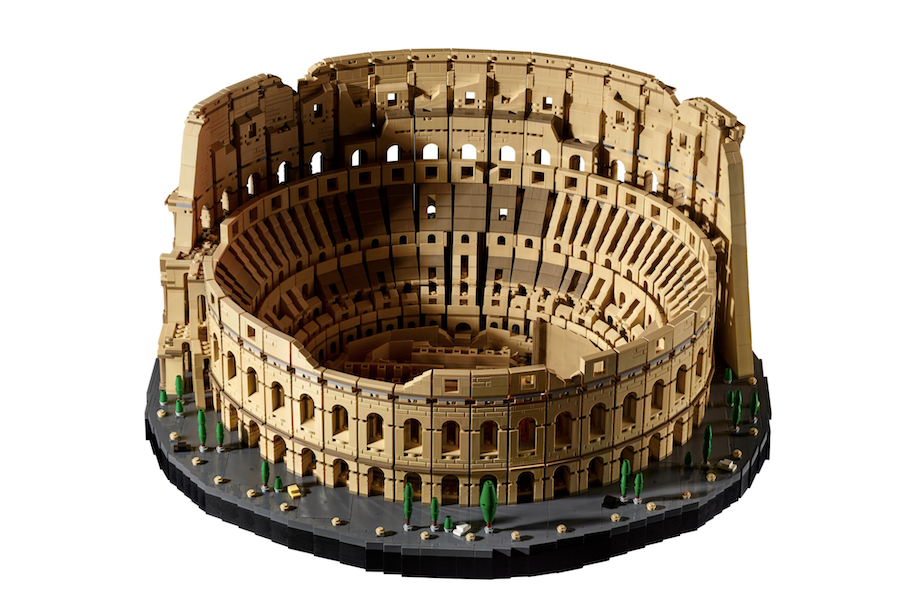 At $798, this is not a friv­o­lous pur­chase. But it will bring an adult hours of fun and keep them occu­pied.
Relat­ed Con­tent:
The Frank Lloyd Wright Lego Set
Cam­bridge Uni­ver­si­ty to Cre­ate a Lego Pro­fes­sor­ship
The LEGO Tur­ing Machine Gives a Quick Primer on How Your Com­put­er Works
Ted Mills is a free­lance writer on the arts who cur­rent­ly hosts the Notes from the Shed pod­cast and is the pro­duc­er of KCR­W's Curi­ous Coast. You can also fol­low him on Twit­ter at @tedmills, and/or watch his films here.